New Zealand is well-known for its numerous islands, volcanoes, and diverse culture. This island's inhabitants have it all, including a long gambling history.
Gambling has been on the island, as Maori people have been trying their luck with little and high odds for millennia.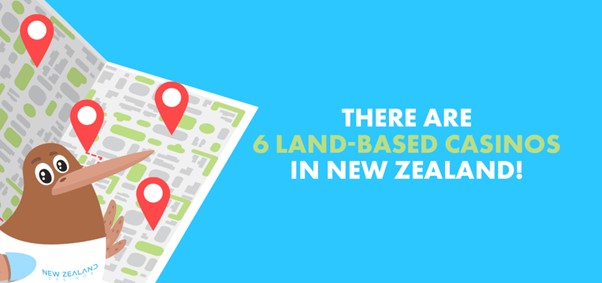 So as a result, gambling has flourished in New Zealand, and it is now one of the country's largest sectors. Punters continue to gamble in a variety of activities, ranging from traditional casino games to sports betting.
While land-based casinos are still relatively young (the first launched in Christchurch in 1994), more have now sprouted up across New Zealand, generating a bustling gaming sector for casino tourists.
Despite growth in the online gambling sector, land-based casinos have thrived here. And most are now major entertainment destinations and destinations in their own way.
Here are the best land-based casinos in New Zealand.
SkyCity Casino at Auckland
If you want to spend some money while in Auckland, go to the SkyCity Casino. Below one roof, you'll find the world's most famous casino games, live entertainment, delicious food, and a fully stocked bar!
This casino is open 24/7 a day, 7 days a week to provide visitors with continuous fun and excitement. With over 1600 gaming machines to select from, this location is ideal for those who enjoy gambling.
Skycity Casino travel tips
Tourists must being their Id proofs
To visit the Casino, visitors must be at least 20 years old.
Places near the Casino
The casino is surrounded by lip-smacking restaurants that provided lip smacking meals. The restaurants include; The Sugar Club, Jade Dragon, Sammy's Place, Fortuna and MASU by Nic Watt.
The dress code
SkyCity discourages visitors who are poorly dressed or act in an improper way.
The following is not permissible in Skycity
tattered clothing
other gang patches or symbols
filthy clothing or footwear
clothing with obscene wording or imagery
Dress code for game day
SkyCity Adelaide has implemented a 'Game Day' dress code for special events such as major tournaments. Visitors must wear neat and proper game day attire.
They may wear hats, tank tops, t-shirts, and casual shorts, as well as various sorts of footwear such as sneakers and thongs. Sarong, bikini, and bathing suit, as well as regular beachwear, are not permissible.
Dunedin Casino
This is the jewel of New Zealand, an organization that was established in 1999 and flourishing ever since. Dunedin Casino, located in the city center of Dunedin, a huge coastal city, offers various famous table games as well as more than 180 pokies to its customers. The environment here features excellent, efficient, and stylish service, that extends to the venue's various bars, restaurants, and hotels. While you're at it, don't miss out on the legendary Room 118 Lounge and Tapas Bar! Apart from Good Friday and Christmas, the Casino is remains open each day.
Places near the Casino
Visitors can reside at the Scenic Hotel Southern Cross, which is just across the street, there is always something going on at the Casino, whether you're into gaming or not; there's a bar and restaurant, as well as fun flashing cash draws.
Casino in Christchurch
This is amongst the very first land-based casino to operate in New Zealand in 1994, making it a historic venue for casino visitors. There's a vast selection of gaming choices, cuisine, and drinks, and wonderful news for tourists: there seem to be no transaction costs for most international currencies! It's open 7 days a week and was renovated just after 2011 earthquake.
There are 500 gambling machines, 36 table games, four eateries, special prizes and offers, and specialized poker, baccarat, & e-sports cafes; Got Game Arena is the e-sports club, featuring four PlayStation 4s packed with games.
You can join a gamers club and download a companion app with micro gaming and daily rewards. A "My Vaccine Pass" (MVP) (part of COVID-19 Protection Framework) is also essential for entering the casino.
SkyCity Hamilton
This casino, located on the Waikato River, is among the most picturesque casinos in the nation. It is a sister casino to SkyCity Auckland and has been open since 2002.
Hamilton, like other well-known casinos in New Zealand, offers a diverse choice of games, ranging from table games to sophisticated gaming machines, catering to both novices and specialists. There are approx 330 gaming machines as well as traditional table games such as Blackjack, Roulette, and Midi Baccarat. The staff is really nice, and they are always ready to explain table games to newcomers.
As with any SkyCity location, there's so much variety to eat or drink, and food is available 24 hours a day.
Places near the Casino
EatBurger provides excellent burgers and is a wonderful choice for a convenient and simple dinner. Also, Local Taphouse is another informal option that serves locally brewed beer.
Zone Sports Bar serves large meals and has large screens, making it a lively spot to watch rugby. Also, they have a splendid balcony with a view of the river. The Marble Room serves cocktails, while the Number 8 Bar is immediately next to the casino.
The dress code
SkyCity encourages visitors to dress in clean, tidy, and decent clothes. Moreover, discourages those that are poorly dressed or act in an improper way.
Expenses to visit New Zealand
Traveling to New Zealand is expensive due to the cost of transportation, lodging, and cool but expensive activities.
As a result, travelers should budget NZ$185 per day or 3-4k NZ$ per month for their trip. This is on basis of the spending of previous visitors.
Conclusion
Thus New Zealand has a wonderful range of land-based casinos to suit all kinds of gamers. The NZ casinos have everything, from huge casinos in historic Victorian-era hotels to welcoming and comfortable waterfront gambling venues.
So, choose one of the stunning casino venues and embark on an exciting journey of gambling, feasting, and enjoyment.
Links: