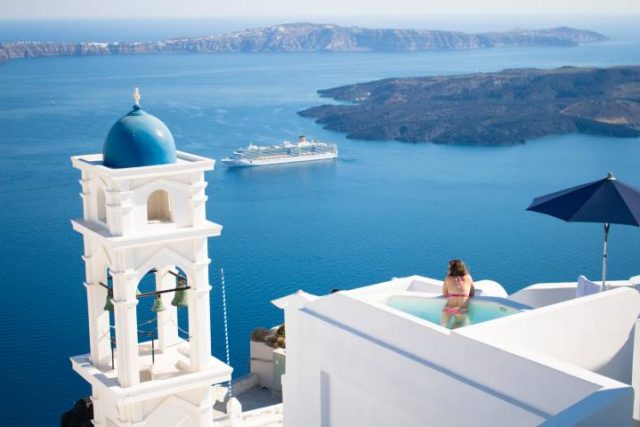 Are you looking for you next vacation destination and aren't sure where you want to go? Have you though about going to Greece but don't really know what they have to offer and if it would be a good place to visit?
These days, with travelling being so accessible to just about everybody, travel destinations around the world have become increasingly popular, and there are now so many different places that one could visit such as Thailand, Australia, and even Greece. Travelling is extremely fun and enjoyable and give a person the ability to change their perception of the world.
Although, if you don't really know where you are going and what they have to offer, it might end up being a little boring. If you don't want to travel to the same places as everyone else and want to try something different, you could consider travelling to Greece. If you are not sure what it has to offer, here are a few things you can do there.
Ferry somewhere
Greece is surrounded by magnificent oceans all around and even has a bunch of different islands just off of the main coast that you can visit. If you are sick of touring around the mainland by means of regular transport, why not take a trip to one of the islands on a beautiful ferry trip which allows you to take in the wonders of the country from the view of the ocean.
Travelling by ferry is one of the best ways to get around from island to island. By making use of a ferry, you can visit popular destinations such as Santorini, Milos, Naxos, Tinos, Lesvos, and Skopelos, which are a few of the most popular places to go. Not only are ferries a great why to travel between the different islands by means of a boat, but when travelling on a ferry, you can bring your car along with you too, meaning you don't have to rent a car everywhere you go. On these ferries, you can either choose to have a round trip or just get a one-way ticket to where you want to go. Its all up to you and ferry tickets are very reasonably priced through websites like Lets Ferry.
Wonder around the acropolis
If you are looking to discover a bit of Greece's history and are interested in their beautiful architecture, your first stops should definitely be the Acropolis which you can find in Athens, ones of Greece's most popular cities.
This building that takes over the skyline can be identified by its massive columns that take up the entire structure. If you plan on visiting the acropolis, you can take a stroll around one of many of the pathways available for visitors to use and discover the wonder that it is. There is also a museum that accompanies this where you will find some of Greece's most important history around.
Take photos of the monasteries of Meteora
If you are looking to immerse yourself into the culture of Greece and want to travel outside of the big cities to find yourself in a more isolated area, you should try visiting Meteora. Here you will find some of the most beautiful and crazy structures in all of Greece.
Monasteries that have been built upon towering rock formations where the monks of Eastern Orthodox find themselves living. It is said that at some point in time there would have been over 20 monasteries one these massive boulders, but now only 6 remain. However, it is no doubt that this is one of the most spectacular views that you will find in all of Greece.
Climb Mount Olympus
If you are fascinated by Greek mythology, you may know that it was Zeus who had his throne sat atop Mount Olympus. As a fan, there are so many great opportunities for you to climb the mountain and see where these events might have happened. If you're not, hiking Mount Olympus is still a great adventure for those who love being outdoors and hiking.
Check out Santorini
Santorini is one of those postcard places that is a way that Greece advertises themselves to the world. Clearly recognisable by its round blue and white houses, Santorini is known to be one of the most beautiful places in the entire country and is a definite destination that you should on your to do list before you leave Greece.