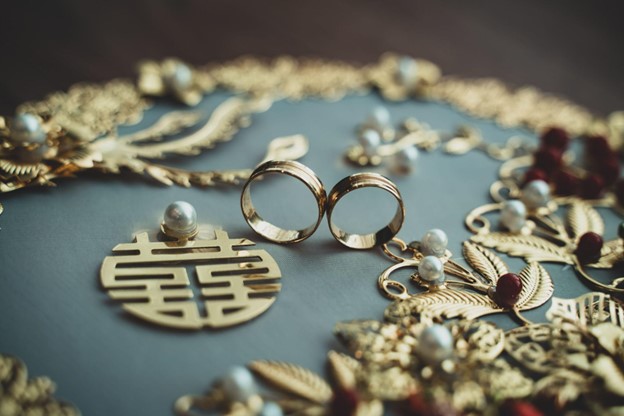 Gold jewelry has been a symbol of elegance, luxury, and beauty for centuries. Whether dressing up for a formal event or adding sparkle to your everyday outfit, gold jewelry is the perfect accessory to complete your look with many styles and options.
It can be overwhelming to choose the right piece for the right occasion. In this article, we'll explore the different types of gold jewelry that are perfect for any occasion.
Wearing Gold on Different Occasions
it is not necessary to reserve gold jewelry only for special occasions. Selecting the appropriate piece that complements the event's theme is essential. Jewelry can be worn for a casual get-together with friends, while a bold gold necklace with matching earrings can be reserved for special occasions like weddings.
Wearing Gold as Bride
Wearing gold on your wedding day is a timeless tradition that symbolizes prosperity, good luck, and purity. Gold jewelry adds a touch of luxury and elegance to a bride's look, enhancing her beauty and radiance. From delicate gold necklaces to elaborate gold bangles and earrings, there are countless options to make a bride's special day even more unforgettable.
Wearing Gold as Wedding Guest
Wearing gold as a wedding guest can be a beautiful and elegant choice. Gold jewelry and clothing can add a touch of glamor to any outfit, but it's crucial not to outshine the bride. Consider the wedding's dress code and overall vibe, and opt for understated gold pieces that complement your look without stealing the show.
Wearing Gold on Festivals
Wearing gold at festivals is common, especially in Asian states. However, if you intend to wear the gold at some festival, you don't need to load yourself with gold or another heavy jewelry ornament.
Wearing Gold at Workplace
Wearing gold at work can be a stylish way to add a touch of sophistication to your professional attire. However, it's essential to consider your workplace dress code and culture. In more conservative or formal work environments, understated gold jewelry like stud earrings or a delicate necklace may be more appropriate. Bold statement pieces or flashy gold clothing may not be suitable for workplaces.
5 Perfect Jewelry Picks for Every Occasion
Gold jewelry comes in various styles and designs, each with unique features and characteristics. Here are some of the most popular types of gold jewelry:
Gold Rings
A Gold Black Diamond Ring is unique and stylish jewelry that exudes modern elegance. The black diamond is a beautiful contrast against the gold band, making it a statement piece that catches the eye. It is a perfect accessory for a special occasion or as an engagement ring for someone looking for a non-traditional option. Black diamonds' durability and rarity make them valuable to any jewelry collection.
Gold Chain
Gold chains for elegant women come in various styles, from delicate chains to bold statement pieces. They can be worn alone or with other necklaces to create a unique look. A simple gold pendant necklace can be worn casually, while you can pair a more elaborate necklace with a formal dress or evening gown.
Gold Bracelets
Gold bracelets can be worn alone or stacked with other bracelets to create a layered look. They come in different styles, from simple bangles to more intricate designs. Gold bracelets can be worn with a casual outfit or a formal dress and add elegance and sophistication to any look.
Gold Earrings
From simple studs to fancy earrings, gold earrings can add a touch of elegance and glamor to any outfit. They are timeless jewelry that can be passed down from generation to generation, making them a valuable investment. Whether worn for a special occasion or as an everyday accessory, gold earrings are a versatile and essential piece of jewelry for any collection.
Gold Pendants
Gold pendants are a beautiful and versatile piece of jewelry that can enhance any outfit. They come in various designs, from classic and simple to intricate and elaborate, and can be customized to suit individual styles and preferences.
Gold pendants can be worn alone or with other necklaces to create a unique and personalized look. They also make a meaningful and cherished gift, which can be engraved with special messages or symbols. A gold pendant is an eternal and valuable addition to any jewelry collection.
"Gold jewelry is, without exaggeration, endowed with magic. It has the power of turning even the simplest outfit into a special and charming look, set the right accents, and enhance the beauty of the person wearing it. The gold jewelry chosen right is able to draw attention away from imperfections of the outfit, and highlight advantages of the wearer's appearance. Not to mention that as a meaningful gift it can miraculously change the mood of the dear person. Pure magic!"
-Denis Stepansky- Founder of ItsHot
Style Jewelry for Any Occasion – Tips and Tricks
Here are a few tips that will help you to style jewelry according to the occasion
Consider the Occasion – Consider the event or occasion you're dressing for and choose gold jewelry that suits you.
Mix and Match – Don't be afraid to mix and match different types of gold jewelry. Stacking bracelets or wearing multiple rings on different fingers to create a unique and personalized look.
Don't Overdo It – It's vital to balance wearing enough gold jewelry to make a statement without overwhelming your look.
Consider the quality – High-quality gold jewelry that won't tarnish or fade over time.
Can You Wear Gold Jewelry Every Day?
Yes, you can wear gold jewelry every day. Gold is a durable and timeless metal that can withstand daily wear and tear, making it an excellent choice for everyday jewelry. However, taking good care of your gold jewelry is essential to ensure it lasts long and looks great. Here are some tips for wearing gold jewelry every day:
Avoid wearing gold jewelry if it comes in contact with chlorinated water or exposing it to harsh chemicals or abrasive materials.
Store your gold jewelry in a soft pouch or box to protect it from scratches and damage.
Clean your gold jewelry regularly with mild soap, water solution, and a soft brush to keep it shiny and new.
Avoid wearing gold jewelry while doing physical activities or tasks that could damage it, such as gardening or cleaning.