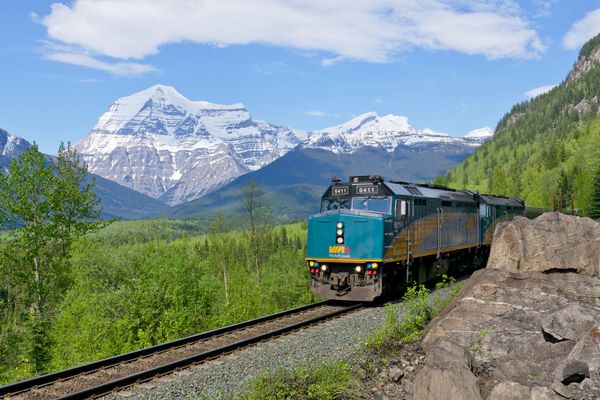 Canadian polar cruise specialist, One Ocean Expeditions (OOE), is celebrating its 10th Birthday with the launch of an extraordinary Circumnavigation of Canada, showcasing the nation as it has never been seen before. The tailored cruise allows intrepid travellers to explore Canada's most iconic locations by sea, air and rail, over the course of 57 spectacular days.
Canada's Circumnavigation itinerary offers an unparalleled opportunity to discover the world's second largest country from the Atlantic to the Arctic and Pacific Oceans on board the expedition cruise vessel, Akademik loffe. It also gives passengers the chance to witness the nation's majestic landscapes on board Via Rail's popular train journey travelling across Canada. To complement the experience, OOE's guests will also take in the vibrant cities of Edmonton, Toronto and Montreal en route.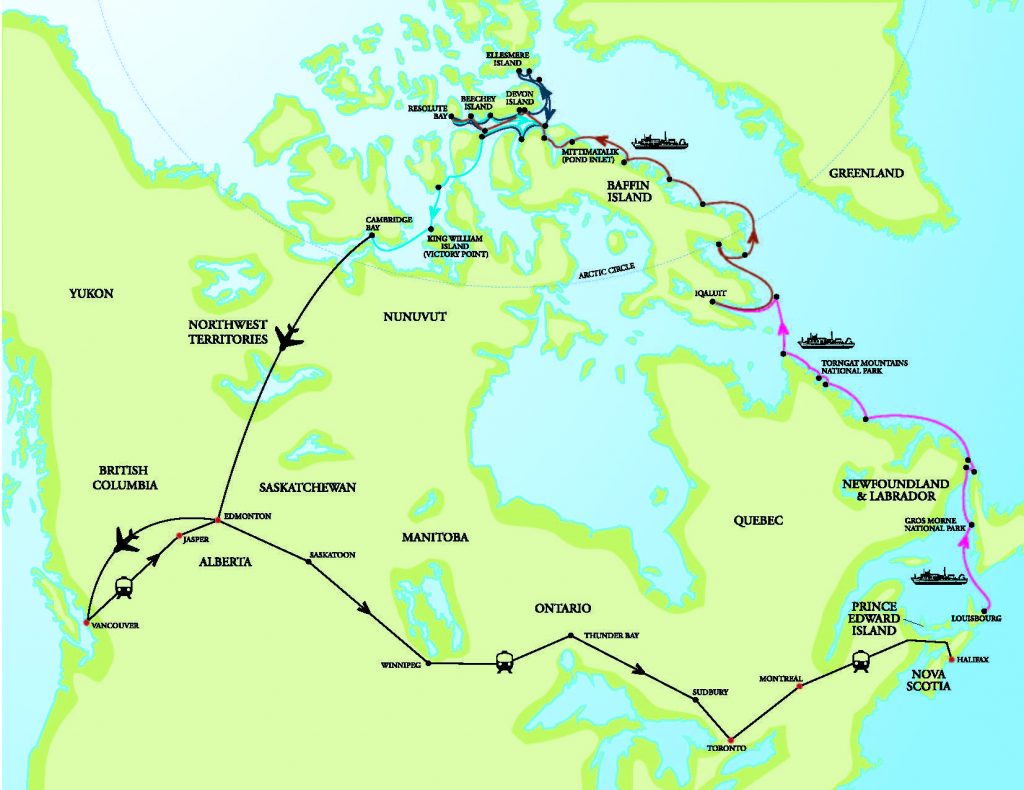 "Exploring Canada from coast to coast is a dream for many Canadians and overseas visitors alike. OOE is offering the chance to become immersed in a truly special travel experience, which will take our guests to the very core of our country's splendour and culture", says Andrew Prossin, One Ocean Expeditions' founder and Managing Director.
This epic OOE voyage combines four consecutive OOE cruises covering close to 60% of Canada's coastline, with the first – Labrador and Torgat Explorer – departing from Louisbourg, Nova Scotia, on 24 July, and travelling northbound to Iqaluit, Nunavut.
The journey continues with the Baffin Island-Jewel of the High Arctic voyage, taking in deep fjords, soaring mountains, immense glacial systems and spectacular wildlife – sometimes even polar bears – en route to Resolute, one of Canada's most northerly outposts.
The High Arctic Explorer cruise then travels through one of the last remaining pristine wilderness regions in the world, followed by the historically-charged Pathways to Franklin itinerary, taking in the Northwest Passage and ending on 1 September in Cambridge Bay, Nunavut.
Each voyage has distinctive characteristics. Visits to National Parks, UNESCO and historic sites, remote fishing and Inuit communities are some of the trip's highlights. In addition to witnessing abundant wildlife over the course of the voyage, guests are treated to daily educational seminars and lectures given by experts in marine science, geology, history, photography, as well as being offered a selection of soft adventure excursions such as zodiac cruises, sea kayaking, hiking and visiting local villages.
Following the cruise, guests fly from Cambridge Bay to Edmonton and on to Vancouver where they board Via Rail's new Prestige Class Service, travelling across the Canadian Rockies to Jasper, with an overnight stay at the quintessential Canadian Fairmont Jasper Park Lodge.
The iconic rail journey leads across the plains and rolling hills to Toronto and an overnight at the Fairmont Royal York. Guests embark on the final leg of the journey in Via Rail's business class service to Montreal and lodge at the Fairmont Queen Elizabeth for the voyage's final night before returning to Halifax, Nova Scotia for the completion of the circumnavigation on 17 September.
The 57-day voyage is tailored exclusively for two guests and delivered in an all-inclusive package that will, without doubt, be an enriching experience, leaving long lasting memories. Prices start from US$55,000 per person.
OOE's commitment to education and exploration of Canada is at the forefront of its 10th Anniversary endeavor. To celebrate further One Ocean Expeditions is not only increasing its fleet with the recent acquisition of the RCGS Resolute, a 146-passenger luxury expedition cruise ship, but will also be introducing a series of new voyages to non-polar destinations in Central America and Europe, starting in the spring 2019.