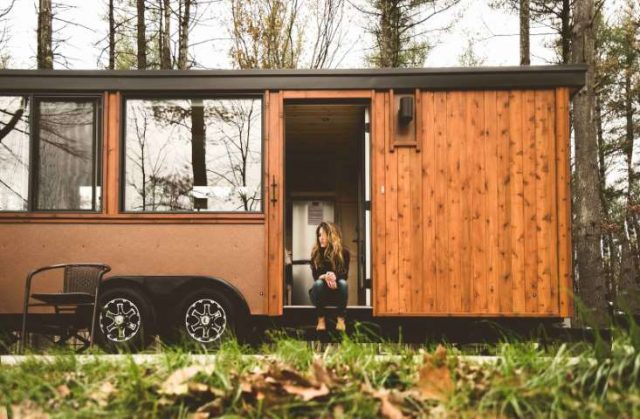 Leaf peep as lazily or as actively as you'd like this fall at Think Big! A Tiny House Resort: the Catskills' one-of-a-kind retreat for luxurious outdoorsy escapes. Set on 28 lushly treed acres overlooking the Catskill Creek, the resort's nine distinctly designed, private rental units for couples and families feature every necessary comfort including private patios with fire pits for autumn-night warmth. Without leaving bed, guests can lift the shades of their tiny home's oversized windows and be awed by nature's kaleidoscope. Abundant opportunities for outdoor recreation await both on-property and in this picturesque mountain region.
Fall days here are perfect for hikes to the resort's woodland waterfall, private goat walks and even for swims in the heated inground pool, which remains open through mid-October and has its own toasty fire pit. Massages in the Wellness Tent and aromatic soaks in the private cedar tub for two allow you to unwind while admiring water and foliage views. This good-dog-friendly resort has its own spacious, double-gated dog park for off-leash romps, too. And with summer-like weather forecasted to linger late this year, outdoor movies will be shown nightly on the outdoor screen.
Late fall⁠—when the ground crunches and cuddly clothing and cute boots are mandatory⁠—is simply magical in the Catskills, and Think Big! A Tiny House Resort offers guests a special incentive to visit. With promo code "Tea for 2" and any two-night, midweek (Sunday through Thursday) online reservation October 15 through November 15, guests will receive a selection of teas from DAVIDsTEA to sip and sample throughout their stay.
The surrounding Catskills region offers limitless autumn adventures for guests. Famous hiking trails, mountain climbs, foliage drives and nine golf courses beckon. This is the birthplace of the Hudson River School of Art, and the Thomas Cole National Historic Site and Frederic Church's Olana are both minutes away, as is the new Hudson River Skywalk, which connects them. Also nearby are festivals and scenic skyrides at Hunter Mountain, mountain biking at Windham Mountain Resort, and the enticing towns of Hudson and Woodstock.
Embracing the tiny house craze, Think Big! A Tiny House Resort is a getaway destination for those who want to rediscover the natural world, personal priorities and their bonds with loved ones. With names like The Mizu, The Lodge and The Green Bean, each of the nine distinctive and adorable resort rentals has character, charm and all of the comforts of home. On-site amenities include an inground heated pool, hiking trails and a waterfall, goat and duck enclosures, gardens for picking complimentary herbs and vegetables and a hen house for collecting free eggs. The Tiny Store is stocked with necessities, frivolities and free-to-borrow DVDs. Guests can book spa services in the Wellness Tent, make take-home souvenirs in the Airstream turned Arts and Crafts Studio and explore all the surrounding Catskill Mountains region has to offer. For additional information about Think Big! A Tiny House Resort visit atinyhouseresort.com.