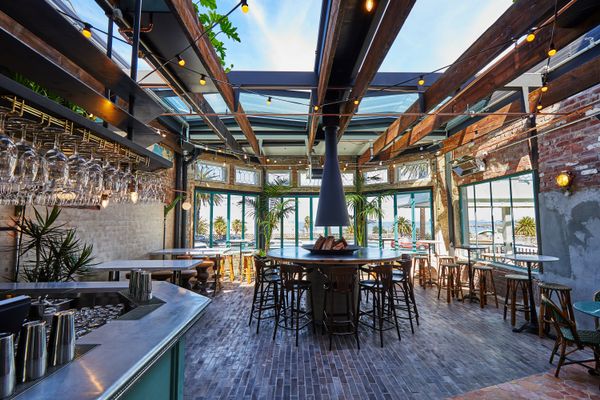 It's almost 2019, and the stage is set for a stellar year of new experiences, events, attractions, accommodation and more across Melbourne and Victoria.

Trending

The city's creative opinion leaders and innovative thinkers converged on the newly opened Hotel Esplanade in St Kilda to set the agenda for live music, night time economy, design trends and culture during Melbourne Insights 2019 on Tuesday 4 December.

Balmy nights, late sunsets and a desperate need to embrace the outdoors means one thing in Melbourne this summer – the return of the pop-up bar.

A host of new hot spots will have visitors flocking back to Melbourne's beachside neighbourhood St Kilda like a seagull to a hot potato chip.

Melbourne's LGBTQIA+ communities dial up the colour, frills and fun during January's Midsumma Festival – but it's not the only time of year that Victoria celebrates this fun-loving crowd.

As a city with a conscience, Melbourne's recent urban agriculture movement is a natural evolution of the increased value placed on sustainable practices in the hospitality and restaurant industry.
Dog friendly spaces are sometime hard to find but fret not, Visit Victoria launched a campaign specifically for dog owners, providing information and inspiration on dog-friendly breaks around regional Victoria.

Harry Potter and the Cursed Child play will be all anyone is talking about come February. Tickets are sold out months in advance and the city will be embracing all things Wizarding world. This play will NOT be travelling anywhere in Australia outside Melbourne – and as it's a two-part play, travellers should pack an overnight bag.

The National Gallery of Victoria has unveiled the centrepiece of its 2019 Melbourne Winter Masterpieces. In a dual presentation of Chinese art and culture past and present. Terracotta Warriors: Guardians of Immortality and Cai Guo-Qiang: The Transient Landscape will showcase China's ancient Terracotta Warriors alongside a parallel display of new works by one of the world's most exciting contemporary artists, Cai Guo-Qiang, at NGV International, May 2019.

Accommodation

Melbourne

Starwood Hotels and Resorts group will open its 176-room Aloft Melbourne, in South Yarra's Chapel Street. The design and technology focused hotel will open on 1 January 2019, offering comfortable loft style-stays complemented with a rooftop pool, bar and restaurant.

Peppers Southbank set to open its doors in early 2019 which is prominently located on the corner of Clarendon and Haig Streets and will feature 162 full-service hotel rooms across 32 levels, along with a range of amenities including a restaurant and bar, meeting room and gymnasium. The sustainable building is set to achieve a 5-star energy rating, with the windows designed to meet higher-than-average solar heat gain co-efficient levels.

Docklands continues to provide diverse hotel offerings with the opening of Hotel Indigo in mid-2019. This InterContinental Hotels Group (IHG) and Salta Properties lifestyle hotel will offer 170-rooms featuring a large resort-style pool and gym, a meeting and boardroom, and a two-level restaurant and bar, all within a 26-storey building.

Tagged as Australia's largest Quest property, Quest New Quay will offer business travellers quality apartment hotel accommodation in the Docklands precinct. The property will feature 221 studios, one and two-bedroom apartments as well as facilities including conference rooms, business lounge, a gymnasium and outdoor terrace with barbeque area.

West Side Place will be home to the Ritz-Carlton hotel, the tallest hotel in Australia. Upon arrival guests will enter the hotel lobby via the porte-cochere and take a direct elevator straight to the hotel's sky check-in on level 79, offering panoramic views across Melbourne's city centre and beyond. The property will offer 263 luxury hotel suites with quality finishes and furniture, complemented by state-of-the-art bathrooms, breathtaking views, and luxurious amenities including day spa, restaurants and bars, concierge services, function rooms, business centre, 500-seat grand ballroom, and outdoor garden terrace.

The much-anticipated W Hotel is due to open in late 2019, ahead of its initial 2020 target. The luxury 5star hotel will be part of the Collins Arch precinct, alongside luxury residential apartments, retails spaces and premium commercial offices. The hotel will sit on Collins St with the hotel lobby located on Flinders Lane. The property will encompass 294 rooms and suites (including an "Extreme Wow Suite), a bar, restaurant, function space, spa, gym and a heated indoor pool.

A haven for both leisure and business travellers alike, Shama Luxe Aurora Melbourne Central, opening September 2019, is the only serviced apartment in Melbourne with a direct connection to Melbourne Central retail and transport precinct. The property will be a mix of studio and one-bedroom units, with the flexibility to create dual-key two-bedroom units with outlooks city skyline towards Port Phillip Bay.

Fronted by a 145-year-old building's façade, Vibe Hotel Melbourne is a mix of four distinct design sections linking between the old and new. The former site of retailer Fletcher Jones, the new hotel has 206 inspired rooms, contemporary communal areas and a building design is slated to open at the end of 2019.

AccorHotels, Australia's largest hotel operator, will manage Chadstone's new luxury boutique accommodation under its MGallery by Sofitel brand, come late 2019. Guests will enjoy views of Melbourne's cityscape, Port Phillip Bay and the Dandenong Ranges from the property. Features of the hotel include 250 guest rooms including a selection of suites, health and wellness facilities, including a day spa, pool, gym, conferencing and meeting rooms, a ballroom and two restaurants plus a lounge bar.

Regional Victoria

In Mornington Peninsula, Sorrento's historic landmark Continental Hotel is undergoing an $80 million makeover. The redevelopment will see the upper level of the colonial-era property transformed into three function rooms, the middle art deco section will become a fine-dining restaurant named 1875 after the pub's founding date, and the ground floor will turn into the Coppin's public bar and bistro. Behind the existing venue, the first portion of a 5star upmarket accommodation project – a standalone 38-room building due to be finished in September 2019.

Only 6km from the iconic 12 Apostles, boutique accommodation Princetown Eco Stay on Great Ocean Road is due to complete in late 2018. A stone's throw away from the region's nature-based experiences, the property will include 20 room lodges, 20 cabins, a 330-seat restaurant along with an activity centre.

Overlooking Lake Mulwala in the Murray region, luxury 4-star boutique hotel and service apartment The Sebel Yarrawonga, in the Murray is set to open at the end of 2019 or early 2020. The property will feature 120 rooms, a fine dining restaurant, day spa and function facilities.

New Attractions

Ringing the new year in style, The Reunion Island Pool Club will open its doors to the rooftop on 31 December and will run till April 2019 to cool off city dwellers this summer. Set atop Melbourne Central, Reunion Island Pool Club is a sprawling under-sky sanctuary of palms, plunge pools, recreation programming and bespoke bar and catering offerings. Ten temperature-controlled plunge pools are available for bookings of 2 – 12 people, seven days.

A $14.5mil public art gallery expansion of Lyon Housemuseum will open in March 2019. The new Housemuseum Galleries will offer a new platform for works of international and local contemporary art, architecture and design, where new ways of presenting and experiencing art will be explored. To mark the opening, sixteen major new commissions by some of Australia's leading contemporary artists will be unveiled. ENTER will feature works by: Brook Andrew, Ry David Bradley, FFIXXED studios x James Deutsher, Shaun Gladwell, nova Milne, Kate Mitchell, Callum Morton, Dan Moynihan, Baden Pailthorpe, Kenzee Patterson, Patricia Piccinini, Ian Strange, Esther Stewart, Kynan Tan, Min Wong and Constanze Zikos; with the graphic design and wayfinding undertaken by New York based, Tin & Ed.

Expected to open in the first few months of 2019, URBNSURF Melbourne will be the first man-made surf park facility in Australia and the world's first full-sized Wavegarden Cove. Using world-leading wave generating technology, URBNSURF Melbourne offers authentic surfing waves to suit all abilities in Tullamarine.

The team behind some of Melbourne's most popular cafes – Higher Ground, Kettle Black and Top Paddock are embracing sea change as they set their sights in regional Victoria, specifically Geelong. Scheduled to open in May 2019, the Beach House on Geelong's waterfront will serve up a menu in line with those that have made the group's other eateries so popular, with a stronger seafood focus from suppliers in the region. In addition, visitors wanting to picnic on the beach can takeaway coffee and tasty delights including fish tacos, smoothies and gelati made in-house from the takeaway kiosk on the beach. Not leaving Melbourne behind, the group will also be opening Liminal, a hybrid cafe, wine bar and take-home produce venue at 161 Collins Street, Melbourne that's due to open in April 2019.

The Silo Art trail first established in August 2015 with works now completed in Brim, Sheep Hills, Rupanyup, Rosebery, Lascelles and Patchewollock – all towns the average traveller would not have heard of before these impressive art works were conceived. Tagged as Australia's largest outdoor gallery this trail stretches across 200kms in the wheatbelt of Victoria. Visitors driving along the trail can get an insight into the true spirit of the Wimmera Mallee, where the trail recognises and celebrates the region's people through a series of large-scale mural portraits painted onto grain silos, many of which date back to the 1930s.

Australia's most popular visitor attraction is getting a $60 million upgrade in the form of a brand-spanking new Penguin Parade Visitor Centre. The redevelopmentincludes restoring almost seven hectares of penguin habitat, and creating new habitat for over 1,400 breeding penguins, plus modern retail outlets aligned with the park's environmental priorities and improved dining experiences with cafe and restaurant options for visitors. The Visitor Centre is due to be complete in November 2019.

Water testing of the bespoke hybrid and land and water vehicles has commenced and the much awaited Pennicott Wilderness Journeys Wilsons Promontory Cruises by eco-tourism operator, Robert Pennicott, will commence from Tidal River, South Gippsland, in February 2019. The wilderness cruise will allow visitors to explore the spectacular waterways of the area and learn about the history, culture, flora and fauna of Wilsons Promontory Marine National Park.

Wildlife Wonders will provide visitors with an opportunity to see and learn about Australian wildlife on a guided walk through the picturesque Otways region. Located in bushland just outside Apollo Bay, guests can watch koalas dozing in the treetops, potoroos and bandicoots foraging on the forest floor and kangaroos hopping along the horizon against a spectacular ocean backdrop. All profits will be invested in conservation projects that ensure the wildlife and ecosystems of the Great Ocean Road region remain healthy.