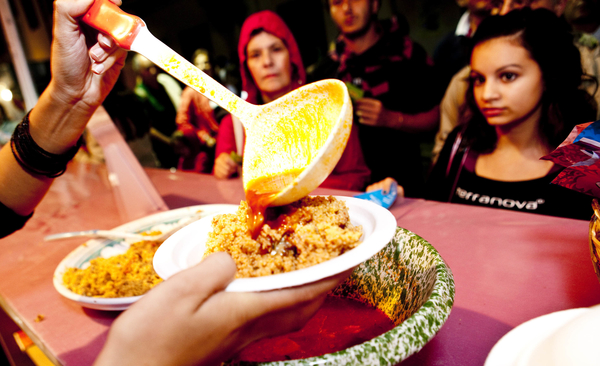 From colourful farmers markets to vibrant harvest celebrations and agricultural festivals, cuisine is at the heart of Sicilian culture. Autumn is harvest season in Sicily and the best time to find one of the lively festivals held throughout the island to celebrate the produce. With so many to choose from, soloSicily's on-island team of experts have picked out their favourites:
Sagra Dell'Arancino, 7 – 10 September 2017
Taking place in the Ficarazzi area of Aci Castello (north of Catania), Sagra Dell'Arancino is a three-day homage to one of Sicily's signature dishes, the arancino. Highlighting one of the many cultural influences that make up Sicily, arancino date back to the island's Arab occupation. The deep-fried rice balls are made with various fillings, including meat ragu, mozzarella, ham and spinach and remain hugely popular today.
Situated on the slopes of Mount Etna, 30 minutes from Aci Castello, Baglio degli Speziali is surrounded by verdant gardens. The villa features a tennis court, swimming pool and spa area. One week at Baglio degli Speziali costs from £3,969 (4,300 euros) in September, sleeping six. http://www.solosicily.com/baglio-degli-speziali.aspx
Cous Cous Festival, 15 – 24 September 2017
Sicily's most popular festival, Cous Cous Fest is celebrating its 20th anniversary this year. Tourists and locals visit the festival in San Vito Lo Capo, North West Sicily to sample over 30 different recipes, served from midday to midnight in traditional couscous houses dotted around the town. Set to be the best Cous Cous Fest yet, gourmands can enjoy cooking shows, tastings, concerts and talks, as well as a cous cous cook-off between chefs from ten different countries.
Itaca, a newly built villa with views out to the sea and Monte Cofano, is half an hour's drive from San Vito Lo Capo and within walking distance to the beach. The villa has a large covered patio with its own outdoor wood-burning oven and a large saltwater pool with sun-loungers and gazebo.  One week at Itaca costs from £1,569 (1,700 euros) in September., sleeping five in three bedrooms. http://www.solosicily.com/itaca.aspx
The Sherbeth Gelato Festival, 28 September – 1 October 2017
This historic centre of Palermo is turned into a special 'gelato village' for this international celebration of artisanal ice cream and granita. Highlights include an open-air laboratory where over 45 gelato masters demonstrate their culinary skills, as well as tastings, concerts, cultural tours and a special children's area to learn about this all-time favourite dessert.
Overlooking the hills and citrus groves that surround Palermo, Il Poggio has a rural setting, yet is just 35 minutes drive of Palermo city centre. This spacious villa has a pool, covered patio, outdoor barbeque and hammock. Guests can explore the hills on horseback with stables right next door. One week at ll Poggio costs from £2,307 (Euros 2,500 euros) in September, seeping up to nine. http://www.solosicily.com/il-poggio.aspx
Mushroom Festival, 17 – 29 October 2017
Set in the beautiful Medieval hamlet of Castelbuono, perched on a hilltop in the countryside surrounding Palermo, is Sicily's annual Mushroom Festival. Coinciding with the end of mushroom growing season, over two weeks, visitors can sample the hearty mountain cuisine and some of the islands best wines. Many different varieties are grown in the area but Castelbuono is perhaps best known for the Basilischi mushroom used in soups, pasta dishes and salads. Nature tours and tastings combine with music, street artists and folklore groups to create a fun and lively festival.
New to the soloSicily collection and exclusive to the villa company, Calura is set above the beach with sea views just 25 minutes from Castelbuono. Lovingly restored, exposed stone walls combine with a traditional design to create a home-from-home feel. The well-kept garden has a shaded dining area, as well as barbecue area and outdoor kitchen. One week at Calura costs from £2,307 (2,500 euros) in October, sleeping six. http://www.solosicily.com/calura.aspx