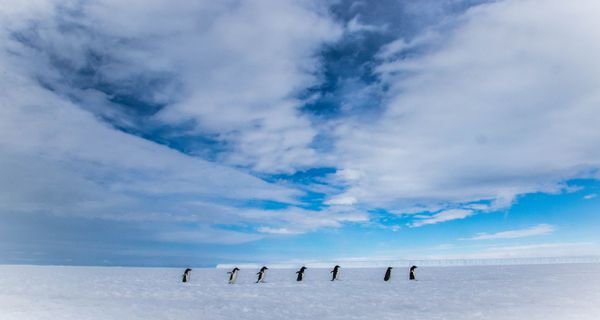 Following the adventure of their 2017 voyage which saw travellers sail 4025,1 nautical miles; identify eight species of penguins; spot thirteen mammal breeds; experience air temperatures of -6 Celsius; and cross the Antarctic Circle no less than six times, polar specialists Chimu Adventures invite those who want the ultimate Antarctica experience to get involved in 2018. Voyagers will embrace the East Antarctic world of weather, wildlife, scenery and history as they visit the most remote place on Earth. Chimu will again be taking a very limited number of guests to the isolated, wild and rarely visited Commonwealth Bay in East Antarctica on their exclusive expedition cruise, In the Wake of Mawson. This unique journey sets sail from Hobart, Australia on 10 December 2018 aboard the Akademik Shokalskiy and ends 28 days later in Invercargill, New Zealand. It is the only cruise in 2018 to this area departing from Australia and has capacity for less than 50 passengers.
Commonwealth Bay is situated approximately 2700 kilometres south of Hobart and involves 11 days of sailing on the Southern Ocean through an area called the 'Roaring Forties.' The bay is an integral part of Australian Antarctic history; Sir Douglas Mawson and his team built one of Australia's most historically important structures, Mawson's Huts, here during the 1911 to 1913 Australasian Antarctic expedition amid the challenging surroundings. Constructed in 1912, the huts have endured over 100 years of ferocious Antarctic conditions. Less than 300 tourists have made the journey to Commonwealth Bay in the past six years and more people have summitted Everest than have stepped inside Mawson's Huts.
Chimu's 2017 expedition following a similar itinerary came within 0.4 of a nautical mile of the huts; passengers sighted the Memorial Cross and some of the buildings. Access to the huts is only possible under very specific conditions but this does not detract from the adventure experienced. Chimu Adventures co-founder, Chad Carey, describes the nature of polar voyages: 'You never know until you get there what the forces in Antarctica are going to dish up and this is what makes the travel style so exciting.' Setting foot in the huts isn't guaranteed but the December 2018 expedition hopes to maximise the chances with an extended itinerary of 28 days which will include extra time in Commonwealth Bay.
Circumstances depending, the 2018 expedition will also visit Macquarie Island which is home to millions of penguins including King, Rockhopper, Gentoo and endemic Royal species; the French Antarctic Research Base of Dumont D'urville and its nearby Emperor penguin colony; New Zealand's Sub Antarctic territory of Campbell Island; the Auckland Islands with its Shy Albatross and sea lion varieties; and the abundant nesting seabirds of The Snares before disembarking in Invercargill, New Zealand. Carey continues: 'The past few years that Chimu have sailed to these remote areas and the sights we have witnessed have always been such an adventure, regardless of the conditions.'