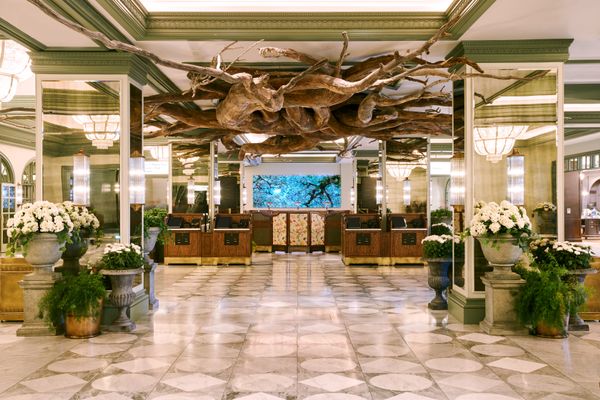 MGM Resorts is a global entertainment company in the midst of new developments with forward-thinking venues and creative experiences, all designed to entertain and wow our guests. The Company's portfolio encompasses 27 unique hotel offerings including some of the most recognizable resort brands in the industry. The company is expanding throughout the U.S. and around the world, developing Park MGM in Las Vegas, MGM Springfield in Massachusetts and MGM COTAI in Macau, as well as debuting the first international Bellagio-branded hotel in Shanghai. Below are some of the current highlights. For all the latest news, images and video, visit the MGM Resorts Newsroom.
New Developments & Top News
Park MGM and The NoMad Las Vegas (Las Vegas): Park MGM, a partnership between Sydell Group and MGM Resorts International, was born from the collaborative vision of the New York-based lifestyle hotelier and one of the world's preeminent destination resort developers. When complete, the project will comprise two new distinct experiences: Park MGM, a welcoming social hub that evokes the residential spirit, intimacy and individuality of a boutique experience on a resort scale; and a Las Vegas version of the renowned NoMad. The transformation will touch every corner of the property and began in December 2016 with the opening of Park Theater. Since 2017, the transformation has witnessed the debut of several Park MGM resort features, including Bavette's Steakhouse & Bar, a sumptuous steakhouse experience from Chicago-based Hogsalt Hospitality; the stylish Juniper Cocktail Lounge; and 2,700 residential guestrooms and suites. The evolution of the Park MGM experience will continue throughout 2018, with the addition of nightlife; a new dining concept from Roy Choi embracing the energy of Los Angeles' Koreatown; an Eataly marketplace designed specifically for Las Vegas; and the launch of Lady Gaga's highly anticipated special engagement at Park Theater, among other elements. NoMad Las Vegas will open in Fall 2018 with 292 guest rooms and suites; a dedicated entrance and lobby; high-limit gaming; a private pool environment; and the Las Vegas debut of Chef Daniel Humm and restaurateur Will Guidara, the visionaries behind the world's best restaurant, Eleven Madison Park. Park MGM and The NoMad Las Vegas become the final pieces of MGM Resorts' complete neighborhood redesign of the central Las Vegas Strip neighborhood, which began in 2009 with the introduction of CityCenter, followed by openings of The Park and T-Mobile Arena in 2016.
MGM Springfield (Massachusetts): MGM Springfield will combine new construction and revived historic buildings to introduce a vibrant entertainment and tourism district to downtown Springfield. Touting a street-facing design and covering three city blocks, the property will open up to the heart of Western Massachusetts and feature a 252-room boutique hotel, a world-class spa, diverse retail offerings, an expansive gaming floor and approximately 40,000 square feet of banquet and meetings space. Other amenities will include a luxury cinema, high-energy bowling complex, seasonal skating rink and an outdoor marketplace featuring local artisans and lively events. Scheduled to open September 2018. 
MGM National Harbor (Maryland): An East Coast addition to MGM Resorts International's prestigious portfolio, MGM National Harbor is a 24-story, 308-room resort that features premier amenities and experiences for locals, as well as visitors from around the world. The $1.4 billion resort sits atop a hill in Maryland, overlooking the Potomac River, just a short distance from Washington, D.C. and historic sites including George Washington's Mount Vernon estate in Virginia. Guests of MGM National Harbor will discover a world-class spa and salon; high-end branded retail including the first SJP by Sarah Jessica Parker; a dynamic casino with more than 125,000 square feet of space including slots, table games and poker; and 50,000 square feet of meeting space. Restaurants from renowned local, national and international chefs include José Andrés and the Voltaggio Brothers. An entertainment theater with flexible seating for up to 3,000 has featured acts such as Boyz II Men, Bruno Mars, Duran Duran and many more. MGM National Harbor celebrated one-year anniversary on December 8, 2017.  
MGM COTAI (China): MGM COTAI is the latest addition to the MGM portfolio in China. Designed as the "jewelry box" of Cotai, it offers approximately 1,400 hotel rooms and suites, meeting space, high-end spa, retail offerings and food and beverage outlets as well as the first international Mansion at MGM for the ultimate luxury experience. MGM COTAI offers Asia's first dynamic theater and a spectacle to wow every guest who steps foot in the resort. MGM COTAI has been developed to drive greater product diversification and bring more advanced and innovative forms of entertainment to Macau as it grows as a global tourist destination. MGM COTAI is the largest property and the first private sector project ever to achieve the China Green Building (Macau) Design Label Certification. Opened February 2018. 
Bellagio Shanghai (China): Bellagio, a Las Vegas icon, has made its debut outside North America as part of the MGM portfolio in China. Located on the banks of the Suzhou River next to the historic Waibaidu Bridge, the 162-room hotel features luxurious guest rooms and suites, private terraces, a spa, meeting and event space, and exquisite culinary options including LAGO by award-wining Chef Julian Serrano. Opened January 2018.
Lady Gaga Announces Two-Year Engagement with Park Theater (Park MGM): Six-time GRAMMY Award-winner, Golden Globe Award-winner and Academy Award-nominee superstar entertainer Lady Gaga will bring her one-of-a-kind talent and creativity to the stage at Park Theater in Las Vegas.  On the heels of a year that included a stunning Super Bowl performance and a wildly celebrated sold-out tour, Lady Gaga's energy and raw talent will forever change the Las Vegas entertainment landscape. With a show designed specifically for this intimate venue, Lady Gaga will launch a two-year, multi-date love affair with Las Vegas. Opening December 2018. 
T-Mobile Arena Welcomes Las Vegas' First Professional Sports Team: T-Mobile Arena, the $375 million indoor venue developed by AEG and MGM Resorts, hosts boxing, UFC, major headline entertainment, awards shows and now the Las Vegas' first professional sports team – the Vegas Golden Knights (VGK). The most recent NHL expansion team, VGK began playing in the 2017-2018 NHL Season as part of the Pacific Division of the Western Conference. The Vegas Golden Knights became the first expansion team in NHL history to start with a 3-0-0 record. They became the first major North American professional sports franchise to win eight straight games at any point in its inaugural campaign since the NBA's Denver Nuggets in 1976. VGK hosts a Fan March every home game starting one hour before puck drop. The Knight Line presented by Drumbots and Vegas Golden Knights promotional team lead the march that runs from New York-New York to the doors of T-Mobile Arena. 
Las Vegas' First Major Professional Basketball Team (WNBA) – Las Vegas Aces (Mandalay Bay): The WNBA and NBA Board of Governors unanimously approved the relocation of the San Antonio Stars to Las Vegas. This marks the second major professional sports team in Las Vegas after the NHL's Vegas Golden Knights, with the NFL's Oakland Raiders relocating by the 2020 season. MGM Resorts International owns and operates the team, named the Las Vegas Aces. In its 2018 inaugural season, the WNBA franchise is expected to play 17 games in Las Vegas Aces' new home at the Mandalay Bay Events Center. The 2018 season begins in May with the inaugural home opener May 27, 2018. 
MGM Resorts Launches Military & Veterans Program: Created in appreciation for our nation's 24 million active military personnel, veterans and their spouses, the new Military & Veterans Program (MVP) was conceptualized and developed by MGM Resorts' Veterans Employee Network Group. An extension of M life Rewards,MGM Resorts' premier loyalty program, MVP provides special recognition by distinguishing service members with a dedicated M life Rewards card identified with the MVP logo and provides access to all of the available military benefits throughout MGM Resorts destinations via a new, comprehensive and easy-to-find central location – mgmresorts.com/military. In addition to M life Rewards' existing benefits, Military & Veterans Program cardholders are automatically upgraded to the second Tier Level, Pearl, with benefits including complimentary self-parking at MGM Resorts properties. With a military ID, guests can sign up for the program on-site at MGM Resorts destinations.
Interactive Entertainment
First Esports Arena on Las Vegas Strip (Luxor): Allied Esports, the world's leading network of esports venues, and Esports Arena, opened a new dedicated esports venue at Luxor Hotel and Casino. The new Esports Arena Las Vegas is the first permanent esports venue on the Las Vegas Strip and combines the best of interactive entertainment and Las Vegas nightlife, becoming the global epicenter for esports experiences. The space, formally occupied by a 30,000-square-foot nightclub, has transformed into a multi-level arena complete with a competition stage, LED video wall, telescopic seating, daily gaming stations, customized food and beverage offerings and a state-of-the-art streaming and television-quality production studio. The Arena provides a ready-to-go championship destination for tournaments, leagues and high stakes match-ups in a setting designed to deliver an unparalleled fan experience. Opened March 2018.
The Big Apple Coaster Virtual Reality Experience (New York-New York): High-tech thrills at cosmic levels can be found at New York-New York Hotel & Casino. The Big Apple Coaster Virtual Reality Experience lets riders take on the role of a scientist in hot pursuit of an alien that escaped their research facility. The chase soars high above the Nevada desert and up the Las Vegas Strip. Measuring 4,777 ft. in track length, The Big Apple Coaster is the longest roller coaster equipped with virtual reality in the world. The first of its kind in Las Vegas, and only the second on the west coast, this white-knuckle ride will combine thrill-seekers' need for speed with high-tech graphics resulting in an extreme virtual reality journey. Opened February 2018. 
Zero Latency (MGM Grand): MGM Grand Hotel & Casino and Zero Latency, the irrefutable world-leader in location-based free-roam Virtual Reality (VR) entertainment, introduced Las Vegas' first multi-player free-roam VR experience inside LEVEL UP gaming lounge on September 8. The arena, "Virtual Reality Powered by Zero Latency," will immerse up to eight players in a completely interactive digital universe, allowing them to physically navigate considerable distances through the 2,000-square-foot arena while collaborating with other players in heart-racing challenges. Teams can choose from three different games for a 30-minute experience – Zombie Survival, Singularity and Engineerium. Each playthrough is a unique experience with success measured both by a personal score and a team score. Players stay in contact with each other through Razer-integrated headphone / microphone units and are outfitted with OSVR HDK2 virtual reality headsets while wearing a military-grade backpack containing a high-performance Alienware PC gaming computer. They carry a perfectly weighted, custom-made simulated weapon for game sessions that require firepower. Opened September 2017. 
Vegas Means Business
Breaking Ground and Reinventing Meetings
Las Vegas is one of the premier meeting destinations in the world and MGM Resorts is committed to growing that group business in response to client demand by adding approximately 850,000 square feet of meeting space at ARIA, MGM Grand, Mandalay Bay and Park MGM. When all expansions are completed by the end of 2018, MGM Resorts will have 4 million square feet of meeting and convention space within a two-mile stretch on the Las Vegas Strip. The new meeting space, with its increased flexibility, allows MGM Resorts to grow with clients' growth as well as attract new business. Within the new spaces are more robust and creative meeting options to meet the ever-changing needs for collaborative and productive work spaces.
ARIA Convention Center Expansion: Cementing its position as one of North America's premier destinations for large-scale meetings and events, ARIA recently underwent a major expansion of its award-winning LEED Gold-certified convention center. The $165 million project delivers an additional 200,000 square feet of technologically advanced, flexible meeting space across four stories, highlighted by stunning indoor/open-air spaces and a glass-enclosed venue with dramatic views of The Park and spectacular T-Mobile Arena. With the completion of the expansion, ARIA now features more than 500,000 square feet of meeting space. Construction began in May 2016 and opened February 15, 2018.
MGM Grand Conference Center Expansion: MGM Grand, a premier meetings destination, is expanding its award-winning conference center by 250,000 square feet for a total of more than 850,000 square feet when complete. The $130 million expansion, reflecting MGM Resorts' commitment to growing group business throughout the city, includes an expansion of Stay Well Meetings – the industry's first-ever wellness meetings experience which launched at the hotel in 2014. Demonstrating the demand for a new way to conduct business, Stay Well Meetings feature amenities and programs that stimulate healthy, productive and creative work environments that many clients are actively seeking. Groundbreaking was June 20, 2017, Topping off was February 2018, with completion scheduled for the end of 2018.  
Park MGM's Innovative Meeting Spaces: Park MGM has debuted a new 77,000-square-foot conference space with a combination of innovative non-traditional spaces, an outdoor terrace and flexible design, filling an unmet need in Las Vegas for small groups, while also offering beautiful spaces to host up to 5,000 attendees in Park Theater. The space will be highlighted by Las Vegas' first Executive Meeting Center called the Madison Meeting Center and Ideation Studio – high-touch, high-tech meeting venues designed to maximize productivity for small groups. Additionally, Park MGM includes an installation of the Stay Well™ program, the industry's first and most comprehensive wellness meetings experience. Main conference space opened in October 2017; the Madison Meeting Center is opening late May 2018, and the Ideation Studio is opening in Q4 2018. 
Mandalay Bay Convention Center Expansion: Mandalay Bay has expanded its award-winning Convention Center with the addition of more than 350,000 square feet of exhibit space to the existing 1.7 million square feet of space. In response to customer demand, the resort has added new exhibit space, a 70,000-square-foot carpeted ballroom, underground parking and increased overall square footage, creating the most flexible and customer-focused convention facility in North America. The Mandalay Bay Convention Center now boasts more than 2 million total square feet and 900,000 square feet of exhibit space.
Power of Art
MGM Resorts Art & Culture: MGM Resorts Art & Culture has been established to encompass the Company's varied art-related initiatives in Las Vegas and beyond. Reflecting the company's core values of inclusivity and diversity, MGM Resorts Art & Culture aims to create special, accessible experiences for all audiences. Each project thoughtfully considers the artist, the environment and the overall experience because art has the power to evoke emotion, engage the senses and spark conversation. Evolving into a comprehensive, ongoing program, MGM Resorts Art & Culture projects include Bellagio Gallery of Fine Art; the MGM National Harbor Heritage Collection; MGM Resorts Fine Art Collection; Art in The Park; title sponsor of Ugo Rondinone's colorful, land-based art installation Seven Magic Mountains in Las Vegas; Associate Partner for Art Basel in Basel, Miami Beach and Hong Kong; and the ARIA Fine Art Collection, the first major permanent collection of art in Las Vegas to be integrated into a public space and one of the world's largest and most ambitious corporate art collections in existence today.
Seven Magic Mountains: Those seeking an adventure while visiting Las Vegas can enjoy a short drive south of the Las Vegas Strip to the popular Seven Magic Mountains, the inspiration of internationally renowned Swiss artist– Ugo Rondinone. MGM Resorts, long committed to supporting and displaying public art in Las Vegas, is a proud sponsor of one of the largest land-based art installations completed in more than 40 years. Seven Magic Mountains is comprised of seven towers of colorfully painted, locally sourced, stacked boulders, each weighing an average of 40,000 pounds. On view through end of 2018.