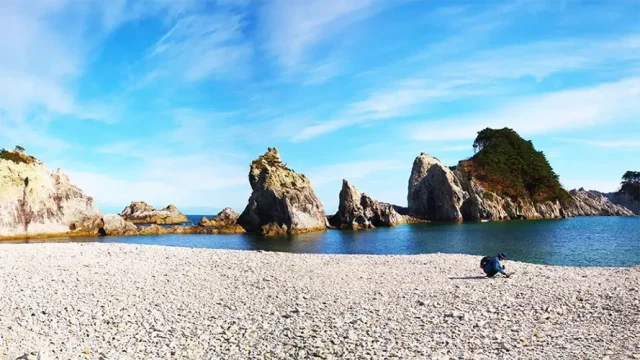 Walk Japan has launched seven new and original tours to celebrate the reopening of Japan after Covid that provide an unrivaled range of intimate experiences of the countryside, society, culture, history and heritage to Japan's less-visited but no less-fascinating regions.
Walk Japan, which celebrated its 30th anniversary in 2022, began with the Nakasendo Way, the company's pioneering and now signature tour of one of the historic thoroughfares of Japan. Since then, Walk Japan has crafted an impressive roster of 34 guided, self-guided and specialty tours to Japan that cater to a wide range of walking abilities and interests.
"We are delighted to be welcoming our guests back to Japan and adding these seven new pioneering experiences that access little-explored destinations across the nation," said Paul Christie, CEO of Walk Japan. "Following ancient trails and trade routes to charming historic towns, indulging in soothing onsen hot springs and sumptuous cuisine, these new itineraries are finely crafted by Walk Japan's experienced team ensuring every tour is an authentic experience offering deep insights into Japan's society, history, culture, and traditions."
The new magnificent seven are:
​​Michinoku Coastal Trail & Self-Guided Michinoku Coastal Trail Wayfarer | North Honshu
These two tours follow the best sections of the 637-mile Michinoku Shiokaze Coastal Trail in Japan's Tohoku region and provide a choice to be with or without a Walk Japan Tour Leader, who have a reputation as being stars of the show. Starting in Hachinohe and ending in Kesennuma, travelers follow the trail along the spectacular Sanriku Coast aside the Pacific Ocean over beaches, along cliff tops and through charming coastal fishing and farming communities. Offered April to June & September to November.
Shio-no-Michi: The Salt Road | Central Honshu
A guided tour exploring an ancient trade route from Matsumoto, an historic castle town, through remote mountain villages before reaching the shores of the Sea of Japan. Traversing glorious rural countryside of rice paddies, beech forests and clear streams set against a backdrop of oft-snow-capped mountains, this tour follows in the footsteps of travelers of old taking us into the lives of the locals of today. Offered May to June & September to November. 
Self-Guided Tokaido Wayfarer | Central Honshu
A self-guided walking and gastronomic adventure along the central section of the Tokaido, Japan's greatest thoroughfare which connected Kyoto to Edo, now modern-day Tokyo. The varied scenery of rural landscapes, picturesque coastal stretches and towns is emblematic of Japan both of today and yesteryear. Guests figuratively and literally walk find themselves travelling through Japan's history up to the current day. Offered year round.
A guided tour visiting northern Gifu Prefecture in the geographic centre of Japan; a largely remote area of mountain ranges, deep valleys, high plateaus, remote villages and lovingly cared-for period towns. A richly forested hinterland far from the oceans; the local cuisine is deeply rooted in delicious rustic fare, which together with the region's onsen hot springs provide us with a delightfully symbiotic sustenance. We also make the most of the region's sake, which are considered some of the best in Japan. Offered April to November.
Self-Guided Kunisaki Wayfarer | Kyushu
A self-guided tour following in the footsteps of monks on the little-known and much less-visited picturesque Kunisaki Peninsula from elegant temple to temple along rugged forest trails and quiet country lanes in verdant countryside. The tour begins at the impressive Usa Grand Shinto Shrine, one of Japan's most important, and ends on Himeshima, a delightful island in the Seto Inland Sea. Offered January to June & September to December.
Onsen Gastronomy: Oita & Kumamoto | Kyushu
A guided tour starts appositely in Beppu, the onsen hot spring capital of Japan, before exploring Oita and the adjacent Kumamoto Prefectures in northern Kyushu, a region renowned for its richly varied, rural landscapes, the high quality of its food sourced from the fertile land, pristine rivers and the surrounding seas, and for its abundance of onsen hot springs. Offered year round.