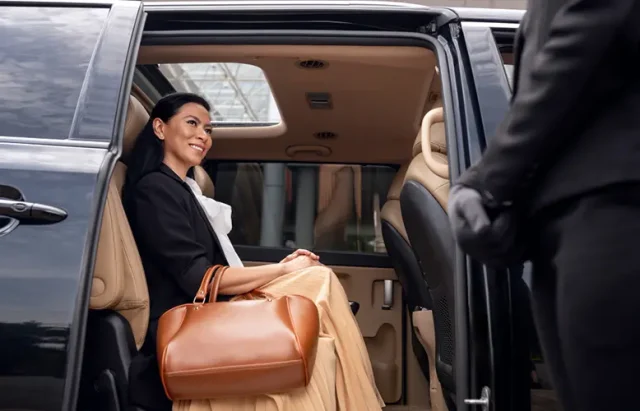 A private airport transfer service is a transportation service that provides individuals or groups with a dedicated vehicle and driver to transfer them between an airport and their chosen destination, such as a hotel, home, or any other location. Unlike public transportation options like taxis or buses, private airport transfer services offer a more personalized and exclusive experience.
Pilot and Cars is here to guide you on how these airport transfer services work and all the benefits that you could get from booking one for your trip to another country. Here is the usual way for how a private airport transfer service is handled.
1) Reservation
Passengers can often book the service in advance, either online, through a mobile app, or by contacting the service provider directly. They provide their flight details, including the arrival or departure time, so the service can be scheduled accordingly.
2) Meet and Greet
Upon arrival at the airport, the passenger is greeted by a professional driver holding a sign with their name or the company logo. This makes it easy for the passenger to identify their designated driver.
3) Exclusive Vehicle
The passenger is then escorted to a private vehicle reserved solely for them or their group.The type of vehicle may vary depending on the service provider and the passenger's preferences or the choice of their package beforehand, ranging from standard sedans to luxury cars or even larger vehicles like mini buses for group travel
4) Direct Transfer
The driver then takes the passenger directly to their destination, without making any other stops along the way. This ensures a quick and efficient transfer, especially beneficial after a long and tiring flight.
We hope you found this information to be helpful and now you know about the simple process of booking a private airport transfer service and the same process applies for departure to the airport from your hotel or your chosen location. The driver picks up the passenger from their specified location and ensures a timely arrival at the airport for check-in.
You may be wondering now if it is even worth all the expenses to consider booking an airport transfer for your trip so here is a list of benefits you may get from doing so which will not only save you time but also money while making your trip an excellent and memorable experience.
Why Choose Chauffeur services Dubai
Professionalism and Expertise
Chauffeur services Dubai have professional and knowledgeable drivers who have a detailed understanding of the roads, traffic patterns, and popular destinations. They can help assist you by giving you other smaller services such as helping with your luggage or recommending places you could rest or eat at.
Convenience and Time-Saving
By hiring a chauffeur service, you can save time and avoid the troubles of driving through an unknown city of which you have no prior knowledge to navigate, manage through traffic or find a good parking spot.
Let the chauffeur driver handle all that for you and the chauffeur will pick you up from your desired location and drop you off at your destination, allowing you to relax and focus on your activities.
Luxury and Comfort
Chauffeur services in Dubai offer a fleet of luxurious vehicles equipped with amenities such as comfortable seating, climate control,and entertainment systems. Traveling in style and comfort adds an extra level of enjoyment to your journey.
Personalized Service
Chauffeur services cater to your specific needs and preferences. Whether you're a business traveler attending meetings or a tourist exploring the city's attractions, chauffeurs can tailor the itinerary to suit your requirements, ensuring a personalized and convenient experience.
Safety and Security
Dubai is known for its strict traffic regulations, and chauffeur services ensure compliance with these rules, guaranteeing a safe and secure journey. Chauffeurs are trained in defensive driving techniques and prioritize your well-being throughout the trip.
Flexibility and Availability
Chauffeur services are available 24/7, providing flexibility in scheduling your trips. Whether you have an early morning flight or need a late-night pick-up, chauffeurs can accommodate your requirements, ensuring a hassle-free experience. You can always inform them of any changes to the schedule or destination and they will immediately follow through to ensure you have a smooth journey.
While private airport transfer services may be costlier than other transportation options, they provide a premium and convenient way to travel between the airport and your destination, making them popular choices for business travelers, families, and anyone seeking a hassle-free experience.
We hope you found this article to be helpful in making you understand exactly what is a private airport transfer service and all that it can offer. It may be a challenge in itself to choose the right chauffeur service company for your trip. Pilot and Car is also there as a reliable option for you to choose from with years of experience, a large variety of vehicles to pick from the car fleet and many reasonably priced packages that adhere to your preferred budget.