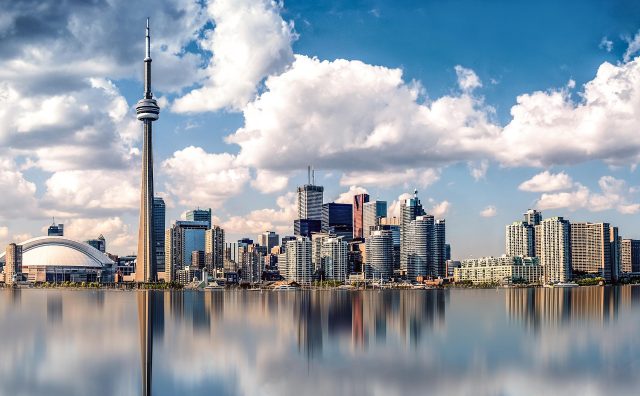 HOTELS
Kimpton Saint George is now accepting reservations for July 1, 2018. The hotel's enviable Toronto location bridges the best of bordering neighbourhoods, blending The Annex's vibrant, bohemian hipness with the historic feel of today's chic, upscale Yorkville. Kimpton Saint George's design is an immersion into true Toronto — a sweet spot of culture and congeniality that captures the spirit of this dynamic and diverse neighbourhood, with The University of Toronto, Royal Ontario Museum, and Yorkville's renowned high-end shops and restaurants.
Originally The Anndore Hotel & Apartments, The Anndore House was home to many of Toronto's most eccentric personalities and famous faces. Today, the boutique hotel is a fusion of its quirky past and modern style. It has a creative soul and shares their passion for art and culture with kindred spirits. Opening this spring, The Anndore House is steps away from Toronto's main artery of Yonge Street and near the vibrant culture of Bloor Street, Yorkville and downtown.
Opening in April 2018 in the heart of Downtown Markham, the all-new Toronto Marriott Markham reflects Marriott's latest design concepts and stands tall with sophisticated rooms and luxurious amenities. From the moment you step inside the Great room, enjoy an exclusive experience with a full-service bar, bourbon program, and variety of menu items. Retreat to modern accommodations with keyless entry, Netflix, high-speed Wi-Fi, and bedside adapter ports that complement their location in Canada's technology hub.
RESTAURANTS
The Senator – one of Toronto's oldest restaurants – has expanded for the first time in 90 years in 2018, creating The Senator Winebar. The Winebar is located on top of the historic Senator Restaurant, around the corner from Yonge-Dundas Square. The new bistro serves a seasonal menu of contemporary French dishes and a unique collection of old-fashioned and refined modern libations consistent with the French theme.
Cactus Club Café is opening its second location this spring! The new restaurant – named Cactus Sherway Gardens – will reside at CF Sherway Gardens and will be the chain's largest location in Canada. It boasts an epic rooftop patio, tons of seating, and first-rate design.
Toronto Island Brewing Co. – which has a series of beers on the market – is taking over the Toronto Island BBQ & Beer Co. space in May, with a menu that will likely consist of food plus their house beers. The property at 120 Centre Island Dock sits next to the ferry docks and has a massive outdoor patio.
Located in the heart of Toronto's Riverdale neighbourhood, on the corner of Broadview and Queen, the Brickworks Ciderhouse is the first urban Ciderhouse in the country. Taking advantage of their new, innovative cider-making facilities, they offer small batch cider brewed on-site, alongside Brickworks favourites and local craft beer. Brickworks Ciderhouse farmhouse-inspired menu features locally sourced ingredients and changes with the seasons.
Filipino fast-food chain, Jollibee, opens its first Canadian location this April in Scarborough. Jollibee Canada will offer its all-time favorite Jolly Crispy Chicken – Jollibee's perfectly seasoned fried chicken that's crispy on the outside and tender and juicy on the inside, and the Jolly Spaghetti—meaty, cheesy, sweet style spaghetti.
Not one, but two, Japanese soufflé pancake shops are opening in Toronto this spring! Hanabusa Café, located in Kensington Market, makes Japanese authentic soufflé pancakes and fully customized preserved fresh flowers. All their cakes are made in their front open kitchen, where customers can enjoy watching the process of making cakes. Fuwa Fuwa is coming to the Annex and tells its guests to expect impactful flavours and impressive fluffiness!
Located in Toronto's newest boutique hotel, The Anndore House, is a Mediterranean-style restaurant, called Constantine. Celebrating the diverse, stimulating, and primal cuisine of distinct regions of the Mediterranean, Constantine aims to cultivate an intimate and inviting atmosphere that will be a gathering place for local residents and guests of The Anndore House. It will also be a destination spot for anyone looking for a generous dining experience full of the familiar and exotic.
Bienvenidos to El Chapo! Tacos with an attitude! El Chapo is a place where people, who truly enjoy real and authentic Mexican cuisine, will find a selection of tacos, appetizers, and desserts from various parts of Mexico. El Chapo offers a familiar and relaxing environment, which one can find in an authentic "taqueria" from the heart of Mexico characterized by excellent food and service.
Chef Mark McEwan is bringing his rustic Italian fare to Toronto's downtown core with the opening of his second Fabbrica location at the TD Centre. Located at 66 Wellington St. W in The PATH, the new Fabbrica will bring the authenticity and quality of the flagship restaurant to the bustling financial district.
Opening this spring in the Financial District, Rosalinda Restaurant is a vibrant, feel-good vegan Mexican restaurant. The new plant-based restaurant is a dream collaboration between the prolific chef/restaurateur behind Bar Isabel, Bar Raval, El Rey, Harry's, Tennessee Tavern etc., and the duo behind Pizzeria Libretto and Enoteca Sociale.
PERFORMING ARTS
Back by popular demand, Come From Away plays at the Royal Alexandra Theatre until September 2. The show centers on a remote town in Newfoundland, where it became the epicenter of a remarkable true story filled with unusual characters, unexpected camaraderie, and uncommon generosity.
Return to an era of pink ladies and slicked back hair with Grease the Musical live in Toronto! The 2017 production that captivated audiences returns to Toronto's historic Winter Garden Theatre for another limited run from May 24-June 17.
The classic family musical Annie makes its long-awaited return to Toronto this spring on stage at the Ed Mirvish Theatre from April 24-May 27. With its Tony award-winning book and score and memorable soundtrack, it is a show to be enjoyed by all ages.
Featuring the Toronto Symphony Orchestra and conducted by Justin Freer, relive the magic of your favorite wizard in Harry Potter and the Prisoner of Azkaban™ — in concert at the Sony Centre for the Performing Arts from May 16-18. Based on the third installment of J.K. Rowling's classic saga, fans of all ages can experience the thrilling tale, accompanied by the music of a live symphony orchestra and choir as Harry soars across the big screen.
Motown the Musical is the true American dream story of Motown founder Berry Gordy's journey from featherweight boxer to the heavyweight music mogul, who launched the careers of Diana Ross, Michael Jackson, Smokey Robinson, and many more. Experience Motown the Musical live on stage at the Ed Mirvish Theatre from May 22-June 3.
Hailed as a masterpiece at its sold-out world premiere in Toronto and a subsequent tour to New York, the Canadian Opera Company is thrilled to revive Robert Lepage's The Nightingale and Other Short Fables from April 13-May 19. A blending of exquisite visuals, whimsical puppetry, and emotional storytelling, this magical mélange combines the best of Stravinsky in a program designed to delight audiences of all ages.
Cameron Mackintosh's spectacular new production of Andrew Lloyd Webber's The Phantom of the Opera comes to Toronto as part of a new North American Tour. The beloved story and thrilling score, with songs like "Music of the Night," "All I Ask Of You," and "Masquerade", will be performed by a cast and orchestra of 52, making this Phantom one of the largest productions on tour. Experience it at the Ed Mirvish Theatre from June 7-30.
Sutra, the award-winning collaboration between Sidi Larbi Cherkaoui, sculptor Antony Gormley, and 19 Buddhist monks from the Shaolin Temple in China, is a breathtaking spectacle of athleticism that explores the philosophy of faith behind the Shaolin tradition and its relationship with kung fu within a dance context. Sutra takes the stage at the Sony Centre for the Performing Arts on May 12.
The court of Henry VIII is in tumult as the king tires of his second wife, Anne Boleyn, who must now fight for her honour and her life. The Canadian Opera Company completes its Tudor Trilogy by Donizetti on May 26, with a sumptuous production of Anna Bolena, starring the queen of bel canto, Sondra Radvanovsky.
Frame by Frame, a ballet based on the work of Norman McLaren, comes to The National Ballet of Canada from June 1-10. Robert Lepage comes to The National Ballet of Canada for the first time to collaborate with the company's Choreographic Associate Guillaume Côté in a multidisciplinary production that explores Norman McLaren's life and work.
Fun Home: Alison, a 43 year-old lesbian cartoonist, struggles to untangle her complex relationship with her deceased father. Moving between past and present, Alison relives an unusual childhood, growing up in a funeral home, her sexual awakening, and unanswerable questions about her father's secret life. This ground-breaking new musical based on Alison Bechdel's best-selling graphic memoir plays from April 13-May 6 at the Ed Mirvish Theatre.
EXHIBITS & ATTRACTIONS
MOCA (Museum of Contemporary Art):
CN Tower
Art Gallery of Ontario:
Canada's Wonderland:
Ripley's Aquarium of Canada:
Gardiner Museum:
Royal Ontario Museum:
Bata Shoe Museum:
Aga Khan Museum: