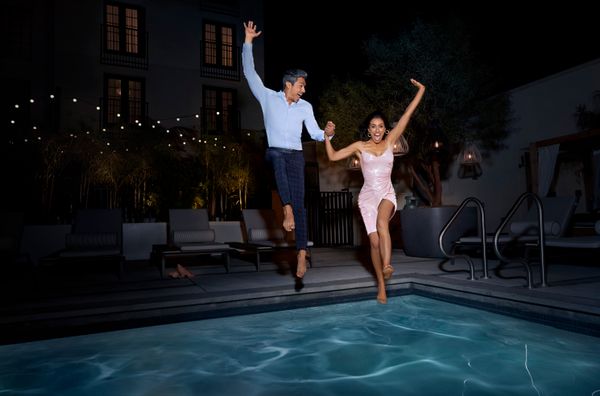 West Hollywood is rolling out the welcoming-to-all red carpet and ringing in joy, delight, gluttony and other simple pleasures. Make the most of the present moment at this season's cream of the crop.
Hotel News: Bedding Down for the Night
850 (850 North San Vicente Boulevard; number850.com) opened October 2018 to great fanfare in the heart of West Hollywood. The new sanctuary is a cross between a boutique European inn and a quintessentially-California clapboard home. The 23-room property – brought to life by Jeff Klein, known for the Sunset Tower Hotel – features a residential aesthetic by London-based interior designer, Rita Konig. From oak floors and fireplaces to marble bathroom sinks and chic pastel fabrics, it's a place for hunkering down (except for the lure of WeHo which draws you out). Guests enjoy a communal living room with leather armchairs, a rooftop terrace for light bites and wine, and an expanded continental breakfast. The centerpiece lobby doubles as a bar while the communal kitchen makes guests feel right at home.
West Hollywood EDITION (9040 West Sunset Boulevard; editionhotels.com/weho), premiering in 2019, will feature 190 rooms and suites, along with 20 luxury residences. Guests will revel in a rooftop pool, six-treatment room spa, lobby lounge, basement club and signature restaurant. Envisioned by Ian Schrager and Marriott, EDITION hotels – with a distinctive presence in diverse destinations like Bodrum and Sanya as well as classics like New York and London – are a microcosm of their environment, hotels that "make you feel something" because "they don't act like hotels." This EDITION will fit right into West Hollywood.
1 Hotel West Hollywood (8490 Sunset Boulevard; 1hotels.com/hotels/coming-soon/1-hotels-coming-soon), bringing its 235 rooms and 50 suites online in 2019, promises to enhance the 1 Hotel reputation as a leader in environmentally responsible hospitality. Founded by renowned hotelier Barry Sternlicht of Starwood fame, the cause-driven brand "aims to show luxury travelers that they can live well, do good and connect with the world around them." At the base of the Hollywood Hills, 1 Hotel West Hollywood will boast staggeringly unobstructed views from most guest rooms of the cityscape from Santa Monica to downtown L.A.
Bars & Nightlife: Vying for Top Honors for your Attention
40 Love (829 North La Cienega; 40love.com) Celebrity-friendly H.Wood Group and partner Sean Mulholland,kicked off the year with a new sports lounge named 40 Love in West Hollywood. It's described as a "classic American country club meets a modern sports lounge." 40 Love will offer full menus with plenty of vegan options. Open for lunch, dinner, and late night bites, the newest restaurant and lounge offers the West Hollywood crowds plenty of time to imbibe and entertain.
Harriet's (8490 Sunset Boulevard; harrietsrooftop.com), high atop the soon to be 1 Hotel, is so staggeringly beautiful that it would cause Sunset Strip traffic jams if it were located at street level. That was wise planning on the part of the H.Wood Group, the masterminds behind Nice Guy, Petite Taqueria and more. Harriet's is a spacious lounge, surrounded by glass and killer city views, open to the night sky. Come for an easygoing ambiance – warmed by plants, twinkling lights and candles – and stay for light bites and intoxicating cocktails.
Raspoutine (8623 Melrose Avenue; raspoutine.com) has far-flung outposts in Marrakech, Monaco, Rome and Paris, and it's almost ready to firmly slide into town adjacent to the big blue Pacific Design Center. Raspoutine, the famous Parisian supper club that opened in 1965 near the Champs-Elysees, hosted old-school celluloid stars like Gary Cooper and Rita Hayworth. So it makes sense that the celebrity-friendly nightclub would launch in WeHo. True to its roots, the Russian-themed supper club will feature an epic selection of vodka and caviar alongside classic beef Stoganoff. You can practically already hear strains of Lara's Theme from Doctor Zhivago oozing from the leather booths and red wallpaper.
Restaurant Openings: On the Front Burner
Pura Vita (8274 Santa Monica Boulevard; puravitalosangeles.com), a cross between an urban wine bar and a Southern Italian trattoria, opened in September and takes the concept of "Simple Life" to new heights with the world's first 100% plant-based (i.e. vegan) Italian restaurant and wine bar. The manifestation of self-taught chef Tara Punzone comes to "pure life" in non-GMO, gluten-free and re-conceptualized dishes like mushroom lentil meatballs, carbonara with avocado egg, Caprese salad with cashew mozzarella and tiramisu. Super-inviting in a non-scenester way, the space charms both romantics and biodynamic-craving lushes.
Conservatory (8289 Santa Monica Boulevard; conservatoryweho.com), which opened in mid-October, has diners and drinkers covered no matter the appetite with four distinct spaces – from a small and almost-sidewalk cafe, to a spacious restaurant open on three sides, to a brass-and-plant filled central bar, to a dark and inviting back bar dubbed the Society Room. Right out of the gate, Conservatory offers attentive service, a welcoming vibe, gorgeous décor and a well-thought-out design.
Momofuku Noodle Bar (514 North La Cienega Boulevard; momofuku.com), scheduled to open sometime in 2019, is the brainchild of Ugly Delicioushost, David Chang, who debuted his first L.A.-based resto, Majordomo, to critical acclaim in January 2018. He's at it again with this Noodle Bar, where his deeply satisfying and signature ramen will undoubtedly reign alongside his archetypal pork buns. (Calm down, there's no reason you must choose between favorites.) The standalone building, with a front patio, will add panache to an already searingly hot dining zone. For perspective, when Chang opened his first Noodle Bar in New York's East Village way back in 2004 (a half generation ago and light years ahead of its time), it did nothing short of changing the way New Yorkers dined. Look out L.A.
Blackship (8512 Santa Monica Boulevard; blackshipla.com), opening in November to tantalize taste buds, promises Italian-Japanese-inspired cuisine alongside a full compliment of sake and single malt whiskey. And just like that, thanks to chef Keiichi Kurobe who earned his stripes as executive sous chef at Hinoki + the Bird, West Hollywood's culinary world became more globally evocative. Think homemade pasta with Japanese influences, practically tapas-style sharing and an open kitchen with a brick oven.
Cha Cha Matcha (510 North Robertson Boulevard; chachamatcha.com) I love you so Matcha. Puns aside – visit the West Coast outpost of the NYC chain for a matcha tea blend (Lavender CBD with coconut milk anyone?) This matcha hot spot opened early December and features a California merch collab with artist Virgil Abloh. With a pink and green color palette, pop art and palm trees, this West Coast beauty is just begging to be Instagrammed. Some are calling it the new Paul Smith wall, just sayin'.