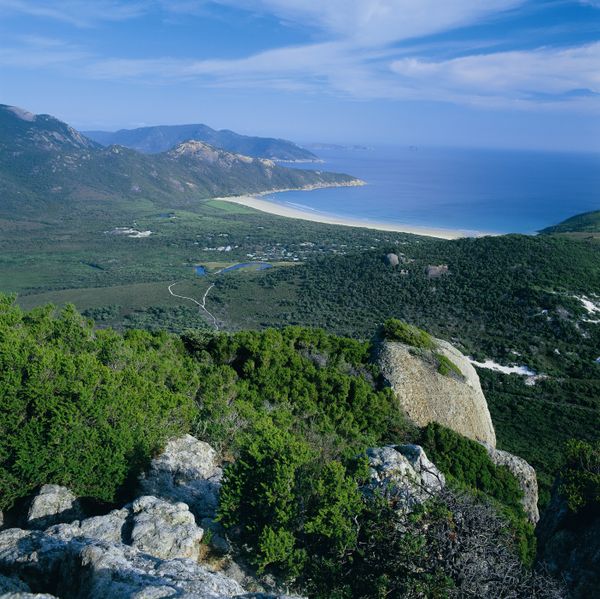 Melbourne and state of Victoria have new and thrilling activities and events to entertain all visitors in the antipodean spring and summer from downsizing your life in a hut, or enjoying new wildlife or art tours.
New accommodation: Disconnect at Shacky (WiFi discouraged!)
New accommodation company, Shacky has opened its first "tiny house" near Euroa, in northern Victoria – with four more to follow. Combining the natural beauty of the landscape with unparalleled comfort, the cosy property is ideal for those who want to be in touch with nature and disconnect from the hustle and bustle of city life, as internet and mobile phones are strongly discouraged. They are also ideal to discover the hidden gems of Victoria.
In keeping with the theme of sustainability, the Euroa house is made from all-Australian materials, such as local timber and corrugated iron – and the upcoming properties will follow suit. These will be located in the Yarra Valley, Moorabool, the Grampians and Gippsland and range in size between 100 and 400 square feet.
Get on board the new eco-tourism cruises around Wilsons Promontory National Park
The beautiful Wilsons Promontory National Park will soon be operating eco-tourism cruises along the Tidal River, offering locals and visitors a never-before-seen glimpse of one of Victoria's great wildernesses. A total of three thirty-seat vessels, operated by award-winning ecotourism boat operator Pennicott Wilderness Journeys (PWJ), will allow visitors to access to some of the most popular beaches on the Prom.
Located at the southernmost tip of mainland Australia, the 50,460-hectare Wilsons Promontory National Park boasts spectacular scenery of rugged granite mountains, pristine beaches and abundant wildlife, including kangaroos.
http://www.visitvictoria.com/regions/Gippsland/Things-to-do/Nature-and-wildlife/National-parks-and-reserves/Wilsons-Promontory-National-Park.aspx
Phillip Island welcomes a new addition to its wildlife cruises
Phillip Island has recently welcomed a new member to Wildlife Coast Cruises, the "Brianna Lee". Launched on 23 September with her first cruise from Port Welshpool, Brianna Lee is a 19-metre luxury catamaran especially designed for wildlife viewing. Starting this month, the cruiser offers full-day and half-day cruises along the beautiful coastline of Wilsons Promontory, Victoria's largest coastal wilderness area. Also, from October and November, humpback whales follow the Gippsland and Wilsons Promontory coastline south to their Antarctic feeding grounds, making our autumn a great time to watch these majestic whales on board one of the cruises available.
www.wildlifecoastcruises.com.au
Victoria's Silo Art Trail adds a brand new 'silo'!
The 200km-long Silo Art Trail, soon to become Australia's biggest outdoor gallery, has recently added a new piece to its growing collection of coloured silos. The work, designed by renowned Melbourne-based street artist Heesco, can be seen in the small town of Brim, in Victoria's Wimmera region. The new silo piece adds to the current five wheat silos that were transformed into giant works of art by renowned Australian street artists Julia Volchkova, Guido van Helten, Fintan Magee, Matt Adnate, Kaff-eine and Rone.  The Silo Art Trail is a project to revitalise the country's old wheat silos, which have defined the state's rural landscape for over 100 years. A new work by Kaff-eine is currently planned for Rosebery, a rural town on the Henty Highway.
http://www.visitvictoria.com/Regions/Grampians/Things-to-do/Art-theatre-and-culture/Silo-Art-Trail
MPavilion is coming back in October!
MPavilion, Melbourne's pioneering annual pop-up, is coming back this month to bring to the city a brand-new series of free talks and workshops about design, architecture and culture. The four-month-long programme will bring creative collaborators together with the aim of creating a debate about the role of those disciplines in today's creative and lively Melbourne.
Guests include MPavilion 2017 architects Rem Koolhaas and David Gianotten, New-York based architect Elizabeth Diller, Albanian contemporary artist Anri Sala and London-based architect Jack Self.  This year's MPavilion will be opened from 3 October 2017 to 4 February 2018.
Works from pre-eminent Australian artists to be exhibited at Melbourne's NGV
The National Gallery of Victoria (NGV) is hosting five exciting solo exhibitions by leading Australian contemporary artists this spring/summer season. These are Melbourne-born Gareth Sansom – a pre-eminent figure of the Australian avant-garde art scene; two-time Archibald Prize winner Del Kathryn; Helen Maudsley – known for her labyrinthine and graphic forms of abstract shapes; , sculptural artist Louise Paramor and contemporary artist Mel O'Callaghan.
All their pieces of work – some of them never exhibited before – will be on display at NGV's The Ian Potter Centre until March 2018, in most cases, and all of them will be free of charge. NGV is Australia's most visited arts museum.
Follow your passion off beat sporting events coming up in Victoria
Targa Florio vintage car rally (30 November – 3 December 2017)
Victoria is hosting this world-famous racing event for the very first time in 101 years, as it has always taken place in Italy. Over 200 classic cars will travel across some of Victoria's most breath-taking sites, including Geelong, the Bellarine Peninsula, the Great Ocean Road, Queenscliff, Gippsland, the Mornington Peninsula and the Yarra Valley.
http://www.visitvictoria.com/regions/Geelong-and-the-Bellarine/Events/Sports/Motor-sport/Targa-Florio-Australian-Tribute.aspx
International Festival of Hockey (5 – 12 November 2017)
This world-class tournament, to be hosted in Melbourne and Bendigo, will see the countries of Australia, New Zealand, Netherlands, Japan, Pakistan and the US battle it out across a week-long competition. Great food and entertainment will add to the excitement of the event.
http://www.visitvictoria.com/regions/Melbourne/Events/Sports/International-Festival-of-Hockey.aspx