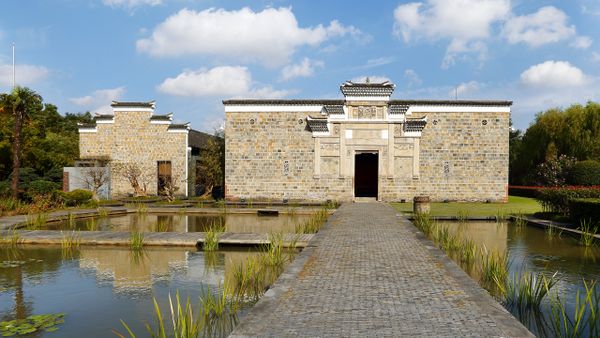 Nearly 300 years ago, in a pavilion named Yang Xing Zhai inside China's Forbidden City, the Qianlong Emperor erected a plaque bearing the words 'Yang Yun' – 'the nurturing of clouds'. In the language of ancient China, this short, enigmatic phrase was rich with meaning, referring to the nourishing of the human heart, the cherishing of the natural world, and the reverence for rhythms of the universe. It is these words on this plaque, which still stands today, that have inspired the name of Aman's fourth resort in China – Amanyangyun – and there can be no more appropriate moniker. Scheduled to open in autumn 2017 and set in a forest of tranquillity just beyond the bright lights and cosmopolitan bustle of Shanghai, the new retreat is a celebration of nature, an astonishing feat of human endeavor, and a sanctuary to stir the soul.
Located just outside downtown Shanghai, Amanyangyun is a unique forest village of modern and historic Ming and Qing dynasty dwellings, tranquil gardens and an enriching Aman Spa. The result of a monumental decade-long conservation initiative, the resort offers fascinating insights into the life and culture of both contemporary and ancient China.
Amanyangyun sits at the heart of an ancient forest of camphor trees, some over 1,000 years old and more than 100 feet tall. But despite their remarkable age, these trees are new arrivals to the area, the result of one of the most ambitious relocation and restoration projects in China's history.
Over the last decade, 10,000 camphor trees and 50 Ming and Qing dynasty homes have been painstakingly transferred 400 miles to Shanghai from the Jiangxi Province in eastern China where the construction of a reservoir threatened their continued existence. To save them being lost to flooding, Jiangxi-born entrepreneur and philanthropist Ma Dadong led a team of botanists to oversee the extraction of the trees, alongside a team of engineers and specialists in Chinese architecture to disassemble, transport and reconstruct the historic homes from 30 Jiangxi villages.
Once transported to Shanghai, this epochal challenge used the 50 disassembled dynasty homes to create 26 ancient dwellings which were reassembled within the replanted and now flourishing camphor forest. Featuring ornate carvings and reliefs detailing family histories that date back two millennia, these 26 sensitively restored antique dwellings form the peaceful heart of Amanyangyun, at the center of which stands Nan Shufang, the most spectacular antique dwelling in the collection. Named after the royal reading pavilion in the Forbidden City, Nan Shufang is located in a serene garden and curated as a space for contemplation, learning and discussion where guests can enjoy a number of cultural activities such as ancient calligraphy and Chinese tea ceremony.
Thirteen of the antique dwellings, now four-bedroom Antique Villas with pools, together with 24 contemporary one-bedroom Club Suites make up the resort's room inventory and are seamlessly interspersed throughout Amanyangyun's expansive grounds, comprising some of the rescued millenarian trees and ornamental lakes. Embracing a restful, earthy palette, with interiors finished in wood, stone, and bamboo, Amanyangyun's Antique Villas and Club Suites each feature fireplaces and courtyards, and have been designed by Kerry Hill Architects – the team behind Aman's recent openings in Japan: Aman Tokyo and Amanemu, in keeping with the elegant aesthetic for which Aman is known – minimalistic, clean, and light-filled.
The remaining 12 historic homes rescued and restored from Jiangxi, together with a number of new residences, have been converted into refined Aman Residences to own. The result is a harmonious blend of modernity and tradition, and a living monument to the natural and human history of Jiangxi.
When the first guests arrive at Amanyangyun later this year, they will discover an Aman with timeless appeal in an arboreal landscape of lakes and trees – a peaceful sanctuary that is now a living reminder of Jiangxi's past. The resort is also home to six dining venues, including an all-day dining pavilion, Chinese Restaurant with seven private dining rooms, Club Lounge, informal Lakeside Café, Aman Deli Village Shop, and a 200-seat banquet hall. The resort's comprehensive Aman Spa, with its idyllic setting is devoted to holistic health, fitness and wellbeing. In addition to its spacious treatment rooms, the spa encompasses extensive thermal facilities, a state-of-the-art fitness center, two swimming pools and a large yoga and Pilates studio overlooking a reflection pond.
Like its fellow resorts in China – Aman Summer Palace in Beijing, Amanfayun in Hangzhou and Amandayan in Lijiang – Amanyangyun acts as a gateway to the culture, history, natural wonder and diverse appeal of its location. It invites guests to experience the electric urban energy, multinational dining and cultural richness of modern-day Shanghai, the seclusion and tranquillity of the ancient camphor forest, and the signature service and warm welcome that has characterized Aman for almost three decades.
Amanyangyun safeguards priceless natural and cultural treasures, giving a new life to these dynasty houses and ancient forest, a feat that stands to make the resort one of the rarest of its kind.