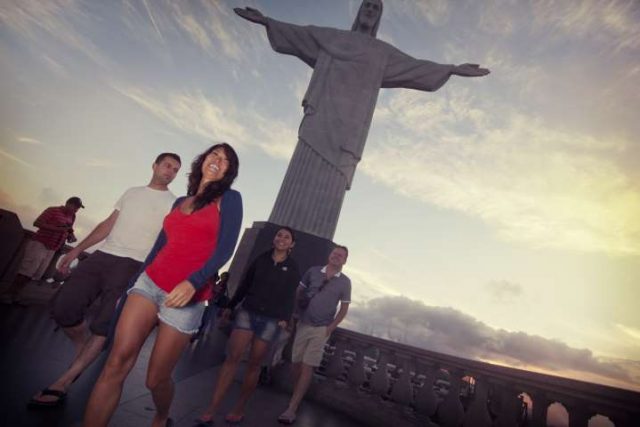 From fascinating emerging destinations and countries on the rebound, through to places where global events are making it more exciting to visit, the experts at G Adventures analyzed their data and coupled it with travel trends to forecast the 12 hottest spots to visit in 2020.
Bruce Poon Tip, founder, G Adventures, says that as well as highlighting some lesser known gems, this year's list spotlights a number of destinations where tourism can truly be a force for good for local people in the communities travellers visit.
"In a world that's becoming increasingly divided, travel can be a vehicle and force for good to unite us as a global community. As pioneers of community tourism, our mission is to change people's lives through travel, going beyond the lives of our travellers to the locals we visit, particularly people who are marginalized. When we return from a transformative travel experience, we can then bring back what we learn to make a difference in our own communities, that's what we call the ripple effect," says Poon Tip.
G Adventures' top 12 trips for 2020 are as follows:
NEPAL – Travellers experiencing a mindful trip in the peaceful home of Buddha next year will find it hard to recall that 2020 marks five years since the April 2015 earthquake hit. The country has been busy rebuilding and is now encouraging tourism to return with the launch of the 'Visit Nepal 2020' campaign, which aims to attract two million visitors in the calendar year. G Adventures has experienced a 90 per cent increase in travellers since 2017, and is offering a new Wellness Nepal tour which immerses travellers in local culture while they enjoy a blissful introduction to this place and its people.
GEORGIA – It's safe to say Georgian food and wine are both having a moment with the media spotlight highlighting delicacies such as khinkali (soup dumplings) and the country's traditional winemaking process. G Adventures has witnessed a 44 per cent increase in travellers over the past three years, and Georgia's profile as an international tourism destination will be encouraged with the UNWTO selecting the country to host its June 2020 board meeting. New budget flight routes through Europe will also help open up this emerging destination.
MADAGASCAR – This gem off the coast of southern Africa has continued to attract adventurous travellers with a 33 per cent increase for G Adventures in the past three years. This has led the company to expand into Northern Madagascar for 2020, where travellers can spend time on 'lemur island' or Nosy Be. There's also a new Planeterra community tourism project – G Adventures non-profit partner – which aids reforestation of the habitat around Ranohira for native species, such as the endangered lemurs. Pope Francis visited Madagascar this year where he expressed support for the creation of new jobs aimed at securing the country's rich biodiversity.
SRI LANKA – After a meteoric rise to become 2019's hottest travel destination with its kind people, rich culture and stunning shoreline, Sri Lanka's tourism was heavily impacted following the Easter attacks last April. According to the Sri Lanka Tourism Development Authority, arrivals fell 71 per cent in May; the lowest number since the civil war ended a decade ago.  With all foreign advisories lifted, now is the perfect time for travellers to return to experience all Sri Lanka has to offer.  To help support this return, the government is offering a free visa on arrival for travellers from 48 countries.
IRELAND – 2020 is a leap year, so where better to visit than the country with its own leap-year tradition of reversing the traditional engagement proposal so women asking for a hand in marriage! Additionally, Galway has been named as a European Capital of Culture for 2020, and G Adventures has a new National Geographic Journeys with G Adventures Iconic Ireland trip for those wanting to join the craic.
NICARAGUA – With its beautiful beaches, world-class surf and stunning classic colonial architecture, Nicaragua is firmly back on its feet to welcome tourists following a period of unrest, making this the perfect time to visit. G Adventures returns in November, just in time for the dry season which begins in December. The Nicaraguan Institute of Tourism reports that during 2018 tourist numbers dropped 28 per cent but now calm has returned the friendly locals are hopeful the tourists will follow.
BRAZIL – With a 10 per cent increase in G Adventures travellers in the past year, the first increase in the past few years, Brazil appears to be firmly back on traveller's hotlists. Rio de Janeiro has been named the World Capital of Architecture for 2020 by UNESCO, and G Adventures has a new National Geographic Journeys Explore Brazil trip launching next year.
SAINT VINCENT AND THE GRENADINES – Travellers looking for an instagrammable Caribbean holiday with few tourists to photobomb their pictures need look no further. G Adventures' new sailing trip cruising the untouched islands of Saint Vincent and the Grenadines is just the ticket. travellers will sail from hidden coves to secluded beaches in a comfortable catamaran, with time for snorkelling some of the Caribbean's best sites and indulging in tasty local Creole cuisine.
LAOS – Often overlooked on a Southeast Asia adventure, travellers on this G Adventures trip will arrive into the calmness of this small but perfectly formed country by boat, sailing the Mekong into the heart and soul of Laos. According to the Ministry of Tourism, traveller numbers to Laos for the first half of 2019 have increased five percent compared to the same time last year, and to encourage more tourism, as of June 2019 all international visitors to Laos are eligible to apply online for a single entry visa for a maximum stay of 30 days.
JAPAN – Appearing for a second year, Japan is on roll. Hot on the heels of hosting the Rugby World Cup this year, 2020 has them keeping busy hosting the Summer Olympics. G Adventures travellers to the 'Land of the Rising Sun' have been steadily increasing with an additional 23 per cent growth in the past year.  With the launch of its new National Geographic Family Journeys programme, G Adventures is extending experiences to include children aged seven and up.
SOUTH AFRICA – It'll be 30 years next year since Nelson Mandela was released from prison, and G Adventures has been experiencing double-digit growth in South Africa for the past few years. As a result of increased footfall, and the opportunity to change more lives through travel, a new Planeterra project has been launched to help educate travellers about the Indigenous San culture. G Adventures is also launching a new National Geographic Family Journeys trip, the Southern Africa Family Journey.
GREENLAND – Greeland hit the headlines earlier this year with search results doubling after President Trump claimed he wanted to buy it. See what attracted him to this pristine piece of the world aboard the G Expedition ship, as it traverses Greenland's coast.
For more information or to book, please visit www.gadventures.com.