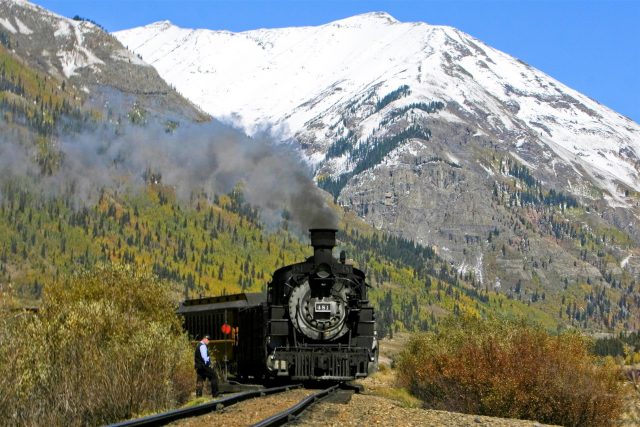 There's no better place than Colorado to ease into winter.
Getaways & Experiences:  
Soak in the Historic Hot Springs Loop.
For centuries, visitors have sought the healing and rejuvenating of the natural hot springs that flow through Colorados mountain ranges.   The Colorado Hot Springs Loop, spanning over 720 miles and connecting five premier locations, is a trek to some of the state's most beautiful waters. In addition to sizzling hot springs experiences, this journey gives visitors a chance to behold Colorado's rugged beauty via scenic byways. These connections not only make the drive enjoyable, but are also perfect for window gazing.
Experience the Legacy of Buffalo Bill Cody.
When it comes to historical characters, few embody the spirit of the American West more than Buffalo Bill. Born William Frederick Cody in Iowa in 1846, he rose to international fame as a showman who brought the Wild West to audiences around the world. 2017 marks the 100th anniversary of his death in Colorado where he is buried in a grave on Lookout Mountain, just outside of Golden. Visit the Buffalo Bill Museum & Grave, where you'll find a special exhibit about Cody's larger-than-life legacy titled "A Better Place Could Hardly Have Been Chosen," along with firearms from the Wild West shows and Indian artifacts like Sitting Bull's bow and arrows.
Dive into Denver's Eclectic Art Scene.
Discover seven vibrant art districts and more than 300 unique events across music, theatre, film, and dance as the arts scene comes alive during Denver Arts Week, which runs Nov 3-11. Including the Denver Film Festival plus FREE Night at city museums, this is the biggest annual arts festival in Colorado, and not to be missed for the sheer variety of entertainment on offer.
Kick off Ski Season in Style in Vail.
Vail Snow Daze is considered the first big party of the winter season in the Colorado Rockies, this year celebrated the weekend of Nov 15-17. Vail never skimps on the talent. Bands who've played there in the past include Michael Franti & Spearhead, Wilco, Rusted Root, O.A.R., and Barenaked Ladies and many more. The best part is the shows are free. Who will play in 2017?  Watch the website for an announcement very soon.
Festivals & Events:
Fall Back Beer Festival, Estes Park (Nov 4, 2017)
When November rolls around, you might think Oktoberfest was done and done. Not in Estes Park, where the annual daylight savings provides yet another reason to celebrate brews. This festival aims to educate too, with panels and presentations on beer basics like yeast, hops and malt and as an official site for the American Homebrewers Association, it features a live homebrewing demonstration.
The 27th Creede Chocolate Festival, (Nov 25-26, 2017)
Creede's 27th Chocolate Festival! Nov. 25th & 26th from 11- 4pm. Yes, chocolate! Tickets are limited, buy early at Creede.com. Eat, shop the stores and vote for your favorite chocolate creation!
Emma Crawford Coffin Race, Manitou Springs (October 28, 2017)
In 1889 when Emma Crawford died of tuberculosis in Manitou Springs, her final wish was to be buried atop nearby Red Mountain. Her fiancé honoured her command, but rainfall tempted fate and released her coffin down the mountainside some years later. Emma's body was never found, but the coffin became a rallying point for this modern-day race where period-dressed racers roll coffins up Manitou Avenue.
Festival of Trees, Greeley (Nov 24-Dec 2, 2017)
The largest celebration of Christmas trees in the nation has been happening for the past 28 years in Greeley. This year the 9-day event features the Teddy Bear Bash and the Whoville Holiday, a silent auction, choirs and musicians, The Silver Bells Social for Seniors, Sip & Shop ladies night out, and of course, visits from the jolly old elf himself.
Denver Christkindl Market, (Nov 17—Dec 23, 2017)
Denver is home to Colorado's only traditional German Christkindl market, complete with a Christkind – an angelic being usually dressed in white with golden locks who traditionally is the gift-bearer in central European countries.  The Christkind opens the market on Nov 19, with a speech in German welcoming all to the festivities, and makes appearances throughout the month-long market. Organized by Denver's German American Chamber of Commerce this is as authentic as it gets!