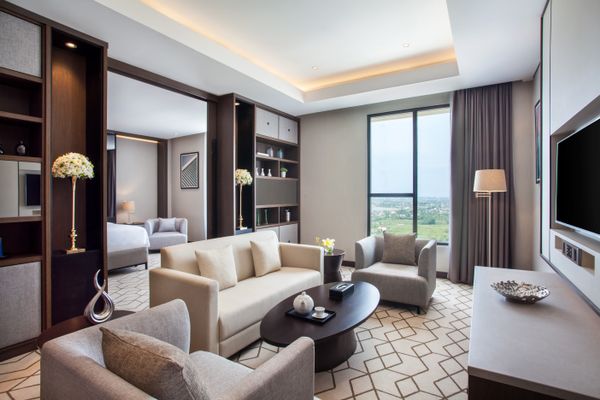 The upscale Wyndham® brand makes its inaugural launch into Palembang, Indonesia with the opening of Wyndham Opi Hotel Palembang, bringing world-class hospitality into the capital of South Sumatra.
The 257-room Wyndham Palembang, located in the Jakabaring precinct is adjoined to the OPI mall complex featuring retail outlets, a cineplex, local eateries and a department store. The upscale hotel will soon offer direct access to the Light Rail Transit that links guests to the Sultan Mahmud Badaruddin II International Airport and the Jakabaring Stadium in five minutes.
The namesake of the world's largest hotel company, Wyndham connects with guests by delivering comfort that exceeds expectations. From smartly detailed guest rooms, to beautifully appointed lounge areas, to distinct dining options and well-designed meeting spaces, Wyndham hotels offer all the features expected at a world-class hotel.
David Wray, Vice President Acquisitions and Business Development Wyndham Hotel Group South East Asia and Pacific Rim said Wyndham Palembang's timely opening will fulfil the demand for hotel rooms during the 2018 Asian Games held from 18 August to 2 September.
"The spotlight will be on Palembang during the 2018 Asian Games and we couldn't be more proud to showcase our latest five-star hotel to athletes, dignitaries and guests travelling for the sporting event."
The games will attract more than 15,000 athletes and officials from 45 countries, vying for honours in 47 sporting disciplines. Full occupancy is anticipated in centrally located hotels across the participating cities during the event, boosting both the hospitality and transportation industries.
"Leading into and beyond the Games, Wyndham Opi Hotel Palembang is the perfect base for both business and leisure. The hotel's stunning design, excellent leisure and conferencing facilities, and exceptional location will offer guests an unparalleled hospitality experience," said Mr. Wray.
Mr Saifudin, spokesperson from owning company PT Setia Bersama Anugrah said, "It is an honour to partner with Wyndham Hotel Group to introduce Palembang's first five-star hotel. We are committed to providing the excellent service expected from the esteemed Wyndham brand and look forward to a successful venture ahead."
Modern Design Meets Comfort Perfected
Wyndham Palembang's striking lobby features a 12-metre high ceiling, marbled flooring, mirrored panels and a brilliant crystal chandelier taking centre-stage. Six room categories are available from the stylishly appointed Superior Rooms with ergonomic work spaces, to the luxurious Presidential Suite with two-bedrooms and an open-plan living room with living, dining and kitchen spaces. The sleek and polished design features neutral earth tones, accented with a variety of textures and dark bronze contrasts for a luxurious finish. To connect guests with the destination, each room is decorated with a songket, a traditional textile made by local Palembang artisans.
A Feast for The Senses
Located at lobby level the 9 Rivers all-day dining restaurant offers a delightful start to the day with a sumptuous buffet offering a selection of traditional Indonesian dishes, an egg station, pancakes and other international favourites. The Lotus Lounge offers a tapas menu and an extensive range of beverages in a convivial area with flexible seating for casual business meetings, afternoon tea, or drinks after-hours.
On the 16th floor, the Executive Lounge – available for guests staying on the executive floors – offers an exclusive dining experience with complimentary breakfast, afternoon tea and evening cocktails when it opens in Q3 2018.
The hotel boasts a spa as well as a mezzanine infinity pool and gymnasium for guests to keep to their fitness routines while enjoying the city skyline.
Meet in Palembang's Largest Conference Centre
Wyndham Palembang offers the city's largest convention facility. The business hotel offers two ballrooms and six meeting rooms totalling 2,260 square metres. The largest pillarless ballroom seats up to 2,500 delegates and is equipped with smart audio-visual technologies that support a variety of lighting installations for events ranging from exhibitions to weddings. The six smaller flexi-meeting rooms can be reconfigured for seminars, board meetings or social events.
Room rates start from IDR 748,700 for a Superior Room. For bookings or reservations, please visit www.wyndhamhotels.com.
Wyndham Palembang will participate in Wyndham Rewards®, Wyndham Hotel Group's simple-to-use, revolutionary loyalty program that offers members a generous points-earning structure along with a flat, free-night redemption rate. Members earn a guaranteed 1,000 points with every qualified stay and can redeem a free night at more than 8,000 hotels worldwide for just 15,000 points per night, or at any of more than 22,000 vacation condos and homes for just 15,000 points per bedroom, per night. Learn more and join for free at www.wyndhamrewards.com.