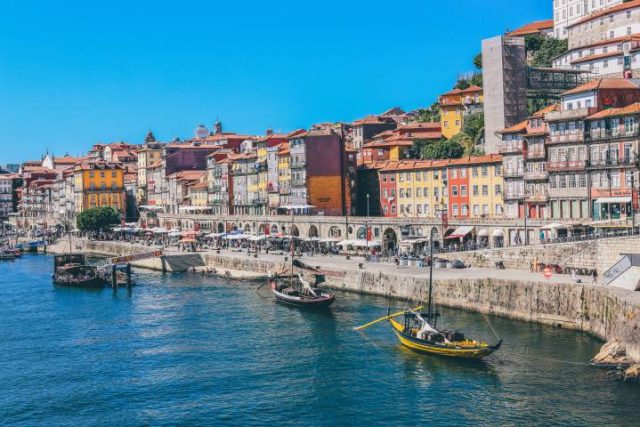 Whether it's a long weekend or as part of your travels through Portugal, no trip to this country would be complete without a visit to its second city, Porto. With its cascade of colorful houses, charming cobblestone streets and relaxed atmosphere Porto is also fast becoming the culinary capital of Europe.
Rich with art, architecture, and gastronomical delights, this coastal city has something wonderful to offer everyone. Another benefit Porto offers is its luggage storage facilities, such as Usebounce, allowing you to stroll freely around the city at leisure.
In this article, we'll explore some of the cultural gems, foods, and must-see places to visit during your stay in this city.
Jardins do Palácio de Cristal (Crystal Palace Gardens)
Of all the parks in Porto, this beautiful botanical garden may just be the jewel in the crown. This natural oasis located in the upper part of Porto, the Jardins do Palácio de Cristaloffers magnificent views of the city, spanning the River Duero as well as a panoramic seascape of the Atlantic Ocean.
Dotted with beautiful sculptures, fountains, and various themed gardens, wander through the interwoven lawns to discover aromatic plants, giant magnolias, roses, and cypress trees.
Take a break from the hustle and bustle of the city and retreat to this green haven where you will also find the Romantic Museum of Quinta da Macieirinha, the Almeida Garrett Municipal Library as well as the Crystal Palace.
São Bento Railway Station
Regarded by many as one of the world's most beautiful train stations, its interior is reminiscent of the golden age of rail travel. Completed in 1903, this three-story structure with its mansard roof stands as a testament to the beauty of the Beaux-Arts style of architecture. An entrance hall replete with dramatic blue and white ceramic tiles (known as azulejo tiles) welcomes you, depicting historical scenes such as Henry the Navigator's conquest of Ceuta, as well as day-to-day activities of the local people.
Igreja de  São Francisco
Don't let the austere exterior of this Gothic church put you off. Enter its doors and allow it to reveal its shimmering splendor with an estimated 300 kilos worth of gold dusting its ornate interior. Take in this dazzling display of cherubs, religious figurines, and a magnificent altarpiece all expertly crafted with Baroque finery.

Notable features include the Tree of Jesse which depicts the family tree of Christ and statues of St John the Baptist and St Francis of Assisi. The church has a museum that houses an impressive collection of sacred artworks and access is also given to the eerie catacombs below, containing human remains from the mid-19th century. If you have the time or inclination to see just one church in Porto, make sure it's this one.
Food and Drink
No trip to Porto would be complete without sampling some of the culinary delights. Eat like the locals by tasting the following treats:
Pasteis de Nata – These custard tarts encased in a puff pastry are a Portuguese specialty
Francesinha – Originating in Porto, this sandwich is made with bread, layers of meat, and covered with cheese and a rich beer sauce
Aletria – This dessert made with angel hair pasta is a traditional Christmas dish and a typical Portuguese sweet flavored with cinnamon and lemon peel
With all that Porto has to offer, you can now begin planning your time in this magical city.