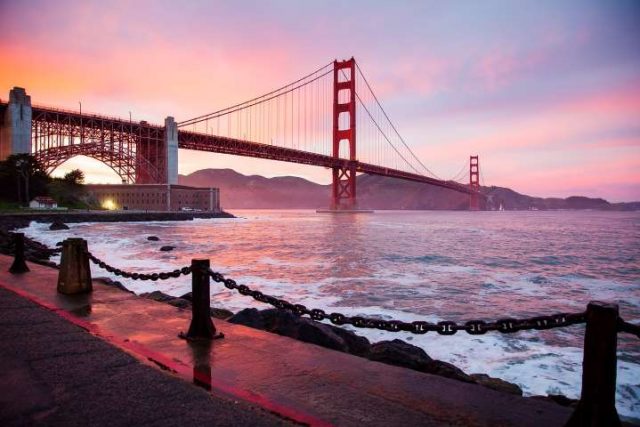 San Francisco: the city by the bay, with its Golden Gate Bridge, classic cable cars, accepting culture, and hills that will you never forget. It is a very unique city, which inspired the popular line of Tony Bennett's, "I left my heart in San Francisco".
Here are 5 reasons why San Francisco should make it on your travel list:
Its skyline is forever changing
This city is dramatic enough to make it special and memorable, but not too much to make you feel closed in while in the city. A new addition to San Francisco's skyline is the 61-story Salesforce Tower, home to the cloud computing company, Salesforce (very true to San Francisco form nowadays!)
Grew views and lots of nature
San Francisco is a city, yes, but in this city that certainly does not mean that you are surrounded only by concrete. The city stretches down to the bay, with parks and open green spaces in between. Some of the most famous and scenic walking trails are: California Coastal Trail (Fort Point-Baker Beach), Lands End, Mount Davidson Park, Mount Sutro, and Golden Gate Park.
For a great view of the city and to take advantage of the nature of SF, you can hop on a ferry over to Sausalito and get gorgeous views from the water as you make your way over to a picturesque 'little' town just across the bay.
The largest Chinatown is in SF, outside of Asia
Chinatown in San Francisco is lively and bustling, with markets, herbal shops, tea tastings and restaurants that definitely are worth visiting. If you have seen photos of Chinatown in SF, you've probably seen photos of the Dragon Gate, which is the official entrance into Chinatown on Bush Street. You can wander down Grant Avenue to explore further into Chinatown.
It's foodie heaven
San Francisco draws people from all over the world, and you can really see that in the variety of cuisine that you can find all across the city. You can eat incredible Spanish, Indian, Thai, Mexican, Italian, Chinese, French, classic American and so on. If you love oysters, Oyster Bars are quite popular throughout the city!
Overall personality
San Francisco has this overall personality that just screams 'vibrancy' and 'energy'. It's a bustling city where self-expression, roof top hangouts, picnics, career focus and life are all a natural part of everyday life.
San Francisco is a city where you can eat well, enjoy city views and escape into nature and feel like you are so far removed from the city that you forget you are even in one. Spend some time at the beach, see the sea lions at Pier 39, bike across the Golden Gate Bridge, go out for some delicious dinners, and carve out some time to visit a local arts and crafts fair. The character of the city is definitely something to experience, at least once in a lifetime!
P.s. if you visit during the summer, know that summers in San Francisco are actually quite notorious for visits by 'Karl, the San Francisco Fog'. (Do yourself a favour and look it up on Instagram for some hysterical insights into life in the city J) As remembered by Mark Twain's famous quote: "The coldest winter I ever spent was a summer in San Francisco." It can be quite cool and foggy, but once the fog burns off, it really feels like you are in California!