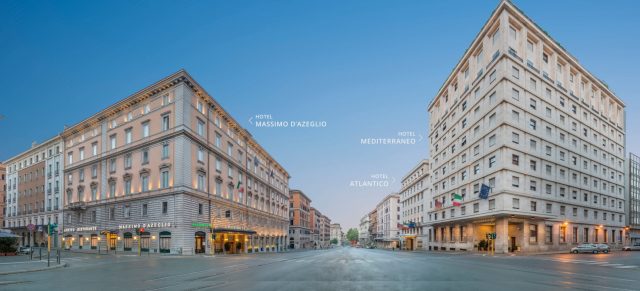 Winter is coming! Bettoja Hotels (Hotel Mediterraneo, Atlantico and Massimo D'Azeglio), one of Italy's oldest family-owned hotel groups, has made a tempting case for luring North American travelers to Rome during the quieter season, when they'll have this glorious city all to themselves.
Each of the hotels is located adjacent to the bohemian Monti neighborhood, which Airbnb calls "underground Rome, hidden in plain sight," and is known for its eclectic (and delightfully untouristy!) mix of boutiques, wine bars and trattorias. Here are 5 smart reasons to plan a Bettoja stay during the chillier months:
1. Prices are lower.  Although winter rates at these luxurious properties are already discounted, Bettoja is sweetening the deal by adding an additional 10 percent off a three-night stay, which also includes a full buffet breakfast. (Hotel Mediterraneo has a nonrefundable rate of €155 per night!) And with the exception of holidays like Christmas and New Year's Day, airfare rates to Europe also tend to plummet during the colder months.
2. Crowds are smaller. Visitors to Rome during this time will find they're sharing the city with locals, not tourists. The streets are less congested and lines for popular spots like the Colosseum and the Sistine Chapel are considerably shorter than during the peak summer season.
3. Culture comes alive. Some of Rome's best exhibits are organized in the winter at beautiful museums like the Scudierie di Quirinale. And the Teatro Dell'Opera will be showing productions of La Traviata and The Nutcracker ballet.
4. Intriguing seasonal produce abounds. Winter is the time to savor not only Italy's famous globe-shaped artichokes (carciofo Romanesco), but also hearty vegetables like cabbage, kale, and radicchio. The Bettoja hotels have intriguing on-site restaurants such as the Restaurant Massimo d'Azeglio, which is set in a wine cellar, and the Hotel Mediterraneo's rooftop terrace. They are within easy walking distance of locally loved spots such as Urbana 47, known for its seasonal menus, the old-school La Carbonara trattoria, and the historic Cavour 313 wine bar.
5. Shopaholics can hit the post-holiday sales. Between the Bettoja Hotels and the Coliseum and Forum you'll find the main shopping streets of the Monti: Via del Boschetto, Via dei Serpenti, Via Leonina and Via Panisperna. Whether you're looking for housewares, leather bags, vintage jewelry or hand-loomed textiles, the Bettoja concierges can put together a custom list of must-visit shops. The biggest sales tend to run from early January through mid-February.
The Bettoja Hotel group, Hotel Mediterraneo, Hotel Massimo D'Azeglio and Atlantico has grown through five generations of Bettojas establishing itself as one of the oldest family owned hotel groups in Italy. All hotels are situated on the top of the "Monti" on Esquilino Hill within walking distance to most major sites. Good food and warm personal service has always been the Bettoja mantra through five centuries.  The family and staff have not wavered from their promise to maintain high standards and good value…especially in the winter!