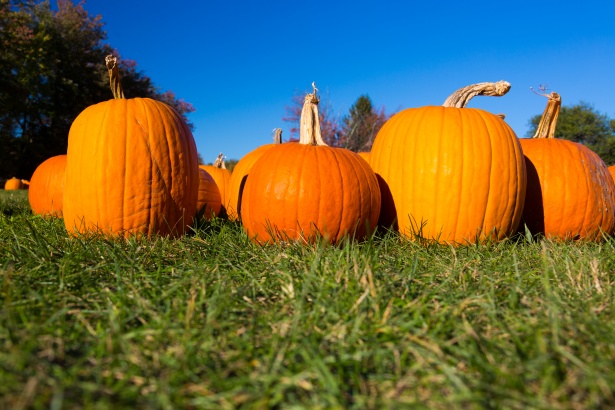 ST. PAUL, Minn. (Sept. 12, 2017) — To celebrate the season, Explore Minnesota, the state's tourism promotion office, will launch its weekly fall color reports on Thursday, Sept. 14, to serve as a go-to resource for fall getaways in Minnesota. Filled with changing foliage, apple picking, football and favorable temps, this special season is short and sweet, and Explore Minnesota can help travelers make the most of it with these 10 things to do throughout the state this fall.
1.
Track Minnesota Fall Color through late October
The fall color show in Minnesota begins along the northern border in early to mid-September, and the color spreads southward over the next several weeks. Each year, the fall color progression varies based on the weather and can be tracked via free weekly reports by Explore Minnesota starting Sept. 14 during peak fall foliage. Travelers can sign up at exploreminnesota.com/fallcolor.
2.
Explore Minnesota's Harvest at Pumpkin Patches, Apple Orchards and Corn Mazes
Minnesota Grown lists around 165 pumpkin patches statewide, some of which have rides, petting zoos, and enough activities to fill a whole day. More than two-dozen apple varieties, including tart McIntosh, sweet and juicy Honeycrisp and rich Red Baron, are ripe for the picking at orchards throughout the state. Many orchards also offer a variety of family activities on fall weekends, and thanks to an extensive, statewide bicycle trail network, it's also easy to plan a pedal-powered orchard adventure in Minnesota.
3.
Take a Drive
From the north shore of Lake Superior to the bluffs of the Mississippi River Valley, there's a scenic route for everyone to get a front row seat to the fall color show. Don't let the season pass by without planning a road trip to meander along Minnesota's rainbow routes when the colors are at their peak.
4.
Hike MN
There's no hiking like fall hiking, and Explore Minnesota's recently launched Hike MN campaign makes it even more enjoyable. With diverse Minnesota landscapes and brilliant foliage, a fall hike is a fun way to soak up the scenery. Hike MN highlights 10 trails with varied terrain, length and difficulty throughout the state and includes a sweepstakes through Oct. 22 for a chance to win Minnesota vacation getaways, Gopher Sports tickets, and Mall of America or Minnesota State Parks gift cards.
5.
Attend a Fall Festival
Pumpkin weigh-offs, scarecrow contests, craft fairs, hayrides and fall flavors are some of the many ways Minnesota celebrates harvest season. Explore Minnesota's event database highlights 1,000+ events across the state this fall.
6.
Visit a Museum
On a cold or rainy day, duck into a museum for a day's worth of fun and learning. Museums dedicated to art, history, science and more are scattered throughout Minnesota, showcasing world-class art, rare artifacts, local history and hands-on exhibits.
7.
Savor the Fall Flavors
Minnesota's fall harvest promises delicious food, but also tasty things to drink. The state's craft beverage scene continues to flourish, and fall is the perfect time to sample the flavors. Many breweries create special Oktoberfest, pumpkin and other seasonal varieties, available in taprooms or growlers to go. Wineries celebrate with grape stomps and tasting events, and distilleries serve up local spirits. This interactive "Land of 10,000 Drinks" map by The Growler Magazine helps travelers discover craft beverage venues based on location and amenities.
8.
Cheer for the Home Team
Minnesota is one of the select U.S. states that has a professional team in every major sport. The Vikings, Gophers, and Minnesota United soccer team are among the local teams to root for this fall. Cheer for the Vikings at U.S. Bank Stadium in Minneapolis, home to the 2018 Super Bowl.
9.
Find Halloween Fun
From kid-friendly to frightening, Halloween celebrations of all types can be found in Minnesota.
10.
Share the Scenery on Social Media using #OnlyinMN
Research shows people seek travel inspiration from their social networks. Tag your fall color photos and get real-time travel inspiration this season by using Explore Minnesota's statewide travel hashtag, #OnlyinMN. Travelers and media alike are also invited to participate in Explore Minnesota's upcoming Fall Tweetchat on Sept. 14, from noon to 1 p.m. CT, for fall travel inspiration. Follow @exploreminn on Twitter to join in.
"Scenic drives, harvest season, festivals and football make fall the second-biggest travel season in the U.S. and Minnesota. With four distinct seasons, the state is a great destination for those looking to experience fall colors, seasonal festivals and events," said Explore Minnesota director/CEO John Edman.