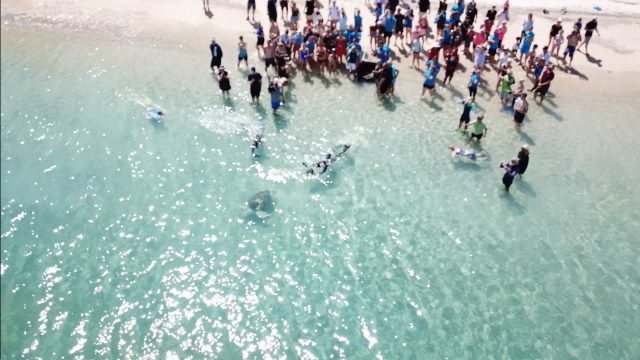 Whether addressing environmental issues or boosting biodiversity, Costa Rica has proven to be a leading destination for sustainable travel, with 26% of land officially zoned as protected territory. In 2021, Costa Rica was awarded the Earthshot Prize by Prince William and Kate, Duchess of Cambridge, for its conservation efforts. Costa Rica also received the 2019 Champions of the Earth award, the United Nations' highest environmental honor. This popular Central American destination constantly strives to strengthen the conservation of wildlife, forests, and volcanoes, which in turn creates an enriching experience for all travelers
Home to more than six per cent of the world's known biodiversity, the opportunities in Costa Rica for adventure and exploration in nature are endless. As visionaries of sustainable travel, Visit Costa Rica invites travelers to live the ultimate pura vida experience while partaking in some of the country's sustainability and wellness experiences.
Visiting a Blue Flag Beach
With clear, blue water ideal for swimming and surfing, travelers can spend an entire day relaxing on a Blue Flag Beach. The Blue Flag Ecology Program awards beaches based on water quality, waste disposal, sanitary facilities, signage, tourist safety, environmental education, and involvement in beach maintenance. Beaches which score 90% or above are awarded with a Blue Flag, and monitored monthly for sustained maintenance. Costa Rica is proud to host six beaches that have earned five stars, including Matapalo and Punta del Madero in Guanacaste, Playa Leona, Playitas in Puntarenas, and Playa Blanca in Limón. In total, Costa Rica is proud to hold ecological blue flags for 138 beaches. 
Saving the Rainforest Animals
Visitors can experience the amazing Rainforest Wildlife Sanctuary, and discover how over 130 abandoned animals are saved every year through rehabilitation. Visitors at this facility are part of the mission to preserve the rainforest, and can volunteer with Kids Saving the Rainforest by observing, monitoring and caring for wild animals such as marmosets and spider monkeys. This unforgettable jungle experience will leave travelers with an impactful memory, but also provides a positive effect on the world by rehabilitating injured animals and preventing rainforest deforestation. Other notable rescue sanctuaries are Las Pumas and Natuwa where visitors can volunteer and learn about wild animals and their behaviour, natural history and ecology. 
Protecting the Sea Turtles
Turtle nesting season happens year-round in Costa Rica, but a great number of sea turtles are threatened due to illegal harvesting of eggs. Travelers can play an active role in conserving and protecting Costa Rican sea turtles by volunteering alongside biologists and veterinarians. Volunteers have the opportunity to participate in the entire hatching process, from night patrols to the transportation of turtles and their eggs. Participants can vacation with sea turtles and contribute towards the protection of endangered baby turtles that directly benefit from conservation efforts. The peak nesting and hatching season runs from July through October. 
Diving with Green Fins
Diving delivers a fully immersive experience with complete freedom to seek adventure that many travelers are unaware of. The unmatched crystal waters and ecosystem of Costa Rica allows divers to truly explore an ocean ecosystem. From breathtaking marine life hotspots to spectacular coral reefs, Costa Rica is home to some of the best diving spots in the world, including Playas del Coco in Guanacaste. Travelers interested in sustainable diving should look for the Green Fins certification, a UN Environment Program Initiative. This program works to ensure a fun and sustainable diving and snorkeling experience, while promoting conservation and sustainability. Costa Rica is the first country in Continental Americas to adopt Green Fins environmental standards to reduce the threats associated with diving and snorkelling in the marine environment.
Staying in an Ecolodge
In order to receive the full Pura Vida experience, Costa Rica invites all travelers to stay in one of the many ecolodges where visitors can immerse themselves in nature, while protecting the environment. Costa Rica is proud to host some of the best ecolodges in the world, and are located within the country's mountains, rainforests, beachfronts, tree tops, and national parks. Ecolodges offer guests the opportunity to unwind in an environmentally friendly and sustainable lodge while experiencing the vast wonders of Costa Rica's natural beauty, alongside locally sourced cuisine. Ecolodges take pride in the use of sustainable products and recycled materials, in boosting biodiversity, and in integration with and support of the community.
For more information on Costa Rica, visit https://www.visitcostarica.com/en