With grandparents who immigrated to Canada from Italy, Giovanni Angelucci grew up eating food he and his family planted, harvested and cooked themselves. "I saw first hand the way my Nonni used our homegrown and fresh ingredients to cook and always knew exactly what went into the food I ate."
It wasn't until he was older when he realized that not everyone had the same experience or relationship with food.
"Unfortunately, so many of the products people come across today—including those perceived as healthy—contain very little nutritional value. Typically, they also carry a lot of sugar and unnecessary ingredients, often leaving people feeling bloated and tired after consumption. Something we call 'the bread-hangover'."
Giovanni founded Queen St. Bakery with the ambition of making allergen-free bread that even those without dietary restrictions would want to eat.
Affectionately, their loaves are known as "Bread with Benefits."
So how did a devout bread, pasta and pizza lover end up opening a gluten and allergen free bakery?
Not surprisingly, it all started at home.
"My mom and wife are gluten intolerant, so I'm surrounded by people who can't eat gluten. I've seen my mom try every option and having grown up in her household, I had also tried every option. Typically, when one person in a house goes gluten free, the whole house follows suit. So, with my parent's house being gluten free, and my own house being gluten free, I wanted to make a product that was not only tasty but also worthwhile to eat. Something not only my mom and my wife liked, but something I would want to eat, and by extension, something that anybody who was tolerant of everything would choose to eat."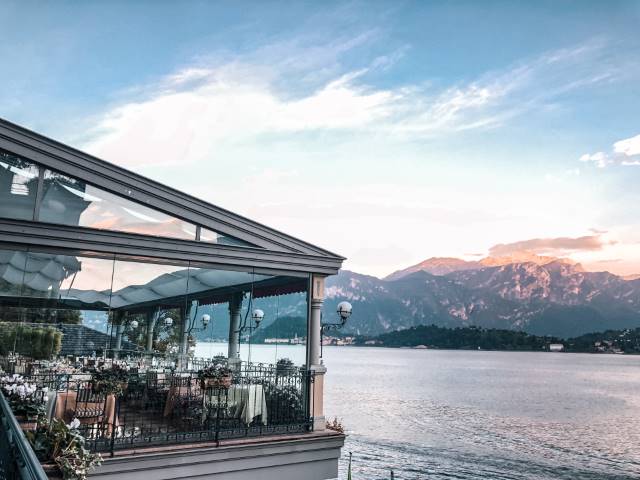 By osmosis, having grown up around parents cooking at home, Giovanni already knew how few ingredients were required to make Italian dishes and staples at home—including bread.
"There's a myriad of delicious things my parents and grandparents would make from scratch with relatively few ingredients. Beans, in particular, produced a similar flavour profile to that of the bread I'd typically consume, while having all the benefits that beans have to offer."
Though he admits having taken for granted observing where his food came from as a kid, he admits that as he grew older and began buying his own products, he started to notice how much fillers are added.
"When you're a kid, you're not really discussing the food in your diet on the playground. As you grow older, when you start to buy your own groceries and start these conversations with your friends, you reflect on what you had as a child. I noticed increasingly how many products had so many added chemicals and sugars. Bread should have four main ingredients—flour, water, yeast, salt. I've been eating with "real ingredients" in my food my whole life. People shouldn't have to cross the sea or become home bakers to have access to products like that."
With the influence of his family's Italian heritage ingrained in Giovanni's life, the Italian-Canadian has a very soft spot for Italy.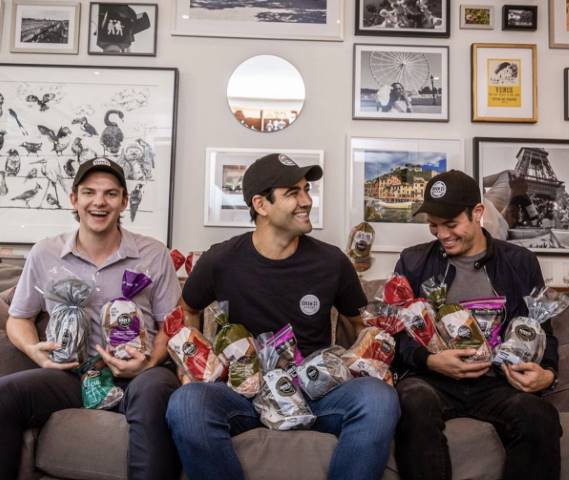 "I've travelled there many times with my family growing up and it's where my wife and I did our honeymoon."
His number one piece of advice he offers to anyone travelling to Italy: "go and eat."
"I love Italy for so many reasons, everything from their ideology behind their cafes—which are more than just a place to grab your coffee and go, but rather a place to sit, gather, and take a break—to their natural beauty and historic wonders. But, the best thing, and what I tell anybody who travels to Italy, is to just go and eat. Don't worry about your dietary restrictions, as much. If you're vegan, gluten or dairy free, not only do they have options if you want those, but the products that go into their foods are different. They're guided by European food standards, meaning they have different guidelines around what their animals are fed and the way they are raised and the kinds of pesticides allowed."
"When my wife and I first met, I had to explain to her what it's like coming to eat at an Italian household," he laughs. "To an Italian, food is love. We are food pushers by nature, but it's because that's what we like to offer. It means we love you. I never leave my parents or grandparents' homes without some food. When you eat with somebody, you sit down, you learn from them, and you get to know them—you break bread, so to speak. It's not just for sustenance. There's more to it than just that, and that's filtered through over the centuries."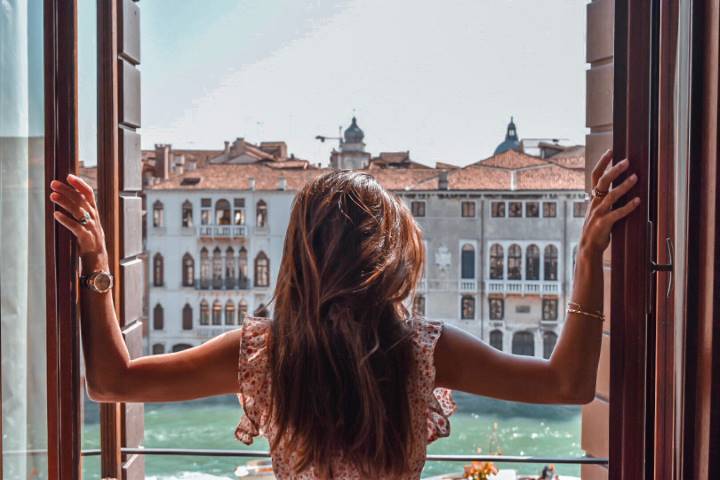 So it was only natural that the entrepreneur and newlywed headed to Italy for his honeymoon with Aymara, a trip loaded with recommendations from his family and places he grew up visiting.
Check out below for his favourite food experiences and recommendations from his trip through Northern Italy.
Giovanni's Guide: Northern Italy
First Stop: Portofino
We started our honeymoon in Portofino, a port town and fishing harbour known for its picturesque views of the bay and colourful buildings. The region played a major part in maritime trade and is known for their pesto and olive oil.
Hotel Splendido: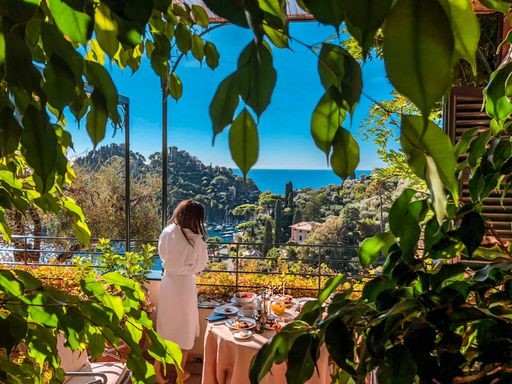 Once home to a Benedictine monastery, Hotel Splendido has quite the history. The monks who once inhabited the property abandoned it when Saracen pirates repeatedly ransacked the monastery. Sitting vacant for a number of years, the decrepit building was purchased by an Italian aristocrat and renovated into a summer home. It wasn't until 1901 that Ruggero Valentino bought and transformed the property into a hotel. Since then, many noble families and famous individuals have vacationed at Hotel Splendido, including the likes of Richard Burton and Elizabeth Taylor, who returned several times.
What to try in Portofino: pesto pasta
From Portofino to Forte Dei Marmi
Alpemare: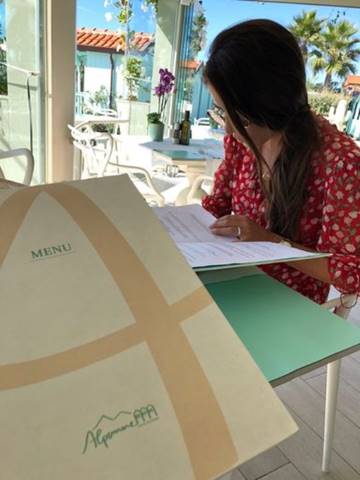 In Forte dei Marmi, the Alpemare Beach Club is a must. Sharing this special spot with my wife was extremely special.
The club has an old charm, with a certain ritz. You can rent part of the beach and lounge around taking in the incredible views of the bay. During the summer, it's bustling and vibrant; when the weather is cooler, the atmosphere is more relaxed.
What to try: Linguine a la vongole
From Forte Dei Marmi to Florence
Florence has something for everyone. As the birthplace of the Italian Renaissance, it's a rich city with so much history. The art and architecture alone is something to write home about.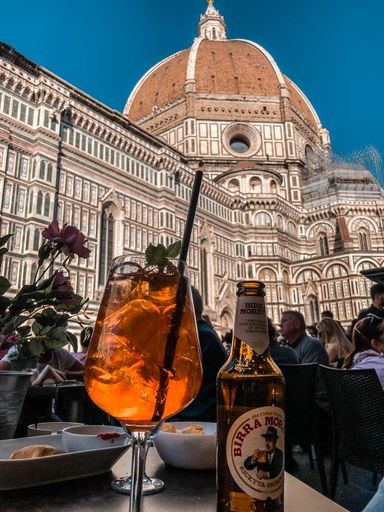 Osteria del Cinghiale Bianco:
Florence is known for cinghiale—wild boar. Osteria del Cinghiale Bianco was the must try restaurant at this stop on our trip.The restaurant has been around since 1984 and is located in a thirteenth century tower on a quaint street of medieval Florence. Our meals were simply delicious.
What to try: Pappardelle with Wild Boar and the Florentine Steak, also know as a Bistecca alla Fiorentina
All'Antico Vinaio:
Located in an alleyway, this barebones sandwich shop is the best sandwich place you'll ever visit. It's the perfect grab and go option while taking in Florence's sites. No frills, the whole place is about the size of an office with half being dedicated to food preparation and the other to the line, which typically extends out the door. Sandwiches are about $10 and a glass of wine sits at about $5. The popularity and demand for these sandwiches is so grand that they even opened another location right across the alley.
Todo Modo:
Bookstore meets cafe, the laidback atmosphere of Todo Modo is unparalleled. With floor to ceiling bookshelves, a coffee shop, and a daily menu for small bites, it's easy to spend an afternoon in Todo Modo sipping on wine and reading the different titles offered.
Florence to Bologna
We left Florence a bit late and were both hungry. Dare I say, I was a little hangry. I didn't want to eat on the road because Bologna is such a good food city—they're known for their tagliatelle, tortellini and mortadella.
However, by the time we got there, it was siesta time and everyone was off the clock. The only thing open was a tourist trap. We sat down, ordered an aperol spritz, looked at each other and agreed that we waited all this time to indulge in good food, that we might as well keep searching for a better place to dine—and it was definitely the right decision.
Sfoglia Rina
We ended up finding this little place in the city centre called Sfoglia Rina. They sold fresh pasta and there were communal tables in the back that you could dine at. The food was unbelievable—and well worth the hangry interlude. I had the tagliatelle al Ragù Bolognese, one of the pastas Bologna is most well-known for.
What to try in Bologna: tagliatelle bolognese and tortellini
Bologna to Venice
Venice is always bustling. It's such an experience, especially if you're travelling there with a significant other. The whole town is built on water and it really is something you need to see and experience first hand to fully understand and appreciate the hype. Though I'm allergic to some seafood, Venetian cuisine is well known for their shellfish dishes. If that's something you're a fan of, it's definitely a food culture that will suit you well. The pastas don't disappoint either. Try the famous bigoli pasta, or bigoi as they say in their slang.
Bigoi:
Bigoi is a type of fresh pasta made with genuine, simple ingredients. This establishment specializes in fresh pasta to-go, making the pasta right there in-front of you using a special machine. As a street food company, they recognized the amount of packaging that ends up on the streets and in the canals. Wanting to combat this and take environmental care into their consideration, the owner made the move towards bio-compostable cutlery and packaging. It was so good that when we were on our way out of Venice, I made our taxi boat stop so I could grab another for the road.
What to try in Venice: for the seafood fans, try the Risotto al Nero di Seppia
Venice to Como
Lake Como is stunning. The picturesque town sits at the foothill of the Alps and is filled with renaissance architecture, Victorian gardens, and lakeshore restaurants. The turquoise blue water and pink petal flowers serve as the perfect accompaniment to the dramatic mountainscape scenery.
Hotel Grand Tremezzo
Enjoying breakfast while sitting out on our terrace at Hotel Grand Tremezzo was a highlight in and of itself. The food at the hotel rivaled the food elsewhere and the views were unparalleled.
What to try in Como: Limoncello and Fragole con Gelato
To find out more about Giovanni's company, Queen Street Bakery, follow them on Instagram or visit their website.