This September, global hospitality leader Accor is launching comprehensive in-room restorative wellness programming at select North and Central America properties through an exclusive partnership with wellness technology company Three Sages. The partnership gives Fairmont, Sofitel and Swissôtel guests the opportunity to unwind and reset through complimentary yoga, stretching, breath-work, mindfulness and sleep practices, all available on the in- room entertainment system, from the comfort of their hotel room. Focusing on restorative content, the initiative highlights mindful movement to make guests feel less stressed, more relaxed and at ease while traveling.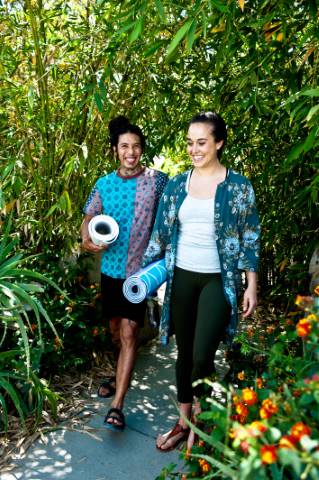 "Three Sages experiences are intended to help guests virtually connect with nature, find balance and ground themselves," said Greg Commins, Founder & CEO at Three Sages. "Our short format, nature- inspired programs are the ideal way to take a sip of wellness to de-stress, relax and recharge."
Each video connects guests to nature, taking guests on a journey through spectacular outdoor backdrops from some of the most awe-inspiring locations, such as parks in Ojai California to isolated locations in Joshua Tree National Park. Plans to release new content featuring Accor locations throughout North and Central America are in the works for next year.
"We are thrilled to partner with Three Sages to offer an industry-leading caliber, depth and breadth of in- room wellness offerings for our guests," said Daniel Poulin, Director of Spa and Fitness, Accor North and Central America. "During these stressful times, the option of having a comprehensive restorative
wellness program like this to enjoy from the comfort of your room further elevates our guests' overall experience while on property and alleviates some of the pressure from the travel experience."
The pilot program launches at select Fairmont, Sofitel and Swissôtel properties in North America on September 23, 2020, with additional properties being added in the coming year.