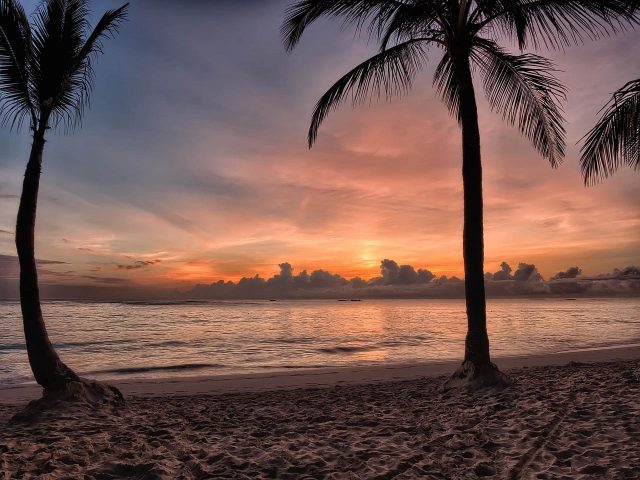 Going for an all inclusive option is often a budget-friendly choice and means you can enjoy your family holiday without stressing about food. It takes away the pressure of bringing extra spending money for eating out, and means that you'll always have the option of delicious meals at your resort. If you're picturing an all inclusive holiday as poolside lounging with unlimited fruit juice or cocktails, you're not far from the bat at all! You can relax, sunbathe and watch the little ones splashing around in the pool, which usually has an outdoor bar or restaurant nearby. All inclusive poolside facilities are always a great hit with youngsters as it means they don't have to lose out on pool time or sunshine in order to get some food.
The option of all inclusive can be enjoyed at many resorts around the world, but why not spoil your senses, explore a more tropical side of life and go all inclusive Caribbean from Holiday Hypermarket?
Discover the Dominican Republic
Punta Cana is one of the Dominican Republic's most popular resorts. This spectacular coastline is brimming with family-friendly locations – picture pools, waterslides, water sports, kids' clubs and exciting entertainment!
Outside of Punta Cana, the island is a lush, tropical paradise where visitors can explore rainforests, fishing villages and stunning mountains, such as the Pico Duarte, which is the highest peak in all of the Caribbean islands.
The Dominican is also famed for its expanse of world-class golf courses and picturesque beaches. Days out can easily be spent on well-kept golf greens or relaxing on the warm sands. Alternatively, you could discover the more cultural side to the island within the country's capital. Santo Domingos is home to the Colonial City, a vast array of ruins and preserved buildings, an educational break away from the sandy shorelines!
Family-friendly Cuban Adventures
For year-round sunshine, Cuba is the place to be. From the colourful streets of Havana to the picturesque coastline of the town of Varadero, there is lots to see and do. No matter what resort you stay at, there is a diverse array of fun to be had. Take a horse ride through the Cuban countryside, a guided tour through Havana, or enjoy a cycling or hiking trail under the warm sun. Of course, a trip to Cuba wouldn't be complete without having a go at salsa, so don't forget your dancing shoes!

Fascinating history is just waiting to be rediscovered in Cuba. The Castillo de la Real Fuerza is an imposing 16th-century fort and museum, perfect for exploring and learning about the locality. There are also several beaches and the resorts here are second to none.
Start Your Jamaican Journey
Discover the world-renowned island of Jamaica, an exotic paradise synonymous with relaxation and laid-back vibes. People who visit here come for the culture, heat and lush, sandy beaches. Picture crystal clear, blue waters lapping against white sands, framed by palm trees.
Every beach offers something different, from the famed Seven Mile Beach, which is packed with restaurants and cafés, to the beautiful reefs and lively nightlife of Montego Bay. Most of the resorts boast their own private beaches, which means there's no need to travel to enjoy some sun, sea and sand.
The area is also packed full of history. You can discover old plantations and mansions, and even explore quaint fishing villages – Jamaica has so much to offer!
All Inclusive Aruba
When it comes to all inclusive destinations from Holiday Hypermarket, Aruba is up there on the list thanks to its exclusivity and sunshine. Combine sandy beaches, tranquil hideaways and temptingly warm waters, and a wonderful holiday is created.
Although very much a Caribbean island, Aruba is shaped by both American and Dutch influences. This could see visitors enjoying an authentic Tex-Mex lunch before embarking on a trip to De Olde Molen, which is a beautiful Dutch windmill imported directly from Holland.
Water sports can be enjoyed on practically any resort, along with excursions and nightly entertainment. There are also plenty of beachside hangouts if you're looking for a relaxed vibe.
The Caribbean is a fantastic place; the destinations are so diverse and colourful, and they offer a varied combination of adventure, relaxation and culture – not forgetting the warm temperatures! The Caribbean is the place to visit for a laid-back resort escape, surfing in the sunshine, daily adventures, memorable day trips with the children and much more.