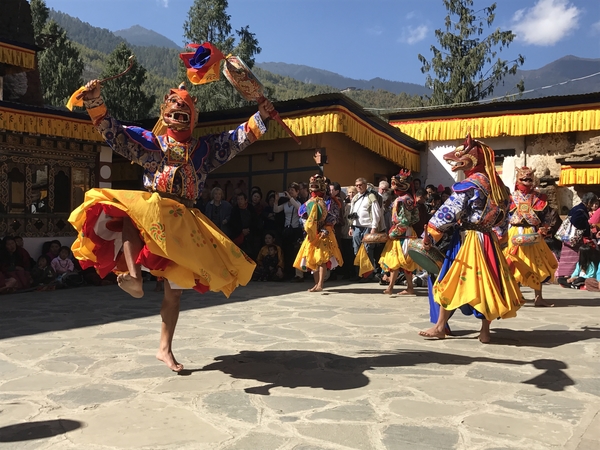 You may already be hanging up your wellies for another year, but now is the perfect opportunity to start planning festivals for 2018. Traditional festivals abroad are a fantastic opportunity to rub shoulders with locals, get a glimpse of traditions and customs, and get stuck into some serious celebrations.
The experts at Rickshaw Travel have put together some of their top recommendations for 2018 – no wellies required.
Paro Tschechu, Bhutan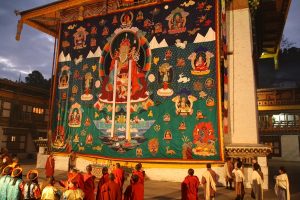 Bhutan's calendar is jam-packed with Tshechus, traditional Buddhist festivals that take place throughout the year. Literally translating as "day 10", Tshechus are traditionally four days of dancing, music and a big party atmosphere. It is a fantastic way to immerse yourself in the local culture.
The Paro Tshechu is a real favourite, held annually in March or April, which is a brilliant time to visit weather-wise. Monks pray and mediate for weeks to prepare for the Tshechus and perform mystical masked dances, said to bring enlightenment. The festival ends with the unveiling of the sacred thangka, a beautiful, embroidered silk painting. The monks display the thangka before dawn so it's not damaged by sunlight, but it's worth setting your alarm before as laying eyes on the thangka is said to cleanse you of your sins.
La Tirana Festival, Chile
Chileans love a fiesta. If you're visiting this part of South America, it's worth seeing if you can fit in a Chilean party experience. La Tirana Festival is one of Chile's most important cultural festivals; the little town of La Tirana in northern Chile explodes with visitors in mid-July.
The fiesta is a key date in the country's calendar and is a mix of catholic traditions, indigenous culture, knock-out food and a whole lot of dancing.
It honours the Virgin of Carmen, the patron saint of Chile, and is said to expel the demons from La Tirana. Art, gastronomy, music and dancing displays are held day and night for a week, and locals and tourists pour in to watch the masked Diablada(dance of the devils).
La Tirana is a couple of hours from Santiago and is close to the Atacama desert. You could even combine it with a visit to neighbouring Argentina…
The Cosquin Folk Festival, Argentina
Sticking with South America, Argentina rivals its neighbour for a calendar chock-full of fiestas. From traditional Carnival and catholic processions to beer and tango dancing, the country takes up any opportunity to celebrate.
The Cosquin Folk Festival is one of the biggest of its kind in Latin America, taking over the city of Cosquin for half of January each year. It's a brilliant chance to experience Argentina's folklore music, culture and traditions, with music and dance performances from some of the country's much-loved performers, taking place in the Prospera Molina main square.
You'll get the chance to learn your chacarera from your chamame, snack on street foot and soak up the infectious atmosphere.
Inti Raymi (Sun Festival), Peru
The Inti Raymi (Sun Festival) is the celebration of winter solstice, which falls on 24 June in Peru. It's one of the most important celebrations in Incan culture, seeing in the New Year and celebrating the sun god, Inti, with nine days of dancing, costumes and good food.
Its roots are admittedly gory, centring around the bloody sacrifice of llamas, but today the ritual is purely symbolic – and the llama population thrives. Expect folk dances, marches and traditional Peruvian music.
The setting is suitably mystic and focused on the ancient stone fortress of Sacsayhuaman. Rickshaw offers a trip in Cusco for anyone keen to see more of this Incan heartland, but make sure you book well in advance if you're planning on visiting the festival – it's one of the most popular in Peru and rooms fill up fast.
Carnival (Carnaval), Brazil
Another South American superstar on our list (are you sensing a theme yet?) is Brazil, with a fiesta synonymous with its capital – Rio Carnival.
The biggest Carnival on the planet, Rio pulls in millions of visitors each February or March in the run-up to Lent. Traditionally, carnival celebrations are all about excess before the sacrifices of Lent, and Brazilians take this tradition seriously.
Expect a whirlwind week of parades, samba in the streets, thrumming drum beats and competitively outrageous costumes. After you've had your fill of the main parades, it's well worth hunting out some blocos – free street parties organised by individual suburbs that fill the city throughout Carnival. They are dusk-to-dawn affairs, with free-flowing food and drink and some, like Banda de Ipanema, spilling out onto the beaches. Costumes are expected so go all-out. Unsurprisingly, Carnival is peak time for Rio, so book early.
Holi, India
India is another country that thrives on celebrations, and one of the best-known is Holi. This ancient Hindu festival is a two-day affair in March, celebrating the victory of good over evil, the end of winter and the arrival of spring, and is generally a time for family, friends, forgiveness and a lot of dancing.
Known as the 'festival of colours', it's an upbeat and carefree few days of throwing coloured powder and water around and dancing in the streets – with a few water guns and sprinklers thrown in for good measure.
Holi is celebrated widely across the country, and the festivals in the north are said to be the best, with Vrindavan and Mathura hosting the biggest. The festival kicks off with the Holika Dahan (a large bonfire) and the colours start flying the day after.
Gion Matsuri, Japan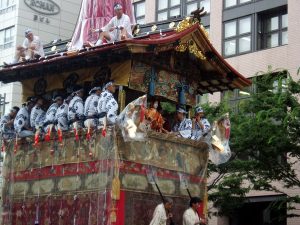 Japan has an estimated 300,000 Matsuris (traditional festivals) crammed into its calendar each year. They often have religious roots and have evolved into huge, often month-long affairs that the Japanese take seriously – and everyone is welcome.
Gion Matsuri is one of Japan's biggest and brightest, taking place in Kyoto pretty much throughout the whole of July. It's part ancient religious tradition, part full-throttle street party, once a way to pray for escape from the plague.
The scale of the festival is staggering, with crowds turning out in a riot of colour to watch the parades and party in the streets. The Matsuri centres on two huge, traditional parades, filled in with a lot of street food and beer in colourful yukata robes.
The floats in the parades are nothing short of spectacular. These mobile art museums can top 25 metres in height and are all beautifully crafted by Kyoto's finest, showcasing Japanese art and culture at its best.