Want to enjoy a relaxing Lake Vacation in Pennsylvania but with all the perks of home? Look no further!! Here is a quick round up of the best lake house vacation rentals in Pennsylvania.
#1: Waterfront Cabin with Deck View near Lake Harmony, Pennsylvania
This exotic vacation home is located at a walkable distance from the popular Big Boulder Ski Resort near Lake Harmony in the Poconos. It is built over the water overlooking Lake Harmony. The house has a private, spacious deck that runs a full length around it, and offers a scenic lake view from the front and the side decks. There are four spacious bedrooms, a cozy living room, a fully equipped kitchen, a dining area and amazing interiors designed to capture amazing memories. Along with a barbeque grill area, the house also offers access to a private lakefront and lake activities like fishing, boating, canoeing and kayaking.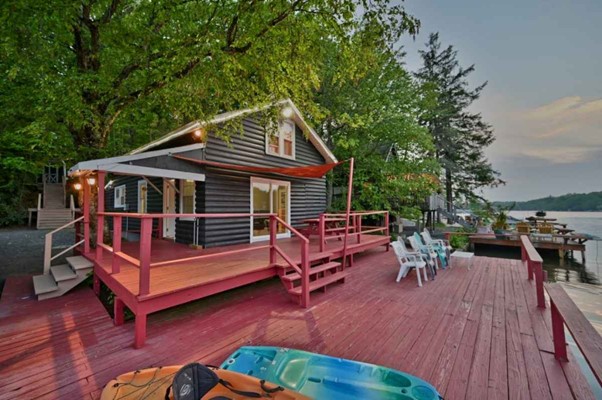 #2: Luxury Waterfront Home near Long Pond/Deer Lake, Pennsylvania
This spacious lakefront home is designed to feel like a home away from home while you enjoy your lake vacation. It offers direct and private lake access via a grassy beach where you can enjoy a calm picnic or bask in the sun until you get your daily dose of vitamin D. The lake house has ample space with six bedrooms, two bathrooms, fully equipped open kitchen, fully furnished interiors and a scenic lake view. You can also enjoy exclusive amenities like private kayaks, Jacuzzi, and a fire pit to enjoy a cozy campfire experience.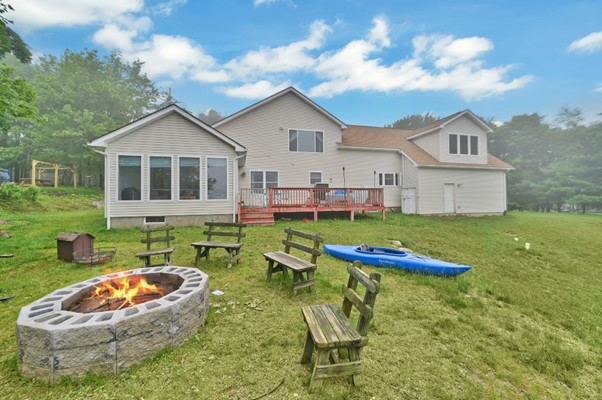 #3: Lakefront Cottage near Lake Harmony, Pennsylvania
This delightful Lakefront Chalet is located miles away from the humdrum of busy city life. It offers breathtaking panoramic views from the inside and from the docks. It has oversized windows for a spectacular sunset view and high ceilings that offer zero clutter to your thinking space. The lake house has five spacious bedrooms, two bathrooms, a smart TV, Wi-Fi, central air conditioning. Additionally, the lake house also offers amenities like private kayaks, lifeboats, barbeque grill and fully functional modern kitchen.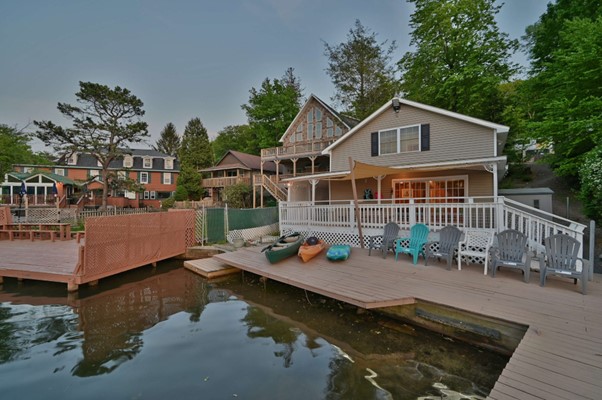 #4: Luxury Lakefront Cabin near Lake Harmony, Pennsylvania
This luxury lake house is apt for those who want to enjoy a lake view but from a distance. The location of the house is perfectly synchronized to be a forest cabin and a lake house as it is located at a walkable distance from Lake Harmony, giving it the additional space for amenities like a fire pit, furnished patio, a garden, an extravagant hot tub, and a backyard with a kids' play area. On the inside, the house has five bedrooms, two bathrooms, a heated floor, a fully equipped kitchen, two living rooms, laundry room, and a game room with a pool table, foosball table and a projector!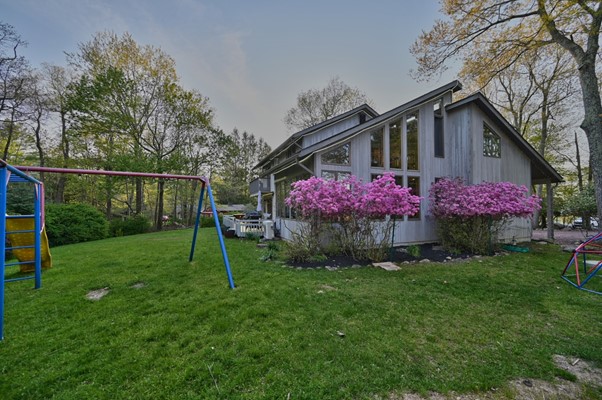 #5: Luxury Lakefront Cottage near Lake Harmony, Pennsylvania
This luxury cottage is designed for a serene lakeside vacation. It is strategically located between forest cover and Lake Harmony, which is just a short walk away. This is a three-story, luxury cabin with three lavish bedrooms and 2 bathrooms. The interior amenities include a fully furnished spacious living room, a warm fireplace, and an open kitchen with dining area. On the outside, you have a furnished deck that offers a scenic view, a fire pit, and free parking space.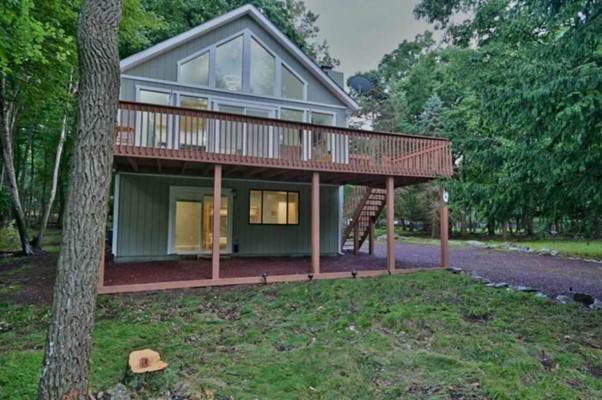 Each of the lake houses have unique amenities and ambience. However, they do have one thing in common, they are all located in the heart of Pennsylvania's most hip and happening locations. These lake houses are close to most popular tourist attractions and recreational activities. Click here to know more about these properties.