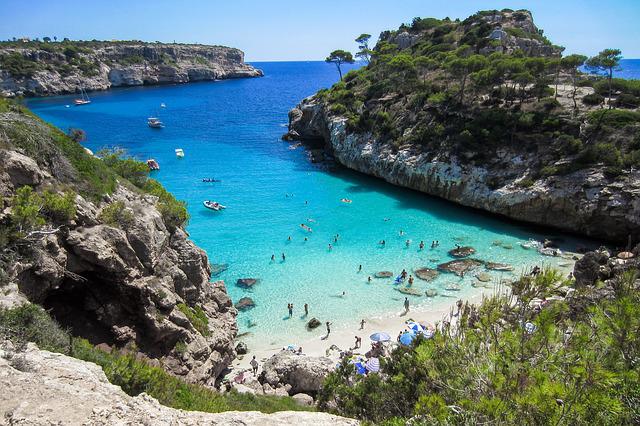 When you are searching for a beautiful beach break, you might be tempted to jet off halfway around the world to a tropical island. But did you know that there are some incredible beaches located in Europe? Many people book a holiday in Spain each year to enjoy the sun, sightseeing, and Spanish food. If you're looking to relax and unwind on your summer holiday, there are some of the best beaches in Spain you can visit too! Whether you want to head to the sun-soaked Canary Islands or take a city break to Barcelona that includes downtime on the sand. Keep reading to find your perfect coastal getaway.
Cala Mesquida, Mallorca
The Balearic Islands are well known for being a great getaway for those looking for a beach break. Mallorca is the largest of these islands, and is incredibly popular with tourists – but don't let that stop you from diving in and discovering some truly amazing beaches that might not be quite so crowded. Head to the northeastern coastline and you will find Cala Mesquida, better known to locals of the island than international travellers – so keep this gem hush-hush!
If you are looking for a quiet beach that isn't flashy but still provides you with warm water and fine sand, Cala Mesquida is going to be your favourite place. It is a little bay with a beach just a quarter of a mile long where you can rest and rejuvenate and enjoy a splash in the warm waters. Less developed than other parts of the island, this beach feels like a special secret just for you, but you can still rent a chair and grab some snacks.
Bogatell, Barcelona
Are you more of a city mouse than an island dweller? Well there are still many great options for you to explore when booking a holiday in Spain. Barcelona, the second biggest city in the whole country, and the 2nd ranked leading beach destinations in Spain in 2021, is beloved by many for its cosmopolitan feeling and coastal location. The city balances gently on the coastline and surrounds the city with beaches you will be desperate to spend time on. Barceloneta beach is perhaps the best known of these, exemplifying that crowded city atmosphere you will have picked up from wandering down Las Ramblas. However, Bogatell is a city beach that feels a little less busy.
Being a man-made beach, you can rely on Bogatell for providing excellent design and a pristine look. Did you know it was formed for the Olympics, held in Barcelona in 1992? While it might be celebrating its thirtieth birthday this year, Bogatell remains modern and fresh, with bathrooms available and lifeguards watching over sunseekers. The pleasant brown sand and incredible location make this one of the best things to do in Barcelona and is a firm favourite for holidaymakers..
Playa de As Catedrais, Galicia
For those who want to explore rocky scenes rather than sandy shores, try Playa de As Catedrais. Found near the town of Ribadeo, this northwestern beach is beautiful and wide but surrounded by arches of rock. This unusual formation is what lends the beach its name – it literally translates to the 'beach of the cathedrals'. You can head down to this beautiful spot and stand underneath the rocks to get some truly amazing views for something just a little different.
Playa del Ingles, Gran Canaria
The Canary Islands are another much-loved spot to choose from when booking a holiday in Spain. This collection of islands might belong to Spain, but they are also close to the African coastline, popping up in the Atlantic Ocean. While many tourists visit Tenerife, Gran Canaria is also a popular holiday with those seeking winter sun, due to the incredible year-round weather, and Playa del Ingles is one of the most well-known beaches on the island.
Boasting nearly seven miles of beautiful sand that taper into wilder dunes, this beach has transformed from a bohemian paradise into a luxurious area where you can enjoy some sand and then go for a delicious meal in one of the highly-rated restaurants running alongside it. With golden sand, the length of Playa del Ingles makes it a natural stopping point for holidaymakers staying in nearby hotels, and you can even enjoy visiting a beach club and rent an umbrella and a lounger to relax in style. If you're searching for some of the best beaches in Spain to visit on your next holiday, why not give Playa del Ingles a try?
Las Arenas, Valencia
If you've booked a holiday to Madrid, you might be looking forward to a weekend away made for culture vultures rather than beachgoers. After all, Madrid is a city – you don't hear much about hitting the beach in the guidebooks! However, since the AVE bullet train began operating between Madrid and Valencia, heading to the beach is much more likely. Less than a two hour trip from the hustle and bustle of the city, you can find yourself on Valencia's Las Arenas beach.
This large beach isn't so well known to tourists, so you will be able to hang out with the friendly Valencians instead! Just because this beach isn't a tourist trap doesn't mean it won't have plenty to offer. The wide, sandy beach has basic facilities, as well as courts where you can work up a sweat playing volleyball, or just kick back in a beach chair. If you're looking for your next sunny destination, then a holiday in Spain might be just what you need to experience some of the best beach experiences!
Playa de Ses Illetes, Formentera
Formentera is a Balearic Island that you may not have heard of. It isn't as big and flashy as Ibiza, its nearby neighbour, but it has even more to offer for those who are looking for a truly unique beach experience. While Formentera might be less touristy than some of the other Balearics, its slightly low key reputation makes it great for a quiet break. And if you make your way to Playa de Ses Illetes, you'll be glad you made the trip.
Set in a protected bay, Playa de Ses Illetes is the only pink sand beach in Spain – and yes, the sand really is pink. This magical beach has been created due to little bits of coral being washed up and mixing with the sand, and the shallow and warm water is a pleasure to swim in. But make sure you show up early! The 'beach of the small islands' is something of an attraction with those in the know, and even on this bohemian island things can get busy. The number of people who are allowed on the beach at any one time is strictly limited, so to avoid waiting in line, rise with the sun and get down to the pink sand.
Tossa de Mar, Costa Brava
Back on the mainland, you might be tired of the flat sandy beaches and cityscapes – so why not head to the Catalonian coastline and explore Costa Brava? Situated in the northeast, this area is known for stunning beaches on this 'rough coast', with towering cliffs bracketing the area. Tossa de Mar is especially worth visiting, with a castle overlooking the beach. It is nearer to the French border than many beaches and is the perfect way to get out of Barcelona and enjoy shimmering brown sands and a dedicated area for swimmers. Combining culture with sun, sea and sand, this coastline is one for adventurers.
Almunecar, Costa Tropical
If you have so far avoided the Costa del Sol due to its bustling and touristy reputation, don't miss out on this lovely coastline altogether. Costa Tropical is just a little way away from its busy neighbour and is a little less developed with more nature making an appearance. It is also well located if you want to explore the historical city of Granada. Even if you are just here for the relaxation of the beach, this is a wonderful choice.
The resort of Almunecar is the most popular of Costa Tropical's resorts, and it harks back to classic ideas of a European riviera. With a promenade to stroll on your way to the beach, this area feels sprinkled with luxury. The white sand beach is also a treat, with warm water to swim in and rental beach chairs available. This is the perfect place to spend the day, or to stop by when staying in a city in the Andalucia area.