The archaic traditionalists want you to believe that single malt is a drink for old rich men sitting around the country club. Or for the "Bougies," those folks who want to be seen as, or are pretending to be, upper class. Scotch is most certainly not for women. You aren't a real whisky drinker unless you drink it neat … but we'll accept on the rocks; nothing else.
That is what The Glenlivet is changing.
"It is time to break the rules," says Aoife Lyons, Assistant Brand Manager with Corby Spirit and Wine's Scotch portfolio. "In a short glass or tall, with ice or neat, in cocktail or on its own. The best way to enjoy a single malt Scotch is the way you enjoy it most."
The Glenlivet wants people to know that drinking single malt is for anyone. It's not reserved for elitist groups or fixed times of the day. The way you drink it is not restrictive. It doesn't make you seem like something you are not. It is not only for the upper class in their posh country clubs. It is refined, but it's not stuffy and traditional. And, even though there are a lot of labels that use "Glen" in the name, it's not that confusing a category — it's just a matter finding the Glen you like, and by breaking down these stereotypes The Glenlivet is helping you find the path best suited for you and your tastes.
Put simply (and according to the Scotch Whisky Regulations of the United Kingdom), a single malt whisky must be made exclusively from malted barley, distilled using single pots at a single distillery and must be aged for a minimum of three years in oak casks that are no larger than 700 litres.
But how you drink it, with whom and when is entirely up to you. With a diverse flavour profile and variety of cocktails to be crafted from single malt, there is a single malt drink for every brunch, cottage weekend or festive gathering in your calendar. (When, of course, it is safe for everybody to gather again!)
The Glenlivet is steeped in a storied past but is trying to create a progressive present — a move that is shaking up the typically staid single malt category. Here are some options for the seasoned single malt Scotch drinker to experiment with, and the novice to get introduced to the drink:
Straight Up
Just because this is the stereotype doesn't mean it should be dismissed. There is always a place for enjoying your Scotch straight, and The Glenlivet is a first-class single malt: smooth, fruity, complex, sophisticated, entertaining. A classic.
Drink this … after a hearty meal or a long day at work.
Enjoy it instead of … a beer, which will make you feel even more bloated.
How to make it … either neat (pour a measure into a rocks glass) or on the rocks (pour a measure into a rocks glass filled with ice). Sip and savour.
The Glenlivet Royale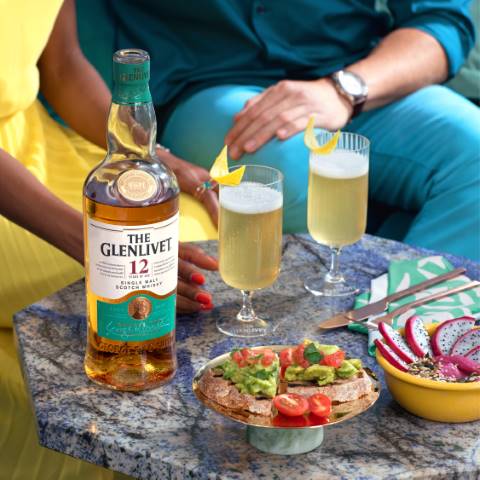 An original twist on a classic cocktail, the smoothness of the single malt balances with the bubbles in the Champagne.
Drink this … sharing some apps with friends or your bubble over video conference, and when it is safe, out for brunch or on a patio. This is also great for a cozy winter evening at home.
Enjoy it instead of … a French 75.
How to make it … in a chilled Champagne flute, pour in a measure of The Glenlivet 12 Year Old, 15 millilitres of honey water and 15 millitres of lemon juice. Top with Champagne, stir and garnish with a lemon twist.
The Last King
Pineapple is a universally loved flavour that is ideal for introducing people to the delicious flavours of single malt. It is especially good with The Glenlivet in this cocktail, highlighting its smooth, fruity style.
Drink this … with your weekend morning brunch.
Enjoy it instead of … a mimosa.
How to make it … in a cocktail shaker with ice cubes, add 50 millilitres of Glenlivet Founder's Reserve, 25 millilitres of spice-roasted pineapple juice, 20 millilitres of freshly squeezed lemon juice. Shake vigorously and strain over hand-cracked ice into a rocks glass. Garnish with a wedge of fresh pineapple. (Find the recipe for spice0roasted pineapple juice here.)
Spiced Spey Coffee
Scotch in your coffee adds a softer, sweet and creamy flavour.
Drink this … after a day enjoying the fall or winter weather, hiking skiing, skating, snowshoeing, ice fishing.
Enjoy it instead of … Irish coffee.
How to make it … warm a wine glass with boiling water. Pour out the water and add a shot of Glenlivet 12 Year Old, 75 millilitres of Americano or strong coffee, 15 millilitres of liquid chocolate, 10 millilitres of simple syrup and a small pinch of cayenne pepper in the heated glass. Gently pour lightly whipped double cream over the back of a spoon to create a creamy layer. Garnish with chocolate shavings and another small pinch of cayenne pepper.
"When it comes to single malt cocktails, they are crafted to help the flavour profile of the spirit shine through," says Aoife. "You aren't trying to mask the presence of the single malt. It is there to enhance the cocktail."