This season, elevate your Cinco de Mayo celebration with the Grand Margarita. The Grand Margarita puts an elevated spin on this classic cocktail by swapping out orange-flavoured liqueur for Grand Marnier.
This highly refreshing cocktail pairs sour lime and earthy tequila notes, with Grand Marnier's cognac and bitter orange flavor adding a refined smoothness and a heightened drinking experience.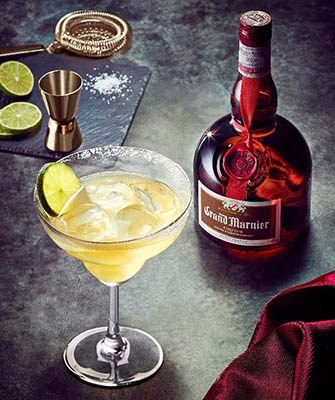 THE GRAND MARGARITA
Ingredients 
1 oz | Grand Marnier® Cordon Rouge 
1.5 oz | Espolon Tequila 
0.75 oz | freshly squeezed lime juice 
0.5 oz Agave Nectar or Simple Syrup (Optional) 
Ice cubes 
Lime garnish 
How to make The Grand Margarita
Fill a wide, shallow dish with 2-3 mm of fine salt.  
Cut a lime in half at the width and rub around half of the rim of a margarita glass.  
Cut a thin, crosswise slice from one of the lime halves for garnish.  
Holding glass upside down, dip wet half delicately into the salt.  
Shake Grand Marnier®, Espolon Tequila and lime juice with ice in a cocktail shaker. 
Strain into glass and apply lime garnish to rim.  
Cinco de Mayo is a holiday celebrated on the 5th of May every year in Mexico and the United States. It commemorates the Mexican army's victory over the French army at the Battle of Puebla on May 5, 1862. While it is a significant event in Mexican history, it is not Mexico's Independence Day, which is celebrated on September 16. In the United States, Cinco de Mayo has become a popular cultural celebration of Mexican heritage and pride, featuring parades, festivals, and traditional food and drink. It is a time to celebrate the contributions of Mexican-Americans to American society and to appreciate the rich and diverse culture of Mexico.