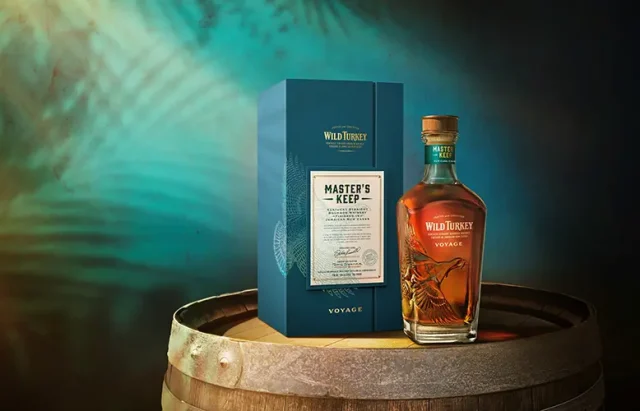 Wild Turkey, the iconic American bourbon brand, today announces the release of Master's Keep Voyage, the latest expression in the annual limited-edition series of highly sought-after whiskies. Crafted by Master Distiller Eddie Russell in a first-time collaboration with Dr. Joy Spence, the renowned Master Blender of Appleton Estate Jamaica Rum, this 106-proof expression of 10-year-old bourbon was finished with a secondary maturation period in Jamaican rum casks, marking the first rum cask finish in Wild Turkey's history. It will be available at select retailers beginning in July.
"Every year, we look forward to the release of Master's Keep as an opportunity to rethink what our bourbon can be," says Wild Turkey's Master Distiller Eddie Russell. "Creating Master's Keep Voyage in collaboration with Dr. Joy Spence was a real privilege, and I think our shared passion for telling a story through our spirits comes through in this one-of-a-kind whiskey."
Master's Keep Voyage captures the hallmarks of both bourbon and rum making and reflects Eddie Russell and Dr. Joy Spence's more than 80 years of combined experience in crafting exceptional spirits. To begin, Dr. Joy Spence hand selected some of the finest casks from the iconic Jamaican rum house Appleton Estate – these casks previously held 14-year-old pot still rum and were chosen for their potential to best complement the bold top notes and rich caramel undertones of Wild Turkey's extra-aged bourbons. The casks then made the voyage to the Wild Turkey Distilling Co. in Lawrenceburg, KY, where Eddie Russell hand selected a batch of 10-year-old bourbon that had been aged in Wild Turkey's classic No. 4 char barrels. The bourbon was finished in the rum casks in the heat of a Kentucky timber rickhouse, resulting in a tropically influenced American icon bursting with a palate of fruits, caramel and aged oak with a warm, long-lasting finish of chocolate and spice.
"With Voyage, we set out to develop a spirit that allows the notes of the rum and bourbon to work in harmony," said Appleton Estate Master Blender Dr. Joy Spence. "By aging Eddie's hand-selected batch of 10-year-old bourbon in the finest casks we have at Appleton Estate, we were able to achieve a new level of flavor that gives whiskey and bourbon lovers a new way to enjoy their favorite drinks."
The Master's Keep series, first launched in 2015, was born from Eddie Russell's desire to push the boundaries of traditional bourbon-making by experimenting with aging techniques and finishes. Each annual release in the collection is highly coveted and available in limited quantities.
Master's Keep Voyage will be available nationally at select retailers beginning in July. SRP for a 750ml bottle is $275. The makers of Wild Turkey and Appleton Estate took their time crafting this one-of-a-kind whiskey, and they encourage fans to take their time enjoying it and to drink in moderation.