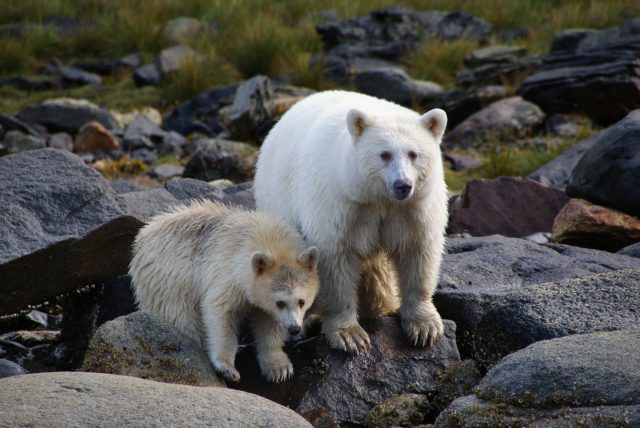 What's so great about the Great Bear Rainforest? For starters, it's a vast area of pristine wilderness about the size of Ireland. Encompassing a quarter of the world's coastal temperate rainforest, it's the perfect place to soak up a whole lot of silence and drink in lush green surroundings. And, it's the only place on the planet where you can spot the elusive white Kermode bear, also known as the "spirit bear."
Need more? Wildlife viewing abounds, from eagles to grizzly bears, sea otters to dolphins and whales. There's kayaking and fishing along the coast, and hiking through old-growth forests. (With very few roads, the Great Bear Rainforest is accessed mainly by boat or floatplane.)
In short, it doesn't get more off-the-beaten path than this. Here's what you need to know before you go.
Where It's Located
The Great Bear Rainforest stretches some 400 kilometres (250 miles) along the central and northern coast of British Columbia from Knight Inlet to the Alaska Panhandle. It covers 6.4 million hectares (15.8 million acres).
How to Get There
You can approach the Great Bear Rainforest in several different ways: roads get you only so far in the wilderness. One of the area's main gateways is Bella Coola in central BC. Highway 20 from Williams Lake leads to Bella Coola, or fly there on scheduled flights from Vancouver. Other points of entry include Bella Bella, Klemtu, and Prince Rupert.
Or, venture into the Great Bear Rainforest by sailing along the BC coast. You can experience the area by ferry through BC Ferries' Inside Passage route and the Discovery Coast Connector. For a more intimate environment, take a small-ship cruise that offers on-board chef service, such as Maple Leaf Adventures or Outer Shores Expeditions. Alternatively, you can fly or sail into a remote lodge on the coast, such as Nimmo Bay Resort or Knight Inlet Lodge, and base your adventure there.
What to Do
From Bella Coola, head out on a wildlife-viewing safari with Bella Coola Grizzly Tours, or go on a boat ride through glacial fjords to a natural hot springs, where you can have a soak before tucking into a barbecue lunch. From Tweedsmuir Park Lodge, go heli-hiking in the Bella Coola Valley, take a guided nature walk, go birdwatching, or simply float down a river and take in the majesty. At the Taleho Cannery, watch salmon and trout spawning in late August and learn about this history of the salmon-processing industry.
From Prince Rupert, you can head out on the water with Prince Rupert Adventure Tours to the Khutzeymateen, which boasts the largest population of grizzly bears on Earth. You could also see humpback and grey whales from late July to September.
If you're keen on whale watching, the Johnstone Strait and the Broughton Archipelago (between mainland BC and northern Vancouver Island) are two of the best places in the world to spot orcas. Head out for a day trip, or kayak the Broughton Archipelago with Farewell Harbour Lodge.
Or, for a sport-fishing vacation, head to a fly-in lodge such as Central Coast Adventures near Bella Bella on BC's central coast.
When to Go
June to August are the warmest months to visit the area. Bear-viewing season runs from June to October. The best chance to see bears is during the annual salmon run from late August to September or October, when these magnificent creatures hunt fish.
What Is a Spirit Bear and Where Can I Spot One?
Consider it a quest: people travel from far and wide for the chance to spot the rare Kermode bear, which is found only in this part of the world. A subspecies of black bear, the Kermode bear has naturally white fur. About 10 per cent of the black bears born in this area carry this recessive white gene.
Set off from the coastal village of Klemtu to see the bears on their home turf of Princess Royal Island. Local cultural guides conduct tours to areas where there have been sightings. You can reserve waterfront or floating accommodation in Klemtu at places such as Spirit Bear Lodge, a community-based ecotourism venture owned and operated by the Kitasoo/Xaixais First Nation.
Why Has the Great Bear Rainforest Been in the News?
Their Royal Highnesses the Duke and Duchess of Cambridge visited the Great Bear Rainforest in the fall of 2016 as part of their royal tour in Canada. They officially endorsed it under The Queen's Commonwealth Canopy Initiative. In February 2016, the Government of B.C., First Nations, environmental groups, and forest industry representatives announced their final agreement on how the Great Bear Rainforest would be managed. This agreement will conserve 85 per cent of the forest and 70 per cent of old growth over time.
For more on travel to the Great Bear Rainforest, see HelloBC.com. For info on the region's ecology and biodiversity, plus the Queen's Commonwealth Canopy and the Great Bear Rainforest Agreement, see https://greatbearrainforest.gov.bc.ca/