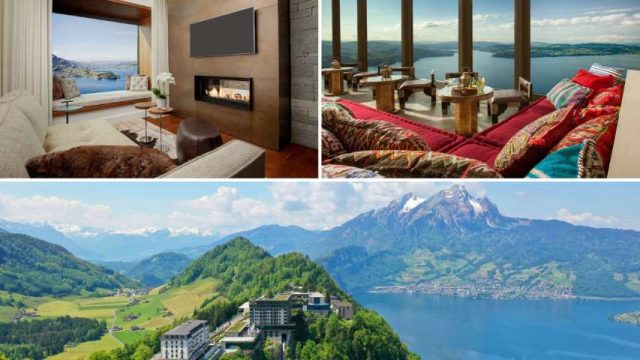 2023 marks the 150th anniversary of Bürgenstock Resort Lake Lucerne. Steeped in a fascinating history dating back to 1873, this iconic resort heralded a new era in Swiss and European hospitality when it reopened in 2017. Historic and contemporary architecture, three award-winning hotels, a 10,000sqm Alpine Spa and leading medical wellbeing centre unite in this spectacular setting atop the Bürgenberg mountain ridge, 500m above Lake Lucerne. 
Bürgenstock Resort has been at the forefront of innovation and entrepreneurship since its inception, with a pioneering spirit. Business partners Franz Josef Bucher and Josef Durrer, two visionaries without a background in hospitality, founded the Belle-Époque-style Grand Hotel, opening in 1873. They were later considered as the founders of first hotel chain in the world. This came as a huge success which led to expansion, with the Palace Hotel opening its doors in 1903. The hotels attracted a highly international clientele, from wealthy Russians and Indians, British and American industrials and bankers, to Austrian, Hungarian, French and German Aristocrats.
Setting new standards for hospitality and leisure, Bürgenstock Funicular opened as the first electric railway in Switzerland in 1888, powered by a hydroelectric plant and whisking guests in comfort and style up the mountain to the hotel above. In addition, this period saw the construction of the Hammetschwand Lift, the highest outdoor elevator in Europe which remains to this day and is accessible via a daring Cliff Walk.
Moving into the resort's Golden Years in the mid-20th century, Bürgenstock Resort became the must-visit holiday destination in Europe, a place to see and be seen by Hollywood stars, political leaders and business elite. Audrey Hepburn was married to Mel Ferrer in the Bürgenstock Chapel in 1954; Sophia Loren and Carlo Ponti were residents for several years; while the cast and crew of James Bond's Goldfinger lived and filmed in-resort for more than a month in 1964. The exclusive Bürgenstock Club with its outdoor Hollywood Pool was the setting of fashion shoots and films, while the Alpine Golf Course and Tennis Courts, one of the first in Switzerland, created the desired Palm Springs style.
Following a nine-year, visionary investment from Katara Hospitality, the 21st century Bürgenstock Resort was relaunched in 2017 as a year-round destination. Unique in Europe and beyond, world-leading facilities include its own hybrid catamaran, accredited hospital and 10 innovative restaurants, lounges and bars serving award-winning, authentic cuisines from all over the world.
In honour of this continued innovation, a series of celebratory 'Beyond Imagination' experiences will launch for guests in April 2023. The first to be announced is "Biographer in Residence"', reflecting those pioneers involved in the development of Bürgenstock Resort whose stories last today.
Guests may now have their memoir written and produced by the team at leading biography writing company Master Storytellers. During a stay, guests will enjoy a number of in-person interviews with their personal biographer, a specialist in putting down life's meaningful stories on paper. Informal interview sessions will take place in an array of settings from nature walks to the private spaces in the 1903-Palace Hotel, each between 60-90 minutes in duration. A full manuscript will be written before being sent for approval along with a customised cover design and inside photo pages. Once finalised, 20 paperback editions plus one digital e-book of the memoir will be printed, ready for guests to share with their loved ones and protecting their treasured memories.
The package includes three nights at Bürgenstock Hotel & Alpine Spa or Palace Hotel, with up to five hours of one-to-one interviews. Guests will also be able to indulge in an exquisite full body KOS massage in the Alpine Spa, as well as a sumptuous three course dinner with their personal biographer. The package is available at CHF12,000.
In addition, a series of exciting in-resort events and offers will take place throughout the summer season to celebrate the ground-breaking spirit of the resort. The ultra-personalised break, The Ultimate Stay, includes a best of the exclusive experiences the resort is known for. A spectacular Forest Dinner, Sunset Garden Dinner in the enchanting Spa Garden, as well as an unforgettable Opera Dinner await for guests. Other offerings include a Chefs United "Legends" Edition, Historic Menu Revival, as well as 150th Anniversary Special Editions of an exclusive cigar, a cheese from the Bürgenberg and a locally brewed beer, to celebrate the unparalleled food offerings of the resort. The launch of a new Beauty Lounge at the Alpine Spa and new Spa Journeys will take wellness to a new level. Stepping on legendary ground, Bürgenstock Resort's guests will all feel like pioneers.