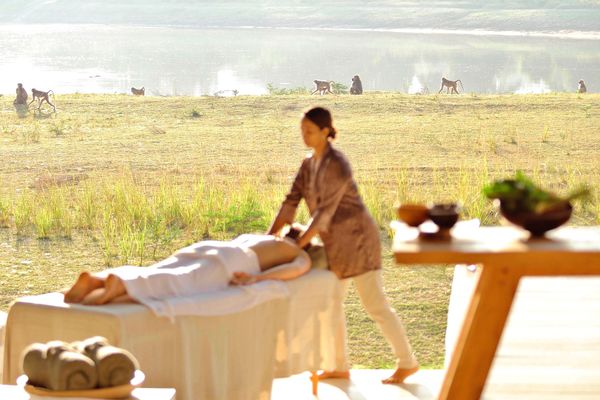 Butterfield & Robinson, the world's premier active travel company, has announced a new collection of luxury properties titled Spectacular Stays. The collection launches in North America, Africa and Patagonia, Chile with 17 properties consisting of adventure ranches, world-class resorts, luxury safari lodges and camps – many being hand-picked from B&R trips. Spectacular Stays has been created to allow travellers to book exceptional stays through B&R, with additional properties and types of accommodation being added throughout 2018.
"For decades, the unimaginable, unattainable, and frankly hard-to-book luxury accommodations that highlight our trips have been the hallmark of our business," says Norman Howe, CEO and President, Butterfield & Robinson. "With Spectacular Stays, we're not only showcasing our relationship with visionary owners, proprietors and hotel managers around the world, but we're giving guests access to the first-rate service and accommodations that set B&R apart."
Guests booking their accommodations through Spectacular Stays will pay the same rates offered by the properties themselves, have unfettered access to B&R's award-winning team of Trip Designers, and receive add-ons such as complimentary airport transportation, early check-in and upgraded room categories. *
The Spectacular Stays collection represents B&R's vast network of luxury properties across the world, and in some of the travel industry's most compelling and diverse destinations. From a growing network of national parks in Patagonia, properties across Africa reflecting B&R's new Safari offering, and beautiful North American lodges and resorts highlighting unspoiled landscapes, B&R is proud to partner with these leading properties.
"Our trusted partners at Butterfield & Robinson are truly some of the best and most innovative in the business. Their attention to detail, level of customization and in-depth knowledge of a destination are exceptional, and a perfect fit for our property," says Jessica Cook, Director of Sales, The Ranch at Rock Creek. "B&R guests that stay at The Ranch at Rock Creek will receive a bespoke itinerary during their stay ensuring that each fun-filled day is tailored to their personal preferences and immerse them into the raw, authentic beauty of Big Sky Country."
Offering a range of additional amenities including available room upgrades, accommodation credits and extras like complimentary wine and shuttle service, the North American Spectacular Stays provide luxury escapes in extraordinary backcountry settings.
The six North American Spectacular Stays are:
With a host of all-new private safaris, B&R has upped its game across Africa in 2018. The same expert planners and Trip Designers that created new luxury trips in Kenya, Botswana, Zambia, Zimbabwe, Namibia, Tanzania and South Africa are available to help travellers customize their itinerary while staying in Africa.
The eight African Spectacular Stays are:
Finally, with 11 million acres of newly donated parkland in Chile, the opening of five new Patagonian parks, and expansion of three well-known national parks, the timing couldn't be better for B&R's South American offering. Additional amenities at Patagonian properties include complimentary room upgrade, daily breakfast service and unique extras like cooking classes and wine tastings.
The three Patagonian Spectacular Stays are:
With plans to announce additional types of accommodation in the Spectacular Stays program, B&R has curated these properties in three continents for its launch to target a variety of travellers and destinations. For more information, visit www.butterfield.com/spectacular-stays.
*Extras vary per property; upgrades subject to availability
About Butterfield & Robinson
As the world's premier active travel company, Butterfield & Robinson has been designing incredible journeys in the world's most amazing places for over 50 years. From the start, B&R has encouraged travellers to "Slow down to see the world," executing itineraries focused on activity, adventure and cultural immersion for generations of travellers. With offices in Canada, France, Italy and Brazil, B&R offers innovative itineraries in over 60 destinations worldwide. For more information visit www.butterfield.com.