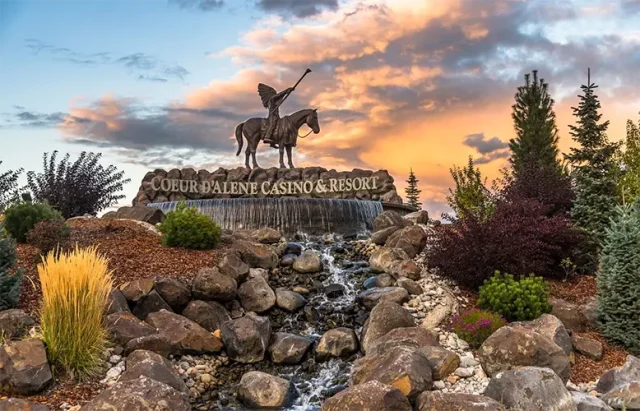 Thirty years is a tiny blip on the Coeur d'Alene Tribe's timeline as inhabitants of Northern Idaho, but for its 2,500 members, the last three decades have been momentous indeed.
As the Creator intended.
Since the day in 1993 when the doors opened for the Coeur d'Alene Casino Resort Hotel some 10 miles west of the area's version of Lake Tahoe, massive Lake Coeur d'Alene, the tribe has worked hard to build a destination that rivals anything in the Inland Pacific Northwest for lodging comfort, recreational variety, and array of amenities and activities.
Stir in thousands of years of cultural history, the surrounding Palouse region's natural beauty — with flora fauna documented by Lewis and Clark in 1805 during their continental exploration — and this most welcoming of indigenous peoples have secured themselves a place on the must-visit map, especially when the weather is at its best.
"Traditional tribal hospitality is something that permeates our culture and our people have earnestly extended it to others for time immemorial," said Laura Penney, CEO, Coeur d'Alene Casino, and a tribal member. "This holds true at Coeur d'Alene Casino Resort Hotel, where our guests are greeted with genuine appreciation and dedicated customer service designed to make their stays memorable."
Contributing to patrons' enjoyment are award-winning restaurants and well-appointed rooms and suites with gorgeous Native American-themed décor.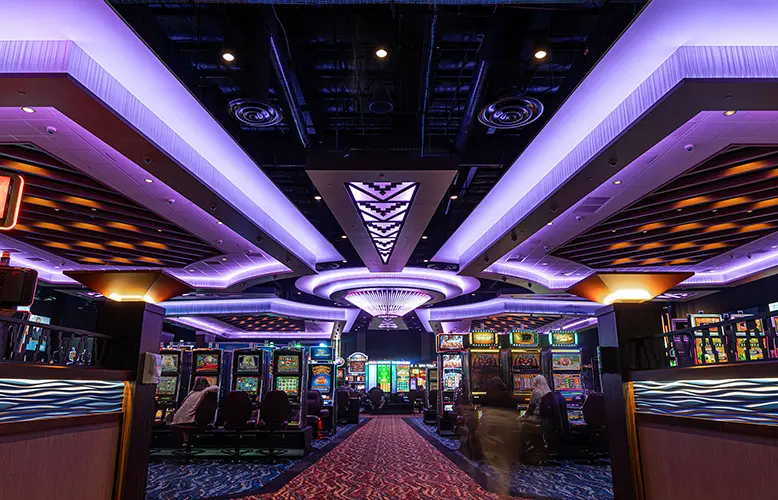 "We designed everything so that our guests feel comfortable, happy, and valued while honoring our ancestry and people," said CEO Stensgar. "Our 'Welcome Home' hospitality mantra is sincere and pervasive."
The resort is a reasonable drive from cities like Seattle, Portland, and Boise, and many folks fly into Spokane International Airport (GEG), rent a car, then drive 50 minutes southeast to the tiny burg of Worley, Idaho, just over the Washington border into the state panhandle.
Upon arrival, they'll check into the 300-room-and-suite hotel with two wings – Spa Tower and Mountain Lodge (or set up their RV in the adjacent park) – and find themselves in a handsome 60,000 sq. ft. casino environment that, rather than pushing away the great outdoors, incorporates the Coeur d'Alene Tribe's incredible natural setting into the design mix.
You get the same "upscale rustic" feel taking a seat in one of the resort's seven restaurants and digging into excellent cuisine — including fresh, tasty choices at Red Tail Bar & Grill and Chinook, a fine steakhouse with a lovely outdoor deck framed by sun-dappling foliage. Coeur d'Alene Casino Resort Hotel's food and beverage operation recently won acclaim from Club & Resort Business magazine for its culinary excellence.
The expansive Spa Ssakwa'q'n (SOCK-wah-kin) – at a whopping 15,000 sq. ft. the largest in the region – provides an array of soothing rooms, pools, products, and treatments. These include massages and facials, manicures and pedicures, revitalizing lotions for purchase, and more. Relaxation emanates throughout the stone, glass, and wood adorned spa, with window views of surrounding gardens and trees.
For par seekers, there's Circling Raven, the championship golf course designed by Gene Bates that instantly became a key amenity on the Coeur d'Alene landscape when it opened in 2003 next to the hotel.
Named for a revered tribal leader and laced through a sprawling 620-acre parcel of some of that tribe's most beautiful ancestral ground (four times more acres than the average golf course globally), players are "welcomed" by a coniferous forest, rolling grassland, and stream-fed meadows.
Initially, tribal leaders called in big golf design names like Robert Trent Jones, Tom Doak, Gil Hanse, and Jack Nicklaus to submit plans. All of them recommended building the course on a relatively flat parcel just west of the resort, where water was readily available. Only Bates looked to the east and south, across and along an elevated railroad bed, for his inspiration. The wild and wide-open land was infused with deep native spirit, and he took full advantage, molding the heaving landscape to mimic its vast horizons — the distant mountain peaks, the rounded foothill forms close by, the tree lines jutting into that endless azure sky. He made each hole its own set piece — why limit himself to scoping out one or two "signature" candidates when every hole site could produce a stunner?
Bates's judgment has been rewarded many times over – Circling Raven has garnered an extensive list of "best-in-kind" honors including No. 1 Public Course in Idaho, Top 100 Resort Course nationally, and Top 20 Casino Course in America. The golf club also twice won distinction as "Best Pro Shop / Resort Category" from the PGA of America.
Circling Raven is revered for its ingenious holes – no two alike – exceptional course conditions, and wonderful, welcoming service at every turn. It is so well regarded that the LPGA chose to partner with the course and casino resort to host the Circling Raven Championship presented by KXLY News 4, an Epson "Road to the LPGA" Tour event held since 2021. In August 2023, more than 120 of the world's best women golfers will vie for shares of the $225,0000 prize purse (adding to their season-long winnings that determine which players earn LPGA membership for the coming year).
Beyond Circling Raven, plenty of outdoor pursuits await Coeur d'Alene Casino Resort Hotel guests, from hiking and four-wheeling to water sports at the big lake just up the road, or fishing, birding and wildlife viewing at Heyburn State Park, which skirts three lakes of its own and, established in 1908, ranks as the oldest state park in the entire Pacific Northwest.
Cultural activities and amenities are popular with guests and visitors. Tribal drum and dance dinners include native foods like elk or bison stew, wild rice and squash, fry bread and huckleberry jam. The Coeur d'Alene Tribe is so committed to this component of the resort and its essence – and curates it so well – that was named the "Native American Destination of the Year."
The resort brings top-name entertainment into the mix. This summer, for instance, comedian Jeff Foxworthy takes the casino showroom stage on July 27, with rock veterans Night Ranger slated for Aug. 24. During weekends, the lounges are filled with complimentary bands or acoustic music artists. MMA events, bingo, 40,000 square feet of meeting space, indoor and outdoor wedding locations, and other activities are regularly held here.
Clearly, Coeur d'Alene Casino is a resort destination in full, with more room to grow — rooted not only in deep tribal history but strong local commitments. The tribe's original gaming contract with the state of Idaho mandates – at the Tribe's behest – donating five percent of all gaming proceeds to education initiatives throughout the region. This has resulted in donations exceeding $34 million to date.
Could the Coeur d'Alene Tribe have imagined such growth, reach, and impact those three decades ago, all while ensuring its people's lives are better from the prosperous enterprise?
Perhaps not. But they had faith, and they invested the time, resources, and inspired vision to create a welcoming place where people gather to relax, laugh, eat, and enjoy life.
As the Creator intended.
+++
Like Coeur d'Alene Casino on Facebook and Instagram or follow it on Twitter. For more information about Coeur d'Alene Casino, visit www.cdacasino.com.
Author Vic Williams is an award-winning writer, editor, and journalist based in Reno, Nevada. He has written about places he's visited around the world – from Kauai to Mexico, Scotland to the Canadian Rockies.