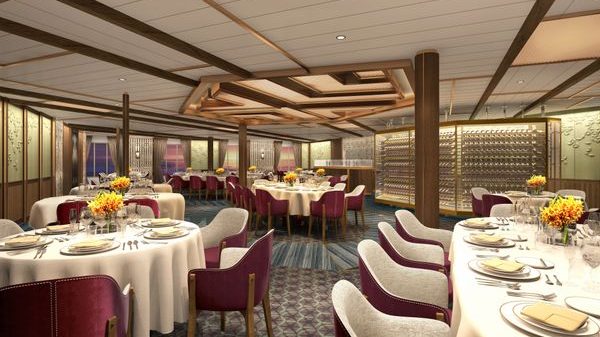 Seabourn, the world's finest ultra-luxury travel experience, has given travelers a glimpse of the eight dining experiences, as well as a first-ever look at The Restaurant, on its two new ultra-luxury purpose-built expedition ships set to launch in June 2021 and May 2022.
Diners are sure to be delighted for breakfast, lunch and dinner throughout their adventures with Seabourn. Each dining experience showcases the high quality and breadth of cuisine crafted by Seabourn's skilled chefs from top-quality ingredients with an eye toward the latest culinary innovations and trends, and service by talented staff who are always at the top of their game.
"We're proud of our legacy in the culinary arena, cultivated over more than 30 years by a team intent on producing fresh, delicious and memorable cuisine equal to the finest restaurants anywhere," said Gerald Mosslinger, vice president of Hotel Operations for Seabourn. "These eight dining experiences – and the venues themselves – have been designed with expeditions in mind, with inspired details that keep bringing the luxury expedition experience to life, and where guests can unwind to share memories of the day over a wonderfully prepared meal, glass of wine or perfectly crafted cocktail."
As with any Seabourn ship, all dining experiences are complimentary, and guests can dine when, where and with whom they choose. Premium spirits, fine wines and other beverages are complimentary everywhere on board, with a number of special selections also available for an additional charge. Starting with the first voyages in 2021, expedition travelers will find an appealing array of tempting dining experiences including:
The Restaurant: Fine dining in an elegant, open-seating dining room for breakfast, lunch and dinner
The Colonnade: A more casual alternative for buffet or table service breakfast and lunch, and themed dinner served tableside, including family-style menus by Michelin-starred Chef Thomas Keller.
The Patio: casual, alfresco dining for lunch, weather permitting
Sushi in The Club: A variety of sushi bites are freshly made to order here every evening.
Seabourn Square: A sociable oasis serving delectable specialty coffees, pastries, sandwiches and homemade gelati throughout the day and into the evening
Pantry in the Bow Lounge: Help yourself to freshly prepared light fare and refreshments as you scan the horizon
Constellation Lounge: A nod to the heritage of Seabourn, the Constellation Lounge is the spot for early-risers' pastries and beverages, elegant afternoon Tea Time and cocktail-time tapas
24-Hour In-Suite Dining: Choose from a varied menu anytime, or have dinner from The Restaurant menu served course-by-course in your suite or on your veranda.
A fixture across the entire Seabourn fleet, The Restaurant offers a stunning, elegant setting to enjoy an impeccably prepared meal for breakfast, lunch or dinner. The work of design icon Adam D. Tihany, The Restaurant is a masterfully curated space anchoring food and beverage service on Seabourn Venture and her soon-to-be-named sister ship.
Located on Deck 4, The Restaurant is a stunning setting serving perfectly plated dishes that rival the finest restaurants in any city or hotel, to be enjoyed in classic open seating, where guests dine when, where and with whom they wish. The venue also offers an expansive wine selection, with Old World and New World labels that includes a number of fine complimentary choices. Guests can also browse the extensive list of premium wines available for an additional charge to please the most sophisticated palates.
Tihany has kept natural elements at the forefront of his work for the expedition ships, and The Restaurant features design inspired by the abstract, geometric nature of snowflakes, merging bold lines and shapes with a softness reminiscent of falling snow. Leather wall paneling with visible stitching brings a unique three-dimensional diamond arrangement to the space, while blue and green carpeting with geometric patterns surrounds a central porcelain floor that recalls the natural sediment of a geode. Overhead abstract diamond lighting fixtures of ribbed glass and metal details are inspired by the symmetry and complexity of snowflakes, and bronze mirror details add a touch of sparkle throughout the space.
Seating in The Restaurant is similarly noteworthy, with dining chairs fashioned by the product arm of Tihany Design. Designed for comfort, the chairs beckon with rich burgundy leather against a textured fabric seat back, with exposed rivet details and wood frame echoing the tactile craftsmanship found elsewhere throughout each expedition ship. As a crowning touch, the dining space is elevated by a sophisticated wine display encased in bronze framed glass.
Each new ultra-luxury expedition ship will feature 132 luxurious oceanfront veranda suites. Renderings of the new ships, suites and public spaces of the ship can be found in the link here. More details about other dining, social venues and public spaces will continue to be revealed in the coming months. Itineraries for the first season of travel aboard Seabourn Venture are now open for booking on the Seabourn website.
Seabourn continues to represent the pinnacle of ultra-luxury travel with intimate ships offering key elements that set the line apart: spacious, thoughtfully appointed suites, many with verandas and all 100% ocean front; superb dining in a choice of venues; complimentary premium spirits and fine wines available on board at all times; award-winning service and a relaxed, sociable atmosphere that makes guests feel right at home on board. The ships travel the globe to many of the world's most desirable destinations, including marquee cities, more than 170 UNESCO World Heritage Sites, and lesser-known ports and hideaways.
For more details visit www.seabourn.com.