From grabbing a slice of pizza while living the dolce vita in Italy, enjoying a dagwood dog down under, or braving some interesting looking kebabs in the night markets of China (tuna eyeballs, anyone?), wherever you're travelling this summer, trying the local street food is a great way to get a taste of a new culture. The experts at Babbel, a language learning app, are weighing in on the best street foods around the world.
ASIA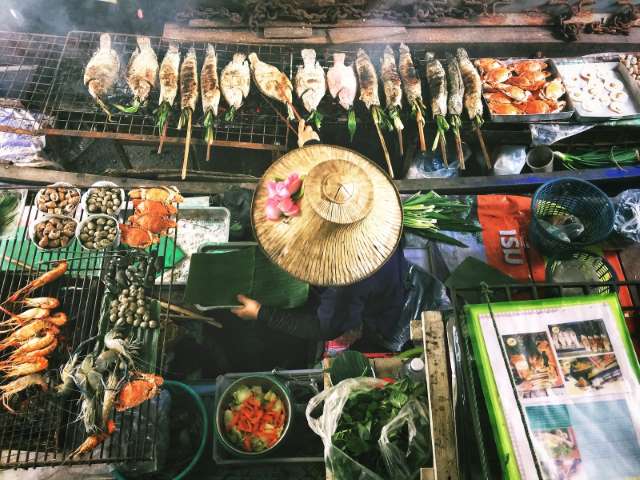 The Philippines: Lechon Manok
Lechon manok is roast chicken, the Pinoy street version (Pinoy is the informal name used to refer to Filipinos and their culture). This is hands down the most popular street food in the Philippines and can be found from province to province. What makes this dish so delicious is the marinade that melds together the Filipino spices and stuffing. The stuffing, which although not meant to be consumed, enhances the overall aroma and flavour.
Shanghai, China: Xiaolongbao
Literally translated to mean little buns in a steaming basket, xiaolongbao packs a whole lot of flavour. The dough is soft and the filling is typically salty and meaty—making it the perfect snack food.
India: Vada Pav
Carbs on carbs. This vegetarian dish consists of a potato dumpling between a sliced bun. The dumpling is typically mashed with chilli, garlic, mustard seeds, and a variety of Indian spices before being deep-fried. Alternatively, it is referred to as a Bombay burger.
Taipei, Taiwan: Chou Doufu
Known for its strong odor, this fermented tofu promises to stink up the streets it's served on. Appropriately nick-named 'stinky tofu', the popular dish is sold at night markets and at roadside vendors throughout Taipei.
Afghanistan: Dried Fruits
Dried fruits—and fresh fruits for that matter—are an extremely popular snack item in Afghanistan. Sold at street stalls, they're a huge hit with locals and visitors looking for something to pick at while they browse the Afghan markets.
Vietnam: Pho
Pho is easily the most popular dish in Vietnam. Traditionally it is broth served with rice noodles, herbs, and thinly sliced meat. It's also one of the most mispronounced dishes in the world. To be clear: It's pronounced "fuh".
Singapore: Satay
Satay is an incredibly popular street food in Singapore, so much so that the popular night market on Boon Tat Street has been affectionately nick-named 'Satay Street'. No surprise, because it is equipped with the largest outdoor barbecue in the country. Nightly, hundreds of skewers in all types of meats and marinades are served alongside assortments of delicious dipping sauces.
AFRICA
Morocco: Sardines
Fried sardines are a favourite among the locals in Morocco. The fillets are served butterflied, coated with chermoula and flour before being pan-fried.
Ghana: Chichinga
Chichinga is simply any street food kabob made with suya (pronounced "soya"), a spice and peanut mixture that may vary slightly around the different communities in West Africa.
Kenya: Bhajia
Particularly popular along the coast, bhajia are typically deep-fried sliced potatoes–though some vendors offer spinach, onion, and vegetable varieties too. Whatever the filling, these are battered in chickpea flour, turmeric, and chili powder, before being fried until crispy. They're delicious and highly addictive.
South Africa: Bunny Chow
Sometimes simply referred to as 'a bunny', this South African fast food dish is curry stuffed in a hollowed-out loaf of bread. Originating from the large Indian community of Durban, Bunny Chow can contain any variety of tasty curries. Usually consumed with your hands, the bread bowl is peeled apart and dipped into the curry. Messy, but worth it.
LATIN/SOUTH AMERICA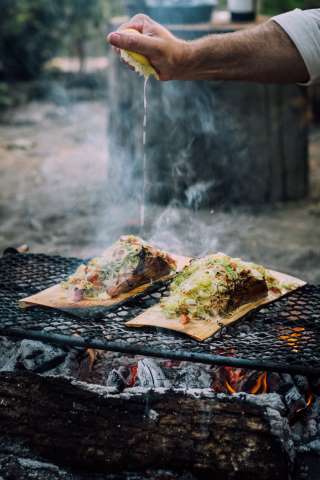 Brazil: Pastel
These fried pies are crispy deliciousness. This popular Brazilian snack is offered in a variety of flavours, savoury or sweet. Think empanada, but crispier! You'll find these delightful doughy pies by the beach, at the bars, along the streets, and at the markets.
Argentina: Empanadas
Speaking of empanadas, these savoury pastry pockets are the snack of choice in Argentina—and have also grown in popularity in North America. Different fillings are available at practically every vendor, each region having their specialty, depending on where you go. They're easy-to-eat on the go, making it the perfect snack for walking around.
Mexico: Tacos
Antojitos refers to all Mexican street food and literally translates to meaning little cravings. Small markets and street vendors are a tradition and serve up a variety of local favourites. The most popular is the taco, which we all know and love. Coming in a variety of styles and fillings: Soft or fried, filled with meat, fish or vegetables, topped off with guac or sour cream–there's a taco out there for everyone.
EUROPE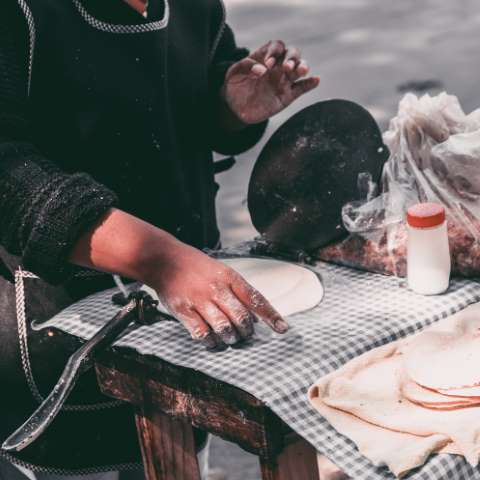 Italy: Pizza
The 'za. You know it. You love it. You can find it everywhere in Italy (and the rest of the world, for that matter). That cheesy, doughy, yummy goodness is a classic.
France: Crêpes
Crêpes are a huge part of the street food scene in France. Whether looking for a savoury meal or eaten to curb your sweet tooth, the filling options are endless (savoury options are called galletes). For those just wanting a light snack, opt for the simple sugar-dusted variety.
Germany: Currywurst
Currywurst is a curry-spiced sausage that is steamed, fried, and then served sliced into bite-sized pieces with a trademark curry ketchup. The dish is commonly served with a portion of hot French fries. And is so popular that there's even a currywurst museum in the nation's capital.
Greece: Gyro
Everywhere you go in Greece, you'll be able to find gyros. Delicious meat, whether lamb, beef, pork, or chicken, is roasted on a vertical skewer and sliced off the rotisserie as it cooks. Served on a pita with tomato, onion, garlic sauce and fries, these are guaranteed to fill you up – and for a tidy price too, as one of the cheapest street foods in the country.
Spain: Churros
Consumed in the morning, at lunch, as a snack, or for dessert, churros are a favourite in Spain. Dipped in hot chocolate or coffee, they're always served hot and fresh. Coated with cinnamon and sugar after being deep fried, these goodies are worth the indulgence.
OCEANIA
Australia: Dagwood Dogs
In North America, we call them corn dogs or Pogos—and they're a childhood favourite. In Australia, these populate the food vendors at fairs and festivals. What could be better than a deep-fried, cornmeal battered hot dog on a stick? Nothing.
NORTH AMERICA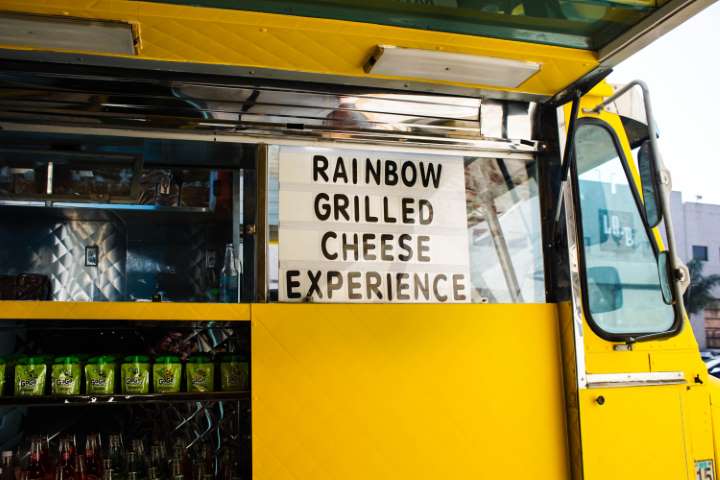 Canada: Pretty Much Anything
As well as your classic hot dogs, burgers and fries, street food across Canada offers an array of cuisines from all around the world, from tacos and perogies, to arepas and jerk chicken.If you're not familiar with them already, then don't miss food trucks selling Canadian-born favourites, like Beaver Tails and Poutine.
United States of America: Also Pretty Much Anything
Street vendors offering gyros and grilled cheese masterpieces are hugely popular in the States. Depending on the city you're in, you can find local classic dishes available on the go – from barbecue in Austin, to poke bowls all over Honolulu, and Philly Cheesesteaks in Philadelphia.