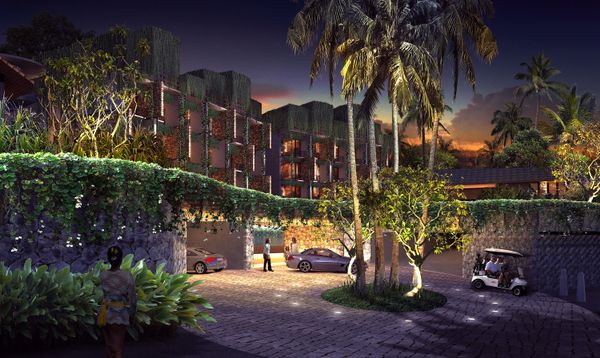 It is one of Bali's most idyllic hidden coves. Living up to its name, Dreamland Beach is framed by dramatic limestone cliffs that hug the rugged coastline of the southern Bukit Peninsula. Characterised by glorious stretches of white sand, breathtaking sunsets and one of Bali's most iconic surf breaks, it is little wonder that this slice of heaven will soon become home to Wyndham Hotel Group's newest Bali resort.
Wyndham Dreamland Resort Bali, the second Wyndham branded hotel for Bali following the opening of Wyndham Tamansari Jivva Resort Bali late last year, is due to open in December 2017.
The upscale 190-room property will be nestled among an exclusive collection of luxury beach clubs, resorts and golf courses. Once complete it will offer 28 villas with private swimming pools in a lush natural setting and 162 studio, one and two-bedroom apartments.
The property will feature a striking fusion of traditional Balinese and modern design, inviting guests to enjoy the two adults-only swimming pools, children's pool, tranquil gardens, poolside café, an open air Indonesian specialty restaurant and a casual bar. It will also offer spaces for functions, meetings and events.
Located on a tranquil stretch of coastline between bustling Kuta and spectacular Uluwatu, and close to other famous surfing points such as Uluwatu Beach, Bingin Beach and Padang Padang Beach, the resort will be an ideal destination for relaxation and surf trips with facilities including a spa and wellness centre complete with a yoga studio.
Barry Robinson, President and Managing Director of Wyndham Hotel Group South East Asia and Pacific Rim, said, "Wyndham Dreamland Bali is an idyllic destination offering guests an unforgettable stay within one of the island's most exclusive beach club precincts. In designing this resort in partnership with local development company DW2, we have drawn our inspiration from the stunning coastline, its perfect waves and the beauty found in traditional Balinese design. Guests will enjoy the finer details at this resort – not only in the lush gardens and the architecture, but within the personalised and memorable experiences that will be offered."