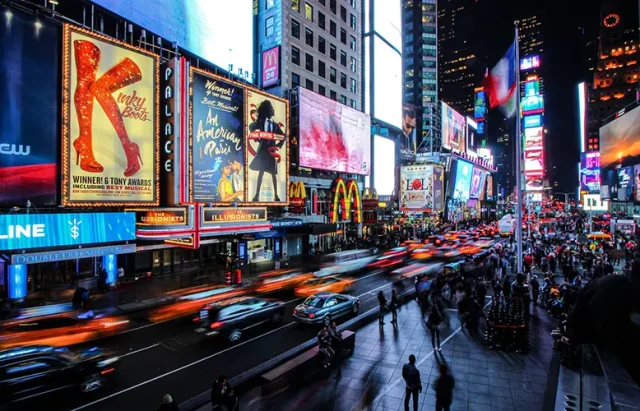 Nothing brings summer vibes more than a good tune, and New York State knows the sound of good music. From the 50th Anniversary of Hip Hop taking place this year to long-time favorite Broadway ballads, travelers can explore the sounds of summer this year across the Empire State. 
Local musicians become stars at The Apollo Theater's amateur night in Harlem, and both current and classic Broadway shows, memorabilia and souvenirs are preserved at The Museum of Broadway in Times Square. Iconic musician Louis Armstrong's impact on jazz is on full display at the Louis Armstrong House Museum which houses a jazz club alongside interactive exhibits and other collections in Queens. 
Pick up the beat this summer and update your playlists by supporting new museums, festivals and musicians across the state.
Get Your Funk On: 50th Anniversary of Hip Hop
The 50th Anniversary of Hip Hop celebrates every aspect of hip hop culture. Taking place citywide, the celebration commemorates hip hop's founding in the Bronx on August 11, 1973. Throughout the year, the city will celebrate with soon-to-be announced events featuring the artists and culture of hip hop music. Music fans can enjoy concerts and tours to battles, competitions and exhibitions by all their favorite DJs, MCs, break dancers, beatboxers, graffiti artists and more who will show up and show out to make this golden anniversary of hip hop culture the most extraordinary year yet. 
Iconic Music Venues:
Cohoes Music Hall (Capital-Saratoga) – Since 1874, The Cohoes Music Hall has been a hub for entertainment and culture in the Spindle City. With its ornate style, brilliant acoustics and intimate theater, the Music Hall is a wonderful venue in which to see a play, local bands live in concert, and dance performances. 
Palace Performing Arts Center (Capital-Saratoga) – The Palace Performing Arts Center (PPAC) is a non-profit organization that makes arts & culture available in the Capital City and surrounding region. PPAC operates the historic Palace Theatre, a 2,800-seat grand cultural and entertainment venue in Albany, the largest of its scale in Northeastern New York and neighboring New England. Audiences will find various free films shown throughout the summer alongside performances by Derek Hough, Lee Brice and Pink Floyd.  
Bethel Woods Center for the Arts (Catskills) – Bethel Woods Center for the Arts is located in Bethel at the National Register Historic Site of the 1969 Woodstock festival. The center is known for their music events as well as the historic 1960s Woodstock Museum on 800+ acres of scenic country hills in the Sullivan Catskills. James Taylor, Shania Twain, and Chris Stapleton are just a few of the all-star performers scheduled for concerts this summer.  
Saratoga Performing Arts Center (Central New York) – The open-air amphitheater in Saratoga Spa State Park presents classical, country, rock and pop stars, as well as performances from its annual summer residents the New York City Ballet and the Philadelphia Orchestra. 
Daryl's House Restaurant & Music Club (Hudson Valley) – Find brunch and evening performances scheduled throughout the summer at Daryl's House Restaurant & Music Club. Located in Pawling, the venue hosts comedy shows, '90s music nights and other local bands throughout the week.  
Tarrytown Music Hall (Hudson Valley) – Built in 1885, the Tarrytown Music Hall was designed by the same distinguished architects who built the Macy's building at Herald Square in New York City. It was a multi-use facility for basketball games, concerts, films, flower shows, horse shows and roller-skating tournaments in the early 1900s and is now used to promote music, theater, dance, film, comedy, family programming and arts education. 
Northwell Jones Beach Theater (Long Island) – This outdoor theater presents top stars in performances and concerts overlooking the bay. The open-air Nikon Theater stage is right on the ocean in Wantagh with seats sloping down to the sea. Upcoming summer concerts include James Taylor, Big Time Rush, Luke Bryan, The Lumineers and more. 
Carnegie Hall (New York City) – Located on the corner of 57th St. and 7th Ave., Carnegie Hall is a national historic landmark that comprises three venues: Stern Auditorium/Perelman Stage, Zankel Hall, and Weill Recital Hall. The venue hosts orchestras, philharmonics, and other productions throughout the year. Additionally, Carnegie Hall supports educational activities throughout the city and beyond through its Weill Music Institute, and the Rose Museum chronicles the Carnegie's history. 
Lincoln Center (New York City) – Seated just north of Columbus Circle, Lincoln Center supports ten different music and performing arts groups including The Metropolitan Opera, New York City Ballet, Jazz at Lincoln Center and the New York Philharmonic. All these groups, and many others, hold performances throughout the summer. Don't miss the American Ballet Theatre's upcoming summer season where they will premiere their new ballet titled, "Like Water for Chocolate".  
Apollo Theater (New York City) – The Apollo has played a major role in the emergence of jazz, swing, R&B, gospel, blues, and soul — all quintessentially-American music genres. Today, the Apollo remains a beacon for the arts in America and is a non-profit multidisciplinary performing arts commissioner and presenter. Attend their amateur nights each Wednesday to hear up-and-coming artists perform. 
Museums of Music:
Louis Armstrong House Museum (New York City) – The Louis Armstrong House Museum's mission is to preserve the life and legacy of legendary jazz musician Louis Armstrong. The museum debuted a new cultural center featuring an interactive exhibit, archival collections, 68-seat jazz club and retail store. 
The Museum of Broadway (New York City) – This new museum in Times Square celebrates Broadway and all its rich history. Offering an immersive and interactive experience, guests are treated to a behind-the-scenes exclusive with up close viewings of costumes, props and artifacts from favorite stage shows. 
Colored Musicians Club & Jazz Museum (Greater Niagara) – The Colored Musicians Club and the Colored Musicians Club Jazz Museum are dedicated to promoting research and preserving the history of African-American music, not only in Buffalo but globally. Learn about the history of jazz clubs starting in the 1930s, how they endured periods of segregation and discrimination and what it means to be a jazz musician today. They are undergoing a major renovation to be completed in December. 
Upstate Music Festivals:
Caroga Lake Music Festival (Multi-week) – Presented by Caroga Arts Collective, Caroga Lake Music Festival is a five-week summer music festival in Caroga Lake in the Adirondacks region offering free performances and community outreach programs in the upstate New York region and beyond. Caroga Lake Music Festival is dedicated to increasing accessibility to chamber music, cultivating creative and interactive experiences and showcasing some of the world's top professional artists from the U.S. and abroad. 
Glimmerglass Opera Festival (July 7 – August 20, 2023) – Celebrate the world of opera by attending various performances at the Alice Busch Opera Theater in Cooperstown. This year's lineup includes the classic tale of Romeo and Juliet and will feature other operas such as Giacomo Puccini's La bohème and George Frideric Handel's Rinaldo. These productions are supplemented by special performances, cabarets, concerts, lectures and symposiums throughout the festival days. 
Queen City Jazz Festival (July 29, 2023) – The Colored Musicians Club and Jazz Museum will host the 19th Annual Queen City Jazz Festival in downtown Buffalo. Enjoy free performances from headliners Gerald Albright Music and Spyro Gyra along with opening performances from Rod Bonner, The Damone Jackson Outcome and GVLT LOVEXtreme JAZZ Ensemble. 
Catbird Music Festival (August 19-20, 2023) – For the first time in decades, a new music festival debuts on the historic field of the 1969 Woodstock Music and Art Fair. The Bethel festival features some of the biggest names in Americana and folk music, as well as indie acts and emerging artists, with headline performances including The Lumineers and Tyler Childers. 
Jazz in the Valley (August 20, 2023) – With awe-inspiring views of the Hudson River providing a breathtaking backdrop, this annual festival welcomes world-class musicians to Dutchess County for a celebration of jazz the entire family will enjoy! General seating is available in the tent, or you can bring your own chair or blanket and chill on the lawn. Waryas Park is within walking distance of the Poughkeepsie Metro-North train station.  
Cave Mountain Catskills Music Festival (September 15-16, 2023) – The first-ever Cave Mountain Catskills Music Festival takes place at Windham Mountain. Listen to artists like Weezer, Dinosaur Jr., Joe Russo's Almost Dead, Preservation Hall Jazz Band and more at this rock n' roll weekend experience. Upgrade your ticket to receive VIP Access which provides prime viewing locations, special lounges and access to The Club, a luxurious setting for guests to relax, unwind and enjoy the best of Windham Mountain Resort.