GM Jerome Montanteme and his team epitomise the hotel's spirit of adventure, celebration and quality even in these most difficult times for the travel industry – and would be happy to take you on a quick virtual tour of the changes in the hotel while we are still unable to travel.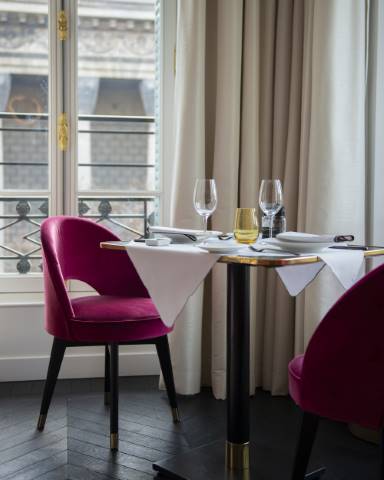 True to its gastronomic roots this small luxury hotel has again adapted, staying open during the second and this third lockdown of the capital, welcoming business travellers while finding new ways of satisfying the appetite of the capital.

Renowned for its exceptional standards, service, innovation and enthusiasm – sur mesure – the hotel has now converted its spaces so that:
Eight private dining rooms now make up one floor – previously guest bedrooms – for groups of up to 6 guests – with personalised attention and service throughout
Menus change twice weekly – but all diners are encouraged to order 'off menu' with direct requests to the Chef in advance
Grand Cafe Fauchon has been transformed into a store for the finest wines and teas and the iconic patisserie associated with the brand – on a click and collect basis
Lunch and dinner are set price E60 per person. Non residents will also be charged a one-per-group room charge of E100
Let Paris go hungry? Not since Marie Antoinette….