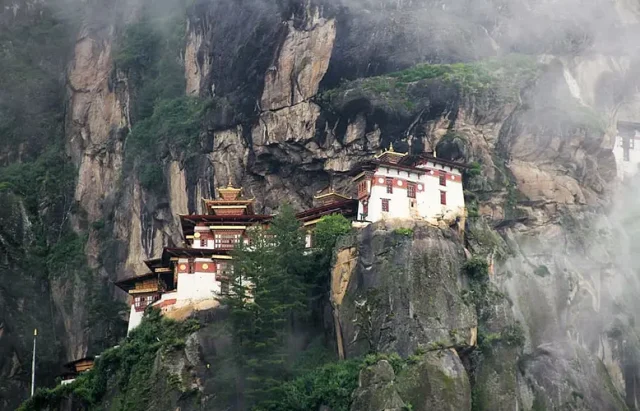 Sun, sea and sand vacations are all well and good, but when you crave more of an adventure, where in the world should you head? With all the wonders of modern travel, there's an entire globe of countries and experiences at your fingertips — settling for an ordinary vacation is no longer necessary!
If you're hoping to broaden your horizons and experience a once in a lifetime vacation, keep reading to discover some of the most breathtaking destinations to visit. From exploring Australia's wine country or embarking on a spiritual quest in Bhutan, here are five extraordinary travel adventure ideas.
The Margaret River Tasting Trail in Australia
Australia itself is a destination that brings together ancient cultures with vast landscapes and stunning waters — an antipodean paradise for those from the Northern Hemisphere. Amidst the wonders and thrilling outdoor activities, Australia also boasts plenty for the wine enthusiasts among you. And, when it comes to visiting Australian wine regions, there's no better place than Margaret River — where sun-drenched wineries await.
This delightful destination offers a selection of wineries that produce some of the most exceptional beverages in the world.
Begin your tasting journey at the Leeuwin Estate, a winery that you've undoubtedly come across before. First established during the 1970s, the estate is particularly known for its 'Art Series' Chardonnay and Shiraz. Once you've sampled Leeuwin's delicious offering, make your way to Vasse Felix, Margaret River's "founding estate". Lastly, cap it all off by sampling the eatery (and the winery, of course!) at the Voyager Estate.
Once you've satisfied your palate, retreat to the gorgeous country estate of Cape Lodge in Yallingup. While you're in the area, be sure to explore the landscapes at Hamelin Bay, or why not catch some waves at Prevelly Beach?
Transylvania, Romania
The vast forests and Gothic castles of Transylvania have captivated our imaginations for centuries. So, for a vacation experience that you'll no doubt recount to your grandchildren, what could be better than to explore the very castle that inspired Bram Stoker's chilling novel, Dracula?
From its suitably dramatic hilltop setting, the mysterious corridors of Bran Castle beckon all who pass by to step back in time to a world where folklore was the norm. Steel yourself as
you wander through dimly lit chambers and stumble upon hidden passages — who knows what dastardly secrets these ancient walls hold?
Of course, in real life, this Central European region is much more welcoming than its mythical reputation suggests. It's also a genuinely delightful place to explore, as evidenced by the villages of Sighisoara and Sibiu, where quaint cobblestone streets and colored houses generate plenty of inviting warmth. Then, when it comes to finding a place to rest your head, what could be more apt than the Hotel Castle Dracula in Piatra Fântânele.
Galápagos Islands, Ecuador
A true testament to the awe-inspiring wonders of nature, the Galapagos Islands are a place on earth like no other. For centuries, this region remained untouched by "civilization", until it emerged in public consciousness in 1859 thanks to Charles Darwin's On the Origin of Species. Since then, people from all corners of the world have been enthralled by the awe-inspiring magnificence of these natural wonders.
One of the best ways to discover this UNESCO World Heritage site — and least disruptive
— is through an Ecoventure cruise. If you're ready to dive into crystalline waters and hike through volcanic landscapes that will transport you to another world, don't think twice about making the Galapagos Province your destination.
The Inca Trail, Southern Peru
If you've ever wondered how it feels to travel through both time and space, look no further than Southern Peru, where you can experience the Inca Trail. Winding its way through the Andes Mountains, this ancient pathway spans 26 miles from the Sacred Valley all the way to Machu Picchu.
Although you can certainly take the easy option and head to the citadel directly by bus or train, don't forget that you've traveled to this historical place to experience everything it has to offer. Instead, brave the elements and set off on the thrilling five-day hike that encompasses the entire Inca Trail. You'll have the opportunity to conquer not one but three magnificent peaks in the Andes. Plus, unforgettable views of lush cloud forests and breathtaking snow-covered mountain ranges await.
On the other hand, if you do have a bigger budget at your disposal you can indulge in a more lavish journey on Belmond's famed Hiram Bingham train. Departing regularly from Cusco, this opulent train will transport you to the heart of the Incan Empire in comfort — it even serves up gourmet dining during the 3+ hour journey.
Whether you've hiked to the peak or sat back and relaxed on the Hiram Bingham, once you've enjoyed all this mystical monument has to offer, treat yourself to a stay at the Inkaterra Machu Picchu Pueblo Hotel. You'll certainly be glad for its traditional Andean sauna when you've been on your feet for so long!
Bhutan's Paro Taktsang
Now shifting our focus to another spiritually enriching adventure, we find ourselves amidst a paradise nestled in Bhutan's misty peaks. Paro Taktsang — also known as the Tiger's Nest
— is a monastic complex that seems to defy gravity itself. This remarkable Bhutanese landmark is not merely a travel destination; it symbolizes a pilgrimage into Asia's history of Buddhism.
Paro Taktsang is among a group of 13 monasteries where Padmasambhava (Guru Rinpoche), a revered Buddhist master who introduced the practice to Bhutan in the 8th century, chose to engage in meditation. Legend has it that he even arrived at the temple on the cliff's edge riding on the back of a flying tiger, which explains its name.
Although modern travelers don't have the luxury of flying tigers, they can still reach this site by embarking on a two-hour journey from the floor of Paro Valley.
The trip involves an exhilarating ascent up flights of steps that are skillfully carved into the cliffs. Once inside the complex and after removing your shoes, you will be allowed to explore three temples located within.