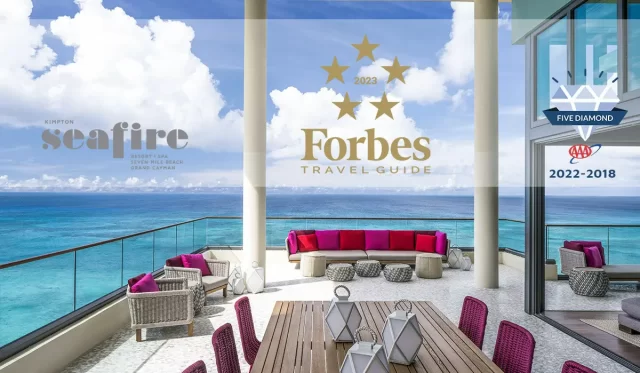 Forbes Travel Guide ("FTG"), the only global rating system for luxury hotels, restaurants, spas and ocean cruises, today announced its 2023 Star Awards. Kimpton Seafire Resort + Spa earned a new Forbes Travel Guide Five-Star award and is showcased with other honorees on ForbesTravelGuide.com.
Located on world-famous Seven Mile Beach, Kimpton Seafire Resort + Spa is the first Kimpton Hotel to ever earn the accolade, and now has become the first AAA Five Diamond and Forbes Five Star property in the Kimpton brand.
"It's an incredible honor to have earned Forbes' Travel Guide's Five-Star ranking this year," said Steven Andre, Kimpton Seafire Resort + Spa's General Manager. "Every day, we strive to push the boundaries of luxury for our guests. This accolade is a tribute to the efforts of every member of our outstanding and trailblazing team."
Forbes Travel Guide is the world-renowned authority on excellence in hospitality, and Kimpton Seafire Resort + Spa is the latest addition to its illustrious annual Five-Star Star Rating list.
"Travel is in an incredible position for continued growth, as people prioritize authentic, in-person experiences," says Amanda Frasier, President of Ratings for Forbes Travel Guide. "The hotels, ocean cruises, restaurants and spas on our 2023 Star Rating list demonstrate an impressive commitment to creating memorable environments that nurture connection, joy and sense of place as we experience the world to its fullest."
Since opening in 2016, Kimpton Seafire has established itself as an extraordinary destination resort that is a thoughtfully designed, effortless escape for couples, families, and groups. An exemplary and cutting-edge resort both within the Kimpton brand and the destination, Seafire's inventive approach to its dynamic guest experience via a constant drumbeat of new programming and amenities, is what truly sets it apart in the luxury hotel space.
Last summer saw the launch of SPLASH at Seafire, a family-friendly water park that offers self-directed discovery in an imagination-sparking aquatic environment complemented by the Cayman Islands' native flora and fauna. In an effort to draw further inspiration for tourism to the island, Seafire hosted the first annual Wellness Festival, a week-long island escape that incorporates local and regional wellness elements inspired by Grand Cayman's culture and personality. Returning for its second iteration this year, on July 12-17 participants can expect an alluring and unique calendar of activities and events including seminars and classes led by world-renowned health, fitness, and wellness experts, farm-to-table culinary experiences, and much more.
Later in 2022, the resort focused on innovation within its restaurants and bars' offerings with the introduction of a new and upscale cocktail lounge concept to the island. The first of its kind on Grand Cayman, Library by the Sea offers guests an immersive sensory experience, while delivering a breath of fresh Caribbean air into the concept of a hotel lobby bar. With narrative taking center stage, Library by the Sea serves up creative inspiration and a depth of connectivity in its menus, as well as engaging staff that will be sure to leave a lasting impression on all who embark on the journey. Here, each beverage is concocted using a variety of innovative libation gadgets and methods, including rotary evaporators, refrigerated centrifuges, sous vides, 3D printers and a Thermomix that allows the resort's mixologists to devise exclusive distillations and infusions of spirits, liqueurs, cordials, syrups and purées.