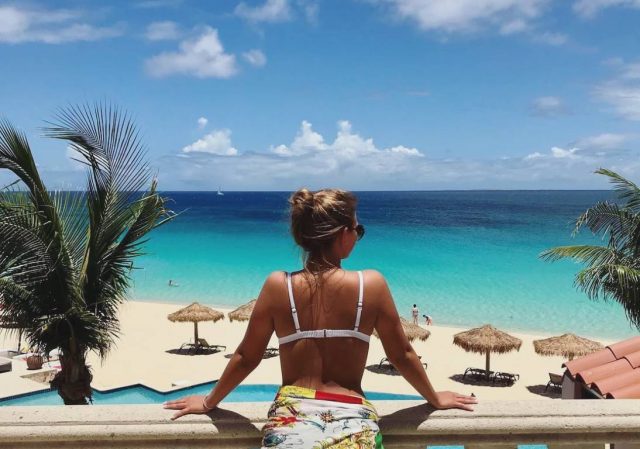 Anguilla's premier beachfront luxury boutique resort, Frangipani Beach Resort, is proud to announce that it has been named as one of the best hotels in the world by Travel + Leisure's 2023 T+L 500 list. Rated for its luxury hospitality, guestrooms and amenities, location, service, gastronomy, dedication to excellence and unmatched guest experience, this marks the second time the property receives this prestigious award.
"We are truly grateful and humbled to have been recognized once again by Travel + Leisure readers with this prestigious award," said Shannon Kircher, Director of Marketing & Communications at Frangipani Beach Resort. "It's truly a testament to the ongoing efforts by our excellent staff who continue to provide both a personable and unforgettable guest experience," added Kircher.
Located on Meads Bay and offering a peaceful haven to unwind and immerse oneself in the tranquil crystal-clear beaches of Anguilla, the resort features 23 luxury rooms and oceanfront suites all featuring a balcony or terrace boasting sweeping views of the Caribbean ocean. Guests who demand the pinnacle of spacious luxury can enjoy the one-of-a-kind expansive 5,000 square-foot villa with its own exclusive amenities perfect for hosting special beach escapes in a private sanctuary.
Frangipani Beach Resort provides the perfect venue for a memorable Caribbean getaway. Offering a bespoke boutique experience, each guest is pampered and given the utmost attention by the resort's staff, with no request being too large or small. The resort's award-winning restaurant, Straw Hat, offers breakfast, lunch, and dinner with menu items featuring fresh catch-of-day seafood and other locally inspired cuisines. 
Resort guests also have access to beach hopping experiences aboard the resort's catamaran, complimentary access to two on-site pickleball courts, a tennis court, both motorized and non-motorized water sports, a beachfront infinity pool with a hot tub which is great for soaking, a fitness facility, bicycles, and Balinese spa.
Travel + Leisure recognizes the 500 best hotels around the world in the 2023 edition of the T+L 500. The full list will be featured in the May 2023 issue of Travel + Leisure, on newsstands on April 21 and online at travelandleisure.com.