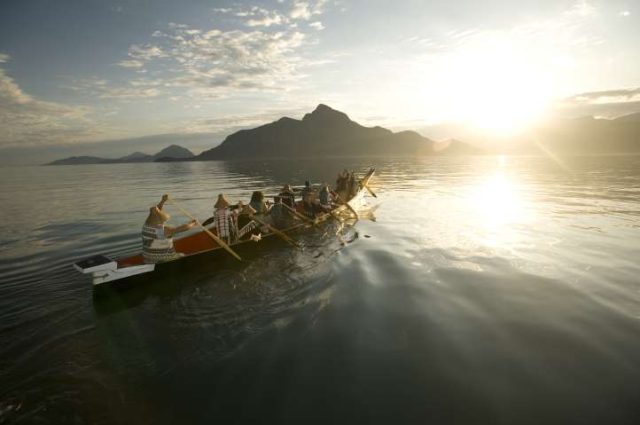 For Indigenous peoples, honouring Earth Day means listening, learning, and celebrating the relationships with the home we share: Mother Earth.
As borders re-open and travel resumes, it's essential to look at how we can travel with intention, minimizing the environmental impact tourism has on the planet. Indigenous peoples care for some of the most biodiverse lands and waters in present-day British Columbia, protecting the delicate ecosystems integral to environmental balance.
Indigenous Tourism BC strives to protect and care for the wellbeing of more than 200 communities in BC through taking action and ensuring sustainable practices which preserve the culture and land are at the forefront of the industry.   Here are the top takeaways for how travellers can be more mindful with their travel destinations and decisions, along with the importance of intentional travel to the future of tourism. 
The Harmonius Relationship: Talaysay Tours & Spirit Bear Lodge
Every day is Earth Day for Indigenous peoples worldwide, and an opportunity to remind other communities this is a lifelong commitment to celebrate the intertwined relationship between the natural world and Indigenous history.
Indigenous knowledge and land stewardship educate people on long-held practices to sustain and restore the balance between mother earth and human life, addressing environmental issues such as climate change, deforestation, food security, and conservation, alongside preserving culture.
Eco-tourism stakeholder, Talaysay Tours, shares this knowledge of local flora, fauna and history through guided tours on the traditional lands of Squamish and the Coast Salish territories. 
"Traveling with intent recognizes that when we explore nature, we are presented with opportunities to deepen our relationship with it, which starts with knowledge. That is why Talaysay Tours connects visitors to modern-day Stanley Park. Understanding leads to a greater ability to enjoy these places while honouring them," – Candace Campo, Co-Owner, Talaysay Tours
Spirit Bear Lodge, situated on the Kitasoo/Xai'xais traditional territory in Northern BC, is more than a vacation, with experiences focusing on educating and immersing people in the rich history of their culture.
"There's a magic that occurs at Spirit Bear Lodge when visitors connect with the Kitasoo/Xai'xais, the lands and waters of the traditional territory, and the magnificent wildlife that call it home. Visiting the lodge is more than a vacation; it is a journey that will intertwine you with this special place, its story and its people who continue to protect it for future generations," – Bridget Orsetti, Sales Specialist, Spirit Bear Lodge.