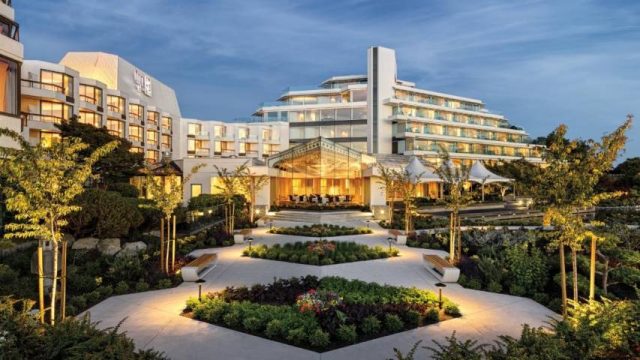 To commemorate Earth Day (April 22), Inn at Laurel Point is raising the bar for sustainability. In addition to partnering with One Tree Planted to support reforestation on Vancouver Island, the hotel has become the first in North America to sign onto The Climate Pledge.
Starting April 22, Inn at Laurel Point will launch a 30-day reforestation initiative that plants one tree for every reservation booked through May 21. Trees will be reforested on Vancouver Island in partnership with One Tree Planted, a non-profit that collaborates with businesses and individuals to achieve a clean climate, protect biodiversity and support healthy forests. As of 2020, One Tree Planted has reforested more than 15 million trees around the world.
In addition to repopulating Vancouver Island's forests, Inn at Laurel Point has joined The Climate Pledge, an initiative co-founded by Amazon and Global Optimism in September 2019. A commitment to meet The Paris Agreement a decade early, the initiative has garnered over 100 signatories across 16 countries, including global brands like Microsoft, IBM and Verizon. Businesses that sign on to The Climate Pledge are encouraged to facilitate joint action, collaborating with fellow signatories to address critical climate challenges. This month, Amazon and Global Optimism will welcome Inn at Laurel Point as the first-ever hotel in North America to join The Climate Pledge. As a signatory to The Climate Pledge, Inn at Laurel Point agrees to measure and report greenhouse gas emissions on a regular basis; implement decarbonization strategies in line with The Paris Agreement including renewable energy, materials reduction and other strategies to eliminate carbon emissions; and neutralize remaining emissions with quantifiable, permanent and socially beneficial offsets, with an overarching goal of achieving net-zero annual carbon emissions by 2040 – a decade ahead of the Paris Agreement's deadline.
Inn at Laurel Point is well-positioned to lead the change for hotels collaborating with nonprofits like One Tree Planted and signing on to The Climate Pledge. The first carbon-neutral hotel in British Columbia since 2009, the property employs several innovations to minimize its carbon footprint, including:
Hydrothermal technology to cool rooms with ocean water;
Reducing water consumption by 15 per cent, and reducing energy use per room by eight per cent, through the use of low-flow shower-heads and LED lights, as well as training staff to minimize energy and waste;
Diverting more than three-quarters of waste from landfills;
Donating unused bath products to Soap for Hope, an initiative by environmental brand Diversey;
Upcycling worn-out sheets into bandages for developing nations; and
Offsetting its remaining carbon footprint through local investments in nature.
Guests who stay at Inn at Laurel Point can rest assured they are contributing to the hotel's climate initiatives: a small percentage of each room sold is allotted to the property's Carbon Neutral Fund, which helps to protect old-growth forests and wildlife habitats for grizzly bears and wolves in the Great Bear Rainforest.
"We're honoured to work with One Tree Planted to repopulate forests in our home of Vancouver Island, and it's particularly gratifying that our guests can take part simply by booking a room," said Reverend Canon Ian Powell, general manager of Inn at Laurel Point. "Together with joining The Climate Pledge and our ongoing efforts to eliminate our carbon footprint, we hope to inspire hotels locally and around the world to commit to sustainable operations – not only on Earth Day, but every day of the year. Together, we can make a real shift in the fight against climate change." To learn more about Inn at Laurel Point's sustainability initiatives and special offers, or to book a stay, visit www.laurelpoint.com