Our fingers and toes are crossed for borders reopening and travel resuming soon. We understand and respect the current travel restrictions, but hey, we can still dream right?

If you've looked at booking a camp site or a cabin across Canada in advance of summer 2021, you'll know that it's basically impossible. Prices have sky rocketed, and the available supply is extremely low compared to the huge demand. 

When the time is right, there are a ton of options for Canadians right across the USA border and beyond. 

Glamping has fast become one of the most popular ways to travel, offering families, couples and individuals the opportunity to soak in nature while keeping some comfort and luxury.

We've rounded up some of our favourite Glamping Itineraries – Where to Stay, What to Do, and Where to Eat – to inspire your readers to get outside and enjoy weekends in nature…
North Carolina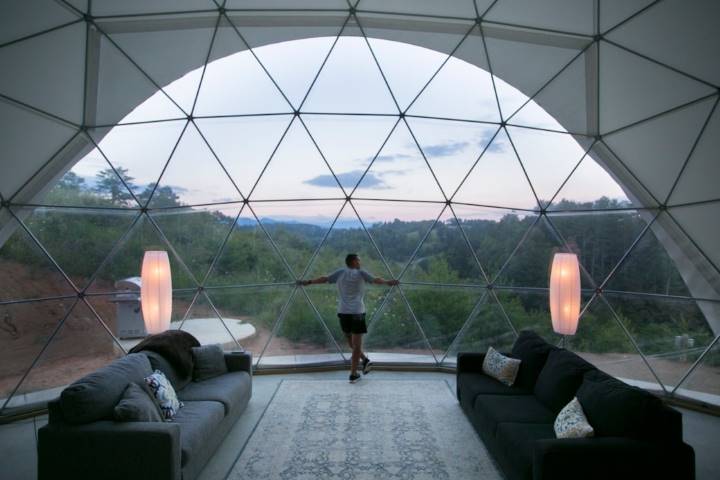 Ever wanted to camp amongst the oldest mountain range on planet earth? The Appalachian mountains in North Carolina are known to be the oldest mountains on earth and the surrounding areas are packed with magical forests, ancient trees, and great camping — or better yet, glamping — spots.

Where to Stay
The Asheville Glamping site features 14 glamorous lodging options, including deluxe bell tents, a safari tent, a vintage trailer, an adults-only treehouse and awe-inspiring domes with beds positioned under skylights – perfect for a night of
stargazing.
Where to Eat
Plant – Plant regularly tops lists as one of the nation's best vegan restaurants. It's also 90% organic and mostly gluten-free.
Nine Mile – Laid-back vibes, bountiful portions, and zesty, veggie-forward dishes define the Caribbean-inspired Nine Mile.
What to Do
Gallery Crawl – Downtown is full of art galleries, and you can find many artist studios in the River Arts District, which is just 3 miles from both of our properties!
Blue Ridge Parkway – Winds south of the city and offers panoramic views of the Smoky Mountains and many hiking opportunities.
Asheville Outdoor Activities – The beauty of the Blue Ridge Mountains surrounds Asheville, North Carolina, and there's no better way to experience the majesty of the mountains than outdoor adventure. With more than a million acres of protected wilderness, there are plenty of places to hike, bike, fish and paddle.
Arizona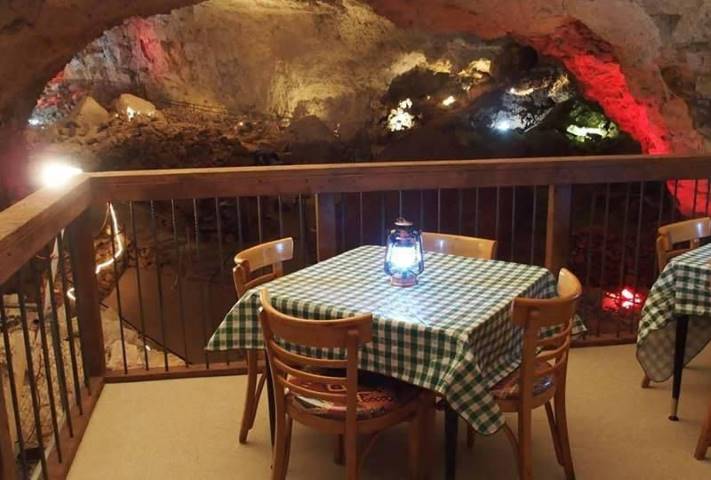 You don't have to "rough it" to experience the great outdoors in Arizona. Several campgrounds and outfitters offer "glamping," or glamorous camping, options. Arizona has some of the most amazing National and State parks in the nation.

Where to Stay
Arizona's Grand Canyon – Among the largest dry caverns in the country, you'll find the Cave Motel Room. Located 220 feet below the surface, the single "Cavern Suite" sleeps up to six and includes 50-foot natural limestone ceilings, two double beds, a living room, library and bathroom.
Where to Eat
Cavern Grotto in Arizona – Your food is served up 200 feet below the surface, letting you experience your meal in a cave that is millions of years old. The four-table eatery offers simple American comfort food that makes a not-so simple voyage to your table.
What to Do
Cavern Tours – Explore one of Arizona's natural wonders – the largest dry cavern in the United States.
Ghost Walks – If your brave enough and not afraid of the dark! Search for the spirits that are reported to haunt the caverns.
West Hollywood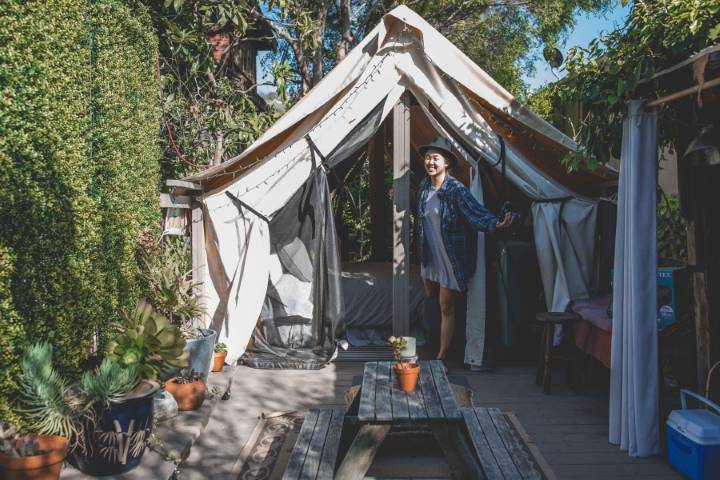 Los Angeles might have a reputation as one of the densest of big cities, but there's still plenty of camping adventure to be found in its environs. Whether you want to swim in the Pacific or hike in the Southern California mountains, L.A. makes a good staging point.

Where to Stay
Urban Glamping – At La Boheme Living, you will find a tranquil Safari Tent Glamping experience – with hiking/biking trails and lots of outdoor activities. If you chose by train you are a couple of stops from Chinatown or Downtown LA.
Where to Eat
40 Love – 40 Love is a sports bar on LA Cienega in Weho with plenty of outdoor space, bar food, beer, wine, and cocktails.
What to Do
Ferndell Trail at Griffith Park – Great for kids and nature lovers of any age, this lush and less-traveled part of Griffith Park feels magical. Its stone-lined bridges, bubbling stream and hanging orchids feel worthy of a fairytale. Grab a picnic table and a bite to eat at the quaint Trails Café after wandering.
New Hampshire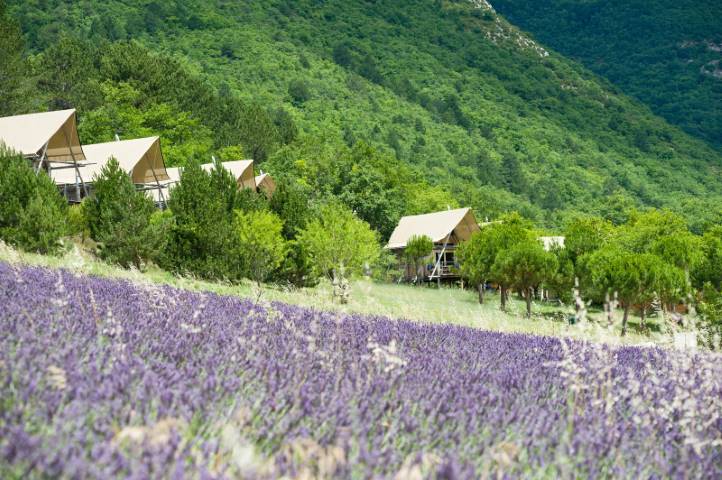 Where to Stay
Huttopia White Mountains –  Discover the first Huttopia destination in the United States: a French-style glamping resort for families and friends. The wood and canvas accommodations nestle in harmoniously with the surrounding environment and offer all the equipment you need for a wonderful holiday. 
Where to Eat
May Kelly's Cottage – A cozy Irish pub that offers a "seisiun" every Sunday – a traditional Irish social gathering of friends and musicians filled with good food, drinks and appreciation of Irish culture.
Ledges Restaurant – Ledges panoramic restaurant offers superior service, a friendly atmosphere and award-winning cuisine. Diners enjoy breathtaking mountain views, candlelit dining and beautiful decor. Offering both indoor seating and limited outdoor deck dining.
What to Do
Guests at Huttopia can enjoy the lake and beach, as well as swimming in a beautiful heated pool in the heart of the property. 
Couples and families alike will find plenty to explore on site, with additional attractions located conveniently nearby, including the shops and outlets of North Conway, tubing on the Saco River and the scenic vistas all along the Kancamagus Scenic Byway.
Maryland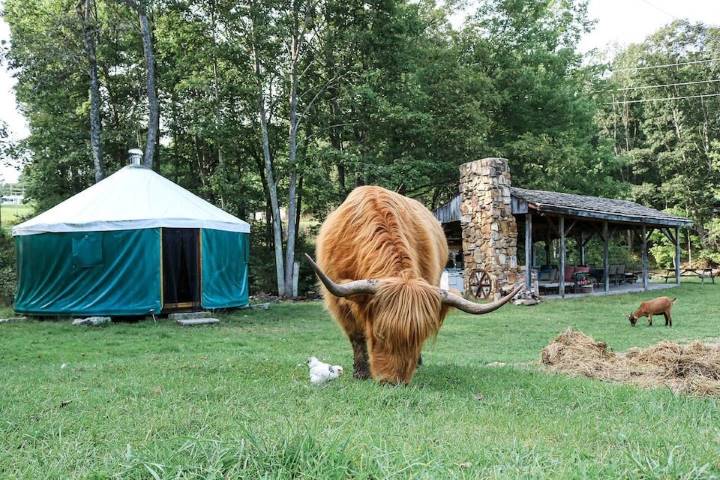 Maryland is fast becoming a glamping hotspot of the USA, and it deserves all the praise. The Mid Atlantic state is showcasing its wide-open spaces to the masses and putting on unique glamping experiences that will suit any style of traveler. 
Where to Stay
Yurt at Yorkie Acres Farm – The Yurt at Yorkie Acres Farm is a budget-friendly glamping offering in Maryland, with space to sleep up to four guests comfortably. The spacious yurt is located on a working farm, and features a king bed, sofa bed and air mattress. Guests will find a pavilion right next door with a kitchen, as well as a bathhouse with a hot shower.
Where to Eat
Smith Island Baking Company – A beloved Maryland tradition, the Smith Island layer cake two ways is a standout on any table. With its thin layers of yellow cake each slathered in a decadent schemer of icing. 
What to Do
The Appalachian Trail – The Appalachian Trail in Maryland passes several historic sites, offers some of the Trail's gentlest terrain, and features several lovely vistas. 
Assateague Island – The island is famous for its pristine beaches and wild horses and is great place for a family getaway. 
Las Vegas, Nevada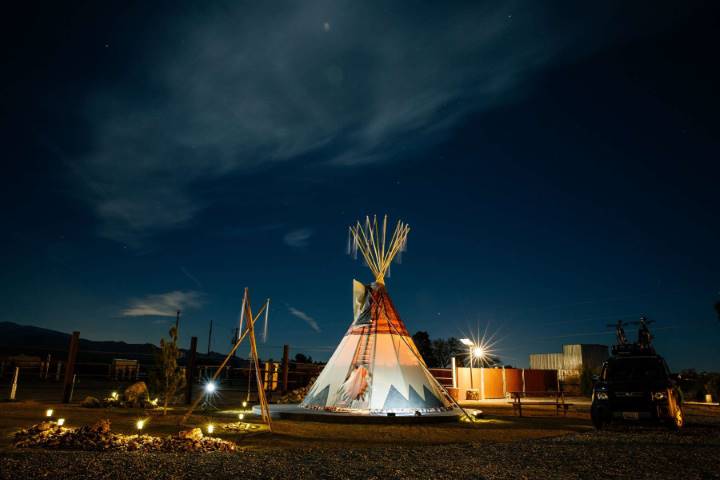 Beyond the casinos and city lights of Las Vegas, wild desert landscapes are waiting to be explored. Within an hour's drive of Sin City, you come to Lake Mead National Recreation Area. Get ready to discover 1.5 million acres of mountains, canyons, and desert lakes. Lake Mead itself is a true oasis.

Where to Stay
Water Rock Ranch – Water Rock Ranch ("WRR") is a clean picturesque 5 acre ranch in Pahrump, Nevada, surrounded by magnificent mountains, and next door to a mission like tower. Time at  WRR melts tension and stress away, and can bring calm to your life.   
What to Eat
One of the benefits of nearly 300 days of sunshine a year in Las Vegas is a meal on the patio. Some offer unexpected people-watching scenes, while others have games.
Sinatra – One of the most secluded patios in Las Vegas is Sinatra at Encore Las Vegas. It offers a small patio with dishes including spaghetti alla chitarra con filetto di pomodoro e basilico and gamberoni e cannelini.
What to Do
For hiking, climbing, and biking, you can't beat Red Rock Canyon. Just 20 miles from the Strip, the park wows visitors with towering canyon walls and wild horse sightings.