The Outlierman company was formed with a mission to handcraft a range of accessories that match the breath-taking beauty, exquisite quality and timeless appeal of the world's most iconic cars. Following the temporary closure of The Outlierman after the COVID-19 outbreak, the Bologna-based company are reopening for business, supplying gentleman drivers across the world with luxury Italian driving products.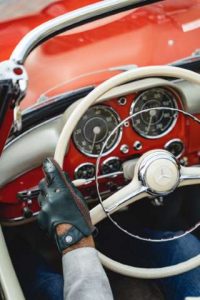 The Outlierman was born out of a desire to create the finest automotive accessories – its designers have an insatiable appetite for creating new items and introduce fresh collections every month. Amongst some of The Outlierman's most recent product launches, include: The Powerslide – Driving Gloves (Suede Grey/Racing Red), Gran Turismo – Driving Gloves (British Racing Green/Cognac), the Weekender Garment Bag (Lava/Black/Red) and the exclusive Tailor-Made Lab (available in 69 colour combinations).
Andrea Mazzuca, founder of The Outlierman, said: "After a temporary period of closure, my team and I are extremely pleased to be reopening The Outlierman and making luxury Italian driving accessories for car enthusiasts across the globe.
"The COVID-19 outbreak has been devastating for many businesses around the world, including numerous in Italy, and I wish that as many as possible can recover from these terrible circumstances. It's been a tough period for us, especially after the cancellation of this year's Pebble Beach Concours d'Elegance, which meant we couldn't launch our 2020 collaboration. However, we are already in the process of developing next year's design and hope to bring it to you in 2021. In the meantime, my colleagues and I are very keen to get back to what we are most passionate about, and we are excited to continue sharing our passion with other motoring enthusiasts worldwide.
"The health and safety of our colleagues at work is paramount. Our skilled artisans will have strict provisions in place to ensure they are safe whilst producing goods, including the use of face masks, gloves and observing social distancing in the workshop."