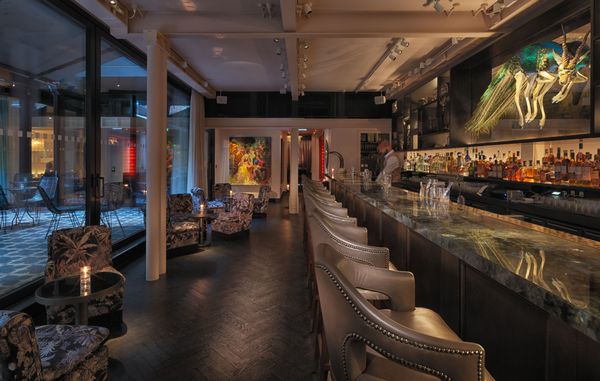 The Mandrake, a new independent boutique hotel from entrepreneur Rami Fustok has opened in London's Fitzrovia. The Mandrake includes a restaurant from the team behind Hong Kong's Serge et le Phoque.
Inspired by the medicinal properties of the Mandrake plant, it combines eclectic, vibrant interiors with carefully curated works by Francesco Clemente, Jonas Burgert, Peter-John de Villiers and a host of other artists, intriguing soundscapes from French sound engineer Pierre- Arnaud Alunni, specially designed scents from Azzi Glasser and a 30 candle chandelier by Lara Bohinc. All resulting in an ambience that is intimate, distracting and intriguing at every turn.
The Mandrake houses 34 stylish and eclectic bedrooms, with three luxury suites and a dramatic penthouse. The rooms are set across four floors, rising up from a striking central courtyard surrounded by hanging gardens of jasmine and passionflower.
The team from the critically acclaimed, Michelin-starred restaurant Serge et le Phoque in Hong Kong has opened their first London venture in The Mandrake. Serge et le Phoque takes a radical yet refined approach, using modern French techniques and only the finest ingredients. The beautifully designed, 80-cover restaurant features a 16-person private dining room with its own entrance.
The Mandrake, 20-21 Newman Street, Fitzrovia, London W1T 1PG