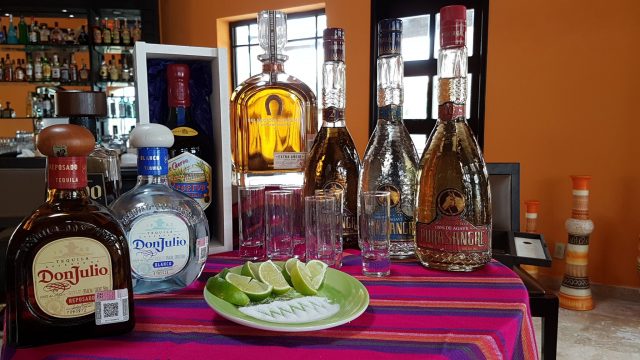 There is no better place to celebrate this special day get into the "Tequila spirit" this year than at Barceló Hotel Group – whether you're simply looking to celebrate with a cocktail in hand or incorporate local culture and flavors into unique spa experiences, there's truly is something for everyone!
Cocktails:
"Beetroot Margarita"
Ingredients: Tequila Blanco, Orange liquor, Lemon juice, Agave and Fresh beetroot.
Enjoy it at: Occidental Costa Cancun, a stunning beachfront resort, that offers guests large rooms decorated in a Mediterranean style. With views of the Caribbean Sea, and located on the famous Boulevard Kukulcan, this stunning destination provides maximum relaxation in a unique environment.
"Cinco"
Ingredients: 1.5 oz Tequila, 2 parts pineapple juice and blueberry juice, splash of seltzer, splash of lemon juice, add ice and garnish with lemon and sugar.
Enjoy it at: Barceló Guatemala City located in the heart of Guatemala City and adjacent to the best restaurants, shops and entertainment of the business district resides this amazing urban hotel City. The property offers excellent gastronomic options that guests can enjoy via room service or at one of the international fine dining restaurants.
Culinary Items:
"Grasshopper Crusted Seared Tuna filet with a Mango Mezcal Sauce"
Enjoy it at: Barceló Huatulco located along the shores of Tangolunda Bay, the largest of nine bays in the coastal paradise that is Huatulco. This exotic and undiscovered side of Mexico beckons you with its gold-sand beaches, warm Pacific waters ideal for a variety of water activities, and the charming town of La Crucecita.
"Lemon and Tequila Shrimp"
Served with sangria sauce, mashed banana basil pesto, and sprouts.
Enjoy it at: Occidental at Xcaret Destination located in the heart of Riviera Maya, is a spectacular mix of natural and cultural environment providing an unbeatable experience. Steps away from to the Xcaret Eco-Archaeological Park, guests can view over 40 cultural attractions and exhibitions focusing on Mexico's art and tradition.
Spa Treatments:
"Tequila Citrus Body Wrap"
Comprised of agave extracts with invigorating vitamins and citric aromas that help relax and nurture the skin
Enjoy it at: Occidental Cozumel, located in a unique destination and designed as a Mexican hacienda. The Palancar Reef is right off the island, giving guests the opportunity to enjoy the treasures of this Coral Reef. The resort is perfectly integrated in its natural surroundings of mangroves, white sand beaches and tropical gardens.
"Agave Wrap"
Formulated with blue agave leaf extract to regenerate refresh and calmly moisturize skin. Properties from agave leaf repair damage from sun exposure. The Blue Agave Extract acts by restoring cellular balance which leaves skin moisturized and radiant.
Enjoy it at: Barceló Ixtapa located beachfront on Playa El Palmar in the heart of Ixtapa, one of Mexico's lesser known tourist gems, sits this all-inclusive resort. Guests are just minutes away from the quaint fishing village of Zihuatanejo with its wonderful fishing, sailing and breathtaking beaches.
Other Tequila delights:
"La Tequileria" at Royal Hideaway Playacar
A beautiful space dedicated to tequila in all its forms. Offering both classic and more esoteric selections, the Tequileria also includes a program of tequila produced by small, micro producers. For those who want to dive deeper, the resort hosts a daily Tequila Master Class on the history of the spirit, including samples from each of the major types of Tequila — Blanco, Reposado & Añejo.
"La Cantina" at Barceló Maya Grand Resort
Become a Tequila expert at the property's very own Tequila Boutique, "La Cantina." Where certified tequiliers take guests through an impressive and delicious tasting while sharing the history behind each type of tequila. La Cantina also provides an amazing assortment of cigars to kick back and enjoy while sipping on a delicious drink.
Complimentary Welcome In-Room Tequila Bottle Amenity at Barceló Puerto Vallarta
Premium level guests will find a complimentary bottle of rare tequila in their rooms upon check-in – along with a selection of tasty petit fours.The resort also offers complimentary tequila tastings at night for all guests at "La Cantina" bar until 2am. For those wanting a crash course in the world of tequila, Vallarta Tequila Tastings (just minutes from the resort) offers fun and educational tequila courses for all levels of knowledge.
Weekly Tequila Tastings at Allegro Cozumel
The property offers weekly Tequila Tastings every Saturday. Guests are invited to taste both well-known and local tequilas including Don Julio Reposado, Don Julio Añejo and more.